Memory Lane Inc. is offering over 1,000 high-end graded cards in its August 10th Auction event. Among the cards offered are two extremely rare 1912 (E300) Plow's Candy Cards both in high PSA grades. These Plow's cards were not even known to exist until discovered in the late 1960s. Also offered at auction is a Honus Wagner in PSA 7 NM, which is the highest grade known in the hobby, and a high-grade Ty Cobb in PSA 6 EX-MT.
Over 80 early pre-1900 and WW1 vintage cards and sets are offered!
Collectors of early vintage cards will find the auction offerings very pleasing. There are over 80 early vintage cards offered, including an extremely rare 1887 N172 Old Judge John Irwin in a very high PSA 9 MINT. There are also two 1887 N28 Allen & Ginter tobacco cards, a Cap Anson in PSA 8, and a Joseph Mulvey in PSA 8 -- none known are graded higher. There is also an 1888 N162 Goodwin Cap Anson in a high grade PSA 6 EX-MT and a 1911 M116 Sport Life Christy Mathewson with the pastel background in a high-end PSA 8.
Overall the auction offers over seven dozen early vintage cards: 1887 & 1888 A&G's, Old Judges, a seldom seen 1899 E.R.Williams Buck Ewing/Cap Anson in PSA 7, 1894 Mayo's Cut Plugs, 1909 Colgan's Chips, plus loads of T201's, T202's, T205's, and T206's! Even a tough 1912 T227 Series of Champions, Honest Long Cut, Ty Cobb. There are tough card backs in this auction too, like Polar Bear and Hindu to name a few. Also offered is a complete 1911 T201 set, all graded! As well as a T205 and T206 Sets, and a 1912 Imperial Starter Set!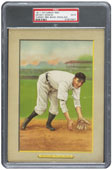 Over 30 T-3 Turkey Reds are offered -- some with the tough Turkey Red tobacco ad backs!
The auction offers almost three dozen graded, tough, and beautiful Turkey Red T3 Cabinet cards including a rare find: Mickey Doolin in PSA 5 EX, which is the only card known graded!
A grouping of high end 1932 U.S. Caramel cards!
The auction is also offering a grouping of 1932 U.S. Caramels in high-end PSA 8 NM-MT grades, including: #32 Babe Ruth, #26 Lou Gehrig, #11 Rogers Hornsby, #14 Ty Cobb, #1 Eddie Collins, #2 Paul Waner, #4 Bill Terry, #23 Jimmy Foxx and a large group of others. For many collectors, this represents a significant opportunity to upgrade their collections and complete their sets.
Very rare check autographs offered too!
In addition to offering over 1000 cards and sets, the auction has a group of rare HOF check autographs -- some of which are double- and triple-signed. Of note is an extremely rare Christy Mathewson signed check dating from 1924 which is graded a very high PSA 9 MINT. There are only a handful of these rare checks known to exist! The auction also offers a rare Mickey Mantle check autograph in PSA 9. There just aren't many around. There's also a very tough and rare PSA 9 MINT Roberto Clemente signed Bank of Puerto Rico check, and an early Mays in PSA 9. There's a Bill Veeck -- baseball's grand promoter -- check written to Wm. Wrigley Jr. in PSA 9 MINT. Overall the auction catalog offers five full pages of high-grade checks all in PSA 9 MINT or PSA 10 GEM MINT grade.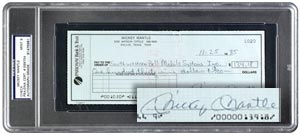 With over 1000 high-end, graded cards, the auction offers many tough-to-find cards, low pops, high numbers, and short prints!
For collectors of the popular and beautifully painted 1953 Topps issue, the auction offers a rare opportunity to procure very scarce short prints in high grade as well as a gigantic overall selection in high grade. Collectors of 1959 and 1960 Topps will find a broad and outstanding grouping of stars and commons in MINT 9 and Gem 10 grades.
Fans of the 1930s and 1940s have not been left out either! The auction has 1933 Goudeys including four key Ruth cards; a grouping of hard-to-find 1934 Goudey commons ideal for set builders; 1933 Delongs; 1935 and 1936 Diamond Stars; and 1939, 1949, 1941 Playball issues, including a high-end 1941 #71 Joe DiMaggio in a PSA 8 NM-MT and a 1939 #27 Ted Williams. Also included are 1948 Bowmans -- like Spahn's rookie card #18 in PSA 9 MINT -- and 1949 Bowmans, like #24 Stan Musial in PSA 9.
The Golden Age 1950s are not forgotten!
The auction features three key 1951 Bowman cards: #1 Whitey Ford in a 9, #2 Yogi Berra in a 9, and #305 Willie Mays in PSA 8 NM-MT. The auction offers the hobby's most famous card too: the 1952 Topps Mickey Mantle in a high-end PSA 7 NM. Also offered are a high-end 1952 Topps #261 Willie Mays in PSA 8 NM-MT. Bowman is not overlooked either, with cards such as #117 Duke Snider. The auction also offers a 1957 Topps Mantle in PSA 9 MINT and a 1954 Topps Willie Mays in PSA 9 MINT.
There are literally hundreds of '50s cards, all in high grade: '54 and '55 Bowmans; '54 Topps like Ernie banks's rookie card; '55 Topps; '55 Topps Double Headers in high grade; '56 Topps like Ted Williams and Mickey Mantle in PSA 9 grades; '57 Topps such as Ford, Spahn, Frank Robinson, Ernie Banks, all in 9's. There are 1958 Topps; like a group of all-star cards such as Mays and Aaron in PSA 9's. And as noted the 1959 -1965 Topps selections are outstanding, including cards like a '59 #10 Mantle card in PSA 9 MINT, a high number #648 Mays card in PSA 9 MINT, a '61 Topps Mantle in PSA 9, a '63 Topps #578 Mantle All-star in PSA 9 MINT, and a '65 Topps Pete Rose in PSA 9.
This auction even has a couple of rarely seen 1956 Topps Elvis Presley cards in high PSA grades. Because of the sheer number of tough and low-pop, high-end cards offered in this auction, it is sure to draw out even the most discerning of collectors. Memory Lane Inc. has indicated that all the lots will be on display at the National Show during the end of July.
Collectors of PACKS and SETS are not forgotten!
The auction offers over four dozen high graded vintage Packs and Rack Packs from Baseball, Hockey, and Football including a 1971 O-Pee-Chee box of 36 packs with three packs graded 9-8's; and a 1975 unopened box full of packs graded an 8. A large number of the single-graded packs are 1950s baseball and football Topps and Bowman.
The auction offers an incredible 32 complete and starter sets across a wide spectrum of vintage issues, ranging from 1911 T201, T205 and T206 sets to1921 W516 Strip cards. Included are two starter sets of 1933 Tattoo Orbit (R305) cards, all graded.
Also in the auction is a complete 1934 Goudey set with all 96 cards graded, a 1954 Topps starter set, and a 1958 Topps starter set with all cards graded PSA 8! The auction contains a Complete 1960s Topps set; a complete 1963 Fleer set, all graded PSA 8 & 9; a 1964 Topps Giants card set; and of special note: a 1973 Topps Master Set and a 1974 Topps Master Set -- both sets contain all graded cards! Also offered is a 1975 Topps set all high graded 8 and 9. The auction also offers a group of very high-end Vending sets from 1968, 1969, 1970, 1971, 1972, 1973, 1974, and 1975.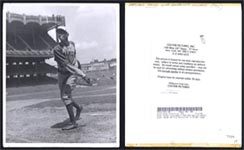 The auction is not limited to vintage baseball cards either, as the offerings include vintage football like Terry Bradshaw's 1971 Topps rookie card in PSA 10 GEM MINT and Bart Starr's 1960 Topps card in PSA 9 MINT; a 1970 Topps Wilt Chamberlain in PSA 9 and a Lew Alcindor 1969-'70 Topps rookie card in a 9. And Hockey like a 1951 Parkhurst Floyd Curry in PSA 9, the highest grade known to exist. Or Gordie Howe's 1951 Parkhurst rookie card in PSA 8 NM-MT.
A Memory Lane Inc. inaugural -- offering vintage Type 1 Photographs
With the advent of vintage photograph authentication by PSA/DNA, Memory Lane Inc. is making its first photo auction offerings to collectors. The vintage photographs offered at auction are primarily authenticated as original Type 1 photos. Collectors may see more detailed information about the authentication classifications on PSA/DNA's web site: www.psadna.com.
The auction is offering many original Type 1 photos of some of baseball's greatest such as Walter Johnson, Babe Ruth, and Honus Wagner. There is also a very rare vintage photo of the great Satchel Paige at Yankee Stadium with his Negro League KC Monarchs uniform, as well as a group of turn-of-the-century vintage Cabinet photos.
The crème de la crème of the auction is a 1963 Mickey Mantle heavily game used bat graded the highest possible PSA GU 10 and a MEARS A10. The bat offered exhibits some of the deepest embedded ball stitch marks ever seen by authenticators on a bat. The bat is literally riddled with ball marks, illustrating extremely heavy use. Mantle was one of the few players ever in the game with this kind of raw power! The bat will be on display at the National show and readers are invited to stop and see it.

Anyone interested in viewing the August 10th Auction lots and/or in registering for the auction can do so online at www.memorylaneinc.com. Collectors are also invited to call for registration or for lot description details at 877-660 LANE (5263) or by emailing [email protected].