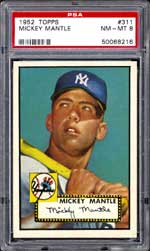 Centennial, CO - By offering many recognized hobby rarities, as well as some truly astounding high grade material both in the form of single cards, including complete sets, Mile High Card Company continues to establish firm and industry records in terms of prices realized. After scouring the hobby landscape and unearthing many special items, which performed to truly astounding levels in their June 2006 auction it is clearly evident Mile High Card Company continues to cement its place in the hobby as the preeminent auctioneer of truly rare and premium high grade Sportscards. MHCC, capitalizing on their unparalleled reputation as the leading boutique style auction house specializing in high grade Sportscards, provided a incredible array of stunning material, established a firm record of $2,110.983.00 in total sales.
"Without question the collectors of this hobby are surely drawn to an auction that is offered in the style and format that we present", explained company President Brian Drent. Continuing, Drent went on to say, "Our format, as well as tremendous material, combined with an effective marketing campaign headed by an outstanding catalog, with low minimum bids and a lack of hidden reserves, have resulted in outstanding realizations in regards to prices realized, thus ensuring our stronghold on our chosen segment of the sports collectibles market". The recently concluded June 15th sale produced many prices that the market had never seen before and can surely be traced back to MHCC's auction strategy! Many of the highlights of the sale are below:
''Shoeless'' Joe Jackson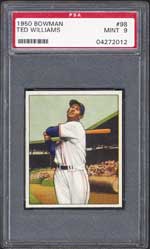 Joe Jackson is absolutely one of the most endearing and agonizing players that has ever played in the Major Leagues. An outstanding player that catapulted to superstardom by playing the game at a level few men ever have, only to be banished from the game as a result of his own doing by being found guilty of fixing the 1919 World Series. As a result "Shoeless" Joe Jackson has carved out a place of either affection or a feeling of pity within the American sporting landscape. Within the recently concluded Mile High Card Company auction two extremely rare Jackson items were offered and an entire hobby stood by to find out where the prices were at when the gavel fell. The first item was quite possibly one of a kind, a 1911 T5 Pinkerton Cabinet of Joe Jackson that sold for a truly astounding $182,425 and the second item was a stunning copy of Jackson's 1914 Boston Garter card that was hammered down for an amazing $102,974 both prices were easily world record prices.
Cardboard Highlights
An extremely impressive offering of high end Sportscards performed to remarkable levels and were highlighted by the following: An exceptionally rare 1888 M117 Sporting Times Cap Anson realized $22,371, while a completely PSA graded mid-grade 1915 Cracker Jack set found a new home to the tune of $33,895, as well a 1952 Topps #311 Mickey Mantle PSA 8 NM/MT sold for a new world record of $72,057, also a 1933 Goudey #92 Lou Gehrig realized $39,631, a 1950 Bowman #98 Ted Williams PSA 9 MINT went for an impressive sum of $17,583, and a 1951 Bowman #165 Ted Williams PSA 9 MINT went for $10,917, a 1952 Berk Ross Mickey Mantle PSA 8 NM/MT 8,510, a 1954 Wilson Franks Ted Williams PSA 7 NM sold for $13,210, as well a 1957 Topps #18 Don Drysdale PSA 9 MINT found a new home at the tune of $10,550, a 1959 Topps #435 Frank Robinson PSA 10 GEM MINT sold for $5,663, a 1963 Topps #200 Mickey Mantle PSA 9 MINT sold for $5,955.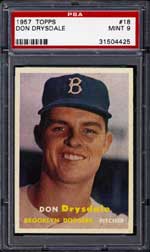 Performing to equally impressive results were the following: A 1912 T202 Hassan Triple Folder Ty Cobb PSA 7 NM sold for $3,970, a 1909-1911 T206 Joe Kelley PSA 7 NM realized a stunning $7,109, while several 1939 Play Balls achieved remarkable heights including a 1939 Play Ball #5 James Sewell PSA 9 MINT which sold for an incredible $9,217. Other top notch achievements include a 1948 Leaf #77 Roy Smalley PSA 8 NM-MT which brought an amazing $3,230, a 1972 Topps #595 Nolan Ryan PSA 10 GEM MINT grabbed an impressive $7,109 while a 1965 Topps #180 Bob Allison PSA 10 GEM MINT came away with a lofty realization of $1,823.
Sets
Not to be outdone, Mile High provided hobby enthusiasts with another barrage of impressive sets. Many of the other distinguishing results came from this area including: A 1950 Topps Felt Backs Complete Set with PSA graded cards which realized a remarkable $38,682, a 1952 Num Num Potato Chips Completely Graded PSA set performed stunningly well at the level of $15,473, and a beautiful 1958 Parkhurst Hockey Set PSA Graded nabbed a bold $10,827. A 1910 E93 Standard Caramel Co. Complete Graded Set brought a respectable $20,344, the ultra rare and truly unique 1933 Goudey Sport Kings Patent Set earned $41,013, while a PSA Graded 1971 Topps Greatest Moments Complete Set attained an impressive $17,020, and a 1958 Topps Football Complete PSA Graded set earned high honors at $14,066.
Hardwood Heroes, Gridiron Greats and More!
Delivering an outstanding display of more than just baseball, MHCC offered an impressive line-up of distinguished cards from the Basketball, Football and Hockey sportscard arenas including a 1948 Bowman #8 Mel Riebe PSA 10 GEM MINT which realized an impressive $4,254, a 1948 Bowman #23 Double Cut Off Post PSA 10 GEM MINT came in at an astounding $2,641 and a 1948 Bowman #40 Stan Miasek PSA 8 NM-MT closed at a tremendous $1,657 and a 1948 Bowman #71 Guards Down Play PSA 8 NM-MT sold for $1,132. A group of (53) 1986 Fleer Basketball all in PSA 10 GEM MINT brought a stunning realized price of $7,642. A 1952 Bowman Large #7 Chuck Hunsinger PSA 9 MINT came in at a strong $2,055, a 1935 National Chicle #36 Bernie Masterson PSA 7 NM delivered a respectable $2,165 while a gorgeous 1955 Bowman #152 Tom Landry PSA 8 NM-MT had the gavel come down at an impressive $2,206 and a stunning 1961 Fleer #41 Don Meredith PSA 9 MINT finished very strong at a robust $1,544. In Hockey we saw strong bidding which elevated the number overall and delivered the following noteworthy gems: A 1954 Topps #43 Jake McIntyre PSA 8 NM-MT finished at a strong $1,370, a 1954 Topps #55 Larry Popein PSA 8 NM-MT answered with a final tally of $1,132, and not to be outdone, a 1954 Topps #59 Marcel Bonin PSA 8 NM-MT hit the streets at an astonishing $3,909.
More Baseball Card Highlights
As with previous auctions, we have witnessed a continuance of strong bidding in the low population sector of graded cards. The results prove that activity is profound with very little signs of let up. The evidence is strong especially with the finishing number of our 1939 Play Balls and 1949 Bowmans. The 1939 Play Balls were led by #5 Sewell PSA 9 MINT, #18 Danning PSA 9 MINT, #38 Myers PSA 9 MINT and #80 Fox PSA 9 MINT, all these Pre War gems closed for a jaw dropping $9,217! In the 1949 Bowmans we saw #191 Joe Haynes PSA 9 MINT and #228 Jackie Mayo PSA 9 MINT bring a stout $7,096, #184 Bob Chipman was highly sought and came in at $6,925, the previously mentioned #185 Reiser distinguished itself at $8,078 while a strong handful came in just below these marks.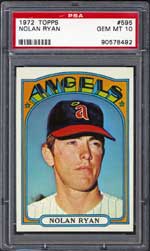 1952 Topps also saw strong numbers realized including #43 Ray Scarborough PSA 8 NM-MT which had a final number of $1,091, #244 Vic Wertz PSA 9 MINT closed at a strong $2,491, #309 Jim Busby PSA 9 MINT realized a robust $3,015, #313 Bobby Thomson PSA 9 MINT will go out the door at a smooth $4,367, #320 John Rutherford PSA 8 NM-MT delivered a final bid of $3,737 and a #332 Tony Bartirome PSA 9 MINT answered the call at $5,106. Not to be outdone, a 1952 Topps #335 Ted Lepcio PSA 9 MINT grabbed $9,967 at the auctions final call.
Mile High Card Co. has distinguished itself among the auction houses as a leader in the sportscard market. Providing hobby enthusiasts with avenues not seen in many of the larger auction conglomerates such as the ability to purchase collections of any size in addition to the traditional consignment approach. You can find a multitude of services offered by MHCC including auction assistance, such as registration or consignments, wantlist services, as well as our secure online store where much of our $500,000 inventory can be found.
MHCC is planning auctions for September and December as a follow up to this tremendously successful auction and is currently accepting consignments. To consign your treasured valuables to our auctions or to receive a free catalog in the future, please visit www.MileHighCardCo.com or call Mile High directly at (303) 840-2784 (8:00 - 5:00 MST M-F).