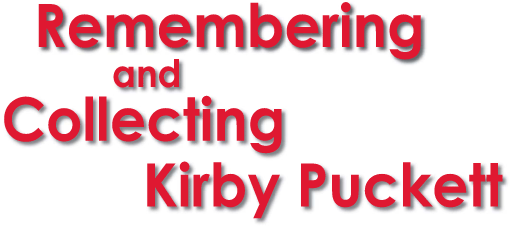 When death comes prematurely to any young man or woman, it brings with it a chilling reminder that, no matter what our age, we can never take anything for granted – that tomorrow is never promised to anyone.
That harsh reminder is perhaps all the more devastating when death claims the life of a beloved athlete as it did earlier this year, when in the early morning hours of March 5, 2006, Hall of Famer Kirby Puckett suffered a massive stroke at his Scottsdale, Arizona home. Puckett was rushed to St. Joseph's Hospital and Medical Center in Phoenix where he underwent emergency surgery to relieve the pressure on his brain. The surgery failed, and as the news began to spread that his prognosis was grim, friends, former teammates, and coaches began making their way to Arizona to be at Kirby's side during his final hours.
The following evening, Puckett was disconnected from a life support machine and shortly thereafter, became the second youngest Hall of Famer (behind Lou Gehrig) to slip into eternity. Just eight days away from his 46th birthday, Puckett and his fiancé, Jodi Olson, had been making plans for their June 24 wedding. Instead, the plans turned to those of a funeral. A private service was held in Wayzata, Minnesota on the chillingly cold afternoon of March 12. In Minneapolis, a public ceremony also took place at the Metrodome. Attended by Kirby's family and over 15-thousand friends, ballplayers, coaches, and fans, eulogies where given by Harmon Killebrew, Dave Winfield and Cal Ripken.
Puck's Beginning
Puckett, who spent his entire Major League career with the Minnesota Twins, was born on March 14, 1960 in Chicago, Illinois and was raised in a housing project. After struggling to finish high school, he went on to work in an automobile manufacturing plant and then as a census taker before briefly attending Bradley University. In 1981, while playing recreational ball in Chicago, Kirby caught the eye of a few Major League scouts. He transferred to Tritio College in Illinois and was subsequently drafted by the Twins in the first round of the 1982 baseball draft.
Puckett came to pro ball as a slap hitter with outstanding defensive fielding capabilities. He turned in a .382 batting average in his first Minor League season, and in less than two years was called up to the Majors. On May 8, 1984, Puckett suited up and stepped on to the field for the first time as a big leaguer. Tapped to replace center fielder Jim Eisenreich, who had been ill (and was ultimately diagonosed as having Tourette's syndrome), Puckett wasted no time in proving his value. In his first outing he became the ninth player in MLB history to chalk up four hits in the first full game of a career, by going four for five. During the 128 games he played during the '84 season, Puckett batted .296, drove in 31 runs and stole 14 bases. He collected 25 bunt singles and 17 extra-base hits. In addition, Puckett led American League outfielders with 16 assists.
By his second season, Puckett was primed to become a star. He drove in 74 runs and stole 21 bases while hitting .288. The following season, with the seeds of his stardom sown, the 5'8", 210-pound Puckett diligently worked with the team's hitting coach, Tony Oliva. Learning to use his immense wrist and arm strength, Kirby finessed the art of the long ball, and by the end of the '86 season, he had sent 31 balls out of the park, raising his average to .328. That year, he also proved to be an all-around threat by scoring his first, of what would eventually be six, Golden Gloves Award wins for outstanding defensive play.
Kirby and the Twins Win Big
In the 1987 campaign, Puckett helped the Twins get to their first World Series after batting .332 with 28 homers and 99 RBIs in the regular season. His stellar performance continued into the post season as he batted .357 to lead Minnesota to an upset win over the St. Louis Cardinals. Puckett had 10 hits with three runs batted in.
The following season, the Twins finished second in their division as Puckett turned in, what would be recorded as his best season statistically. In 1988, the Twins won 91 games, but still finished 13 games behind the American League West winners, the Oakland A's. Puckett chalked up one of his most productive seasons, hitting .356 with 24 home runs and 121 runs batted in. He hit .356, knocked 24 balls over the fence, and had 121 RBIs, to finish third in the MVP balloting for the second straight season.
The Twins faltered in 1989, finishing 80-82 and 19 games out of first. Puckett hit .339, and hit just nine homers and 85 runs batted in. The team was in freefall and that drop continued into the 1990 season as the Twins fell to the cellar in their division, finishing with a 74-88 record, 29 games out of first. Puckett hit .298 that year with 12 home runs and 80 runs batted in.
Back to Being Winners
The following year, the Twins got back on track and Kirby hit .319 with 15 home runs, 89 runs batted in and 11 stolen bases. That performance helped the Twins capture the division title, and then beat the heavily-favored Toronto Blue Jays in five games in the AL Championship Series. Puckett batted .429 with two home runs and six RBIs in the playoffs, and scored MVP honors. It was the year that would be known as the "Worst to First" season as both the Twins and the Atlanta Braves went from finishing last in their respective divisions in 1990, to playing each other in the World Series in 1991.
The 1991 World Series has gone down in the history books as one of the most exciting October Classics ever played. Going into Game Six, the Twins trailed three games to two and needed a win to remain alive. Puckett gave the Twins an early lead by scoring Chuck Knoblauch with a triple, and helped to hold off a Braves rally in the third inning with a great snag off the outfield wall that would have been a double for Ron Gant. The game went into extra innings, and in the bottom of the 11th, Puckett sent one out of the park to keep the Twins alive. The Twins ended up pulling off a win that day, which gave them their second World Series title. It was a time that has been widely remembered as the high point in Puckett's career.
Minnesota proved to be contenders for one more season and then began to cave, but Puckett never did. In 1993, he received the Branch Rickey Award for his community service and, in 1994, he won his first league RBI title by driving in 112 runs in just 108 games. He hit .317 with 20 home runs, 112 runs batted in, and 6 stolen bases. The Twins, however, only finished 53-60 in the strike-shortened season.
The Puck Stopped Here
Minnesota found themselves in fifth place late in the 1995 campaign, but Puckett was still going strong. He hit .314 with 99 runs batted in and three stolen bases. On September 28, however, Puckett, who was having a great season, suffered a broken jaw when he was hit in the face by a Dennis Martinez fastball. Kirby attempted to make a comeback from the injury in 1996 and showed promise by hitting .360 in spring training. Then, on March 30, he awoke to find he couldn't see out of his right eye. Puckett was diagnosed with glaucoma. He endured four eye operations in a four-month period, but it did not improve his vision. Puckett announced his retirement from baseball on July 12, 1996, at the age of 36 with a lifetime batting average of .318, the highest of any right-handed batter since Joe DiMaggio retired in 1951.
As the third youngest player inducted into the Hall of Fame (Only Lou Gehrig and Sandy Koufax were younger), Puckett's 12-year Major League career saw him finish with 207 home runs; 1,085 runs batted in; 134 stolen bases and 2,304 hits. In those 12 seasons, he and the Twins captured two World Series Championships and Kirby's outgoing personality and dynamic style of play endeared him to fellow players and fans alike. Today, he still stands as the Twins all-time leader in career hits; runs; doubles and total bases. He has been the only MLB player in the 20th Century to record one-thousand hits in his first five full calendar years, and one of only two to record two-thousand hits during his first ten full calendar years. Puckett appeared in 10 straight All-Star Games and was named the MVP of the 1993 All-Star Game.
In 1997, the Twins retired his number "34" and, in 2001, he was elected to the Baseball Hall of Fame in his first year of eligibility, becoming the seventh player ever to be inducted before reaching the age of 42. In 1999, he ranked Number 86 on The Sporting News list of the 100 Greatest Baseball Players, and was nominated as a finalist for the Major League Baseball All-Century Team.
Puckett's hitting and fielding prowess, charming personality, charity and community involvement, good relationship with the media, and overall "good-guy" attitude earned him the love of Twins' fans and the admiration of anyone who ever had the chance to see him play.
Collecting Kirby
While the 1984 Fleer Update #93 rookie card is considered to be the most desired of the Puckett offerings, most of the major manufacturers put out a rookie card for Kirby in 1985. The 1985 Donruss #438; the Topps #536, the 1985 Fleer #286; the 1985 Leaf #107, and the 1985 O-Pee-Chee #10 are all fairly easy to find in all but Gem Mint 10. Puckett autographs and game-used equipment are also coveted items with solid demand for his bats, considering the fact that he was considered one of the best right-handed hitters of his era.