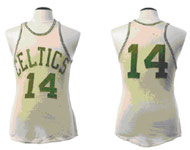 New York, New York - Long before Shaquille O'Neal and Dirk Nowitzki face off for the title of champion, men like Wilt Chamberlain, Bob Cousy and Jerry West ruled the NBA landscape.
In celebration of the NBA Finals, Sotheby's and SCP Auctions will offer a collection, rivaled only by that of the basketball Hall of Fame, of important, game-worn basketball jerseys including some of the finest individual examples representing many of the NBA's top 50 greatest players ever on June 24th. Now present-day NBA fans can own a piece of history, through the very jerseys that absorbed the blood, sweat and tears of the legends that helped make the NBA the immensely popular spectacle it is today.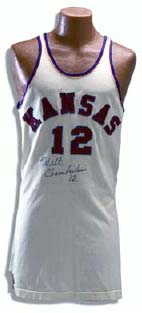 Highlighting the collection of individual jerseys available is Chamberlain's 1957-58 Kansas Jayhawks Home Jersey (est. $50/75,000). The jersey, originally obtained from the Chamberlain Estate, is arguably the most important college basketball jersey ever offered at auction. Other player jerseys offered from this significant collection include Cousy, West, Bob Pettit, Bill Bradley, Earl Monroe, Elvin Hayes, Paul Arizin, George Gervin and Meadowlark Lemon.
Also included in the sale will be George Mikan's personal copy of the NBA's 50 Greatest Players signed lithograph issued in 1996 (est. $40/60,000) and Kareem Abdul-Jabbar's game-worn goggles (est. $3/5,000).
Property from the sale will be on exhibition at Sotheby's galleries from June 19th to 23rd.
Lee Dunbar, Director of Sotheby's Collectibles department, said: "This group of uniforms represents some of the greatest moments in basketball history. It is the closest that we will ever get to having Wilt, Bird, Cousy, Jordan and Meadowlark all on the same court."
Of the selection of material slated for the June 24th sale David Kohler, President of SCP Auctions, stated, "This collection includes some phenomenal rarities that represent some of the most prominent contributors to the evolution of professional basketball. Included are jerseys that span from the game's formative years, when player like Pettit, Cousy, and Arizin played in small dank, aging auditoriums, to the era of luxury suites in finely appointed arenas where men like Erving, Bird and Jordan captivated packed houses."
The Catalogue
The catalogue can be pre-purchased by logging on to www.sothebys.com or by calling (888) 752 0002. Catalogues are also available for purchase in Sotheby's galleries in New York and London. The price for the catalogue is $36 including shipping and handling.
Registering to Bid
Registration is required to bid in Sotheby's auctions. You can register in person at our New York headquarters any time before the sale, or via fax when you submit an absentee bid form. Please call the Bid Department at (212) 606 7414 for further information.
Placing Bids
There are four ways to bid in this sale:
Bid through the Internet beginning June 10th using real-time and absentee bidding at ebayliveauctions.com. You can register there to place bids through eBay's Live Auctions tool. Note that online registration only enables you to bid online.
Bid in the room by attending the auction in New York and raising your paddle (issued upon registration).
Bid by absentee. An absentee bid is a form you fill out and return to Sotheby's bid department via fax or mail. The form indicates the highest amount you would like to bid for an item or items. The auctioneer will submit bids on your behalf as necessary, up to -- but never above -- the amount you specify. Absentee bid forms are printed in the back of each catalogue, and are available at Sotheby's offices and at www.sothebys.com.
Bid over the telephone through a Sotheby's representative, who sits in the room and conveys your bid to the auctioneer. Phone bidding is best when you have not set a limit for an item and want to pursue it until it's yours. Call the Bids department at (212) 606 7414 to set up an account.
*Estimates do not include buyer's premium
For more information, please visit www.sothebys.com or www.scpauctions.com.