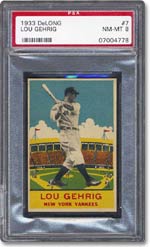 Centennial, CO. - Again, Mile High Card Company has brought out an impressive array of extremely high grade sports cards and memorabilia to be auctioned in their June 15th auction. The current auction totals 737 lots of precisely selected sports cards and memorabilia furthering the reputation MHCC has built as the preeminent auctioneer of truly high grade material. A perusal of the catalog will no doubt reveal that the firm has been extremely active in its efforts to procure some of the finest pieces of sports memorabilia to be brought to auction this year.
The Mile High card Company sale will continue its long standing tradition of offering premier high grade sports cards, but will also offer collectors more flavor by presenting a selection of items that have a decidedly collector grade feel in both singles as well as groups and complete sets. This amazing collector event aims to be a well rounded auction complete with pieces for almost every taste, not only those of extraordinary means. The items within the auction have been hand selected with an eye towards collector demand as well as aesthetic draw and also the scarcity of the issue.
The auction is buoyed by several astounding items of note: Leading the way is quite possibly two of the most quintessential pieces of "Shoeless" Joe Jackson to ever be offered publicly at auction. To start with is an astoundingly impressive 1914 Boston Garter card of Joe Jackson that is offered in precise and scintillatingly high grade for the issue. As well the MHCC auction contains the only known example of a 1911 T5 Pinkerton Cabinet of Joe Jackson with the cardboard mount intact as well offered in impeccable condition. Also included in this sale are similarly astounding items such as an amazing M117 Sporting Times Cabinet "Cap" Anson, and a completely PSA graded 1915 Cracker Jack set!
As is the norm in any of Mile High card Companies auctions a strength is the scintillating litany of extremely High Grade sports cards, and this auction continues on with that theme! Included in this sale is; a stunning recently graded super high grade 1952 Topps #311 Mickey Mantle offered in a PSA 8 NM/MT, 1933 Delong #7 Lou Gehrig PSA 8 NM/MT, 1933 Goudey #92 Lou Gehrig PSA MINT, 1915 Cracker Jack #30 Ty Cobb SGC 88 (8) NM/MT, 1933 Sports Kings #1 Ty Cobb PSA 8 NM/MT, 1921 Koester Bread Babe Ruth SGC 80 (60), 1933 Goudey #144 babe Ruth PSA 8 NM/MT, 1933 Sports Kings #2 Babe Ruth PSA 8 NM/MT, 1950 Bowman #98 Ted Williams PSA 9 MINT, 1954 Wilson Franks Ted Williams PSA 7 NM, as well as a 1959 Topps #435 Frank Robinson PSA 10 GEM MINT.
Sets, Sets, Sets! The current MHCC auction has by far and away more complete and partial sets than the company has ever offered including an outstanding list of sets that are either completely graded or have many graded cards within the set. Highlighting the selection of complete sets are: A stunning completely graded 1909 E95 Philadelphia Caramel complete set as well as a completely graded 1910 E93 Standard caramel set also included in the auction are the following sets: A stunning and exceedingly rare 1933 Goudey Sports Kings US patent set with all of the cards as well as the patent cards from the US patent office ( the offered set is one of only 2 sets issued in this fashion with the offered set most probably being the only set left intact) 1933 Goudey Sports Kings complete set, 1934 Goudey Complete set, 1949 Bowman Baseball Complete master set with graded cards, 1951 Bowman Baseball Complete set with graded cards, an exceedingly tough 1952 Num Num complete set completely graded by PSA, a complete stunning high grade 1969 Topps Baseball set that is completely graded either PSA 8 or 9, a stunning and awe inspiring 1950 Topps Felt back Football set that features many of the highest graded specimens in PSA holders, a wonderful 1958 Topps Football set that is astounding 100% PSA 8 graded, and a scintillating 1958 Parkhurst Hockey set that is completely graded by PSA with every card in the set being graded either PSA 8 or 9! As well there are many more complete sets that are presented within the pages of the catalog.
All of the items listed as well as many, many more great items are available for bidding either by going to the companies website at www.milehighcardco.com or by phone at (303) 840-2784. A full color catalog will be mailed to all registered bidders, and if you would like to receive the catalog you may either email or call and a copy will be sent to you free of charge. The auction will culminate June 15th: Mile High Card Company will accept bids either through their real time auction software or via phone or fax. To register and participate in this special auction event call (303) 840-2784.