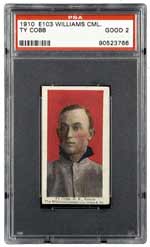 Mission Viejo, Ca. - Collectors nationwide competed aggressively for an eclectic array of quality sports cards and memorabilia offered in the first internet exclusive auction conducted by the Sotheby's/SCP Auctions partnership. The sale, which featured over 750 lots, closed on May 11, 2006 with strong prices throughout, contributing to a sales total topping $1.35 million. David Kohler, President & CEO of SCP Auctions, said: "We are thrilled with the response to this sale. The diversity and quality of the material attracted a broad range of collectors who seemed to embrace our user friendly, newly revamped internet auction program." There were consistently strong results within the card portion of the sale, which included nearly every vintage baseball issue ever produced including early tobacco cards, Goudeys, Play Balls, early Topps, early Bowmans, and an extensive number of scarce regional card issues and Topps Test cards. Some of the card highlights include;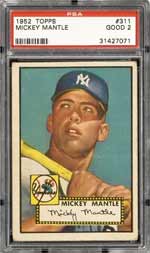 Pre-War Cards
1910 E103 Williams Caramel Ty Cobb PSA 2 GOOD - $6,914
1933 Goudey Baseball Near Set (238/240) - $23,377
1933 Goudey #79 Red Faber PSA 8 NM-MT - $4,722
1937 V300 O-Pee-Chee #107 Hank Greenberg PSA 9 MINT - $7,878
1938 Goudey #274 Joe DiMaggio PSA 5 EX - $3,552
1939 Play Ball Partial Set (135/161) - $8,877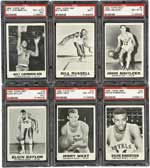 Post-War Cards
1952 Topps #311 Mickey Mantle PSA 2 GOOD - $5,918
1955 Topps All-American Football Complete Set of 100 - $8,376
1968 Topps Test Basketball Complete Set of 22 - All PSA Graded - $25,690
1969 Topps Super Baseball Complete Set of 66 All PSA Graded - $16,150
1974 Topps Deckle Edge Baseball Complete Set of 72 - #2 Set on PSA Registry - $12,188.80

The Memorabilia category of the sale offered a wide array of single signed and team signed baseballs, game used bats, jerseys, trophies and awards, programs, advertising pieces, pennants, tickets, and several Babe Ruth, Lou Gehrig, and New York Yankee items. It should come as no surprise that Ruth, the "Sultan of Swat" reigned supreme, with his circa 1921-31 game used bat garnering the highest price of any lot in the sale at $75,252.
Other memorabilia highlights include;
Babe Ruth Signed Ball "To Jack" - $9,104
High Grade Babe Ruth Mini Ball Graded PSA 7 - $11,031
Joe DiMaggio Autographed Replica Jersey - $3,547
Signed Jerseys & Bats from Mantle, Williams & DiMaggio - $12,118
1964 American League Champion New York Yankees Team Signed Baseball - $6,129
Collection of 19 Signed Replica Jerseys including Joe DiMaggio - $13,669
1980-2001 Perez Steele HoF Postcards Near Set (263/270) with 69 Autographed - $8,877
1969 New York Mets World Series Champions 14k Gold Pendant & Chain - $3,937
Ty Cobb Single Signed Baseball - $15,728
Richard Nixon Single Signed Baseball - $6,129
Larry Siegfried Late 1960's Boston Celtics Game Worn Road Jersey - $3,254

A complete listing of prices realized from the May 11th, 2006 Internet Auction is available online at www.scpauctions.com. The success of this sale sets the tone for Sotheby's/SCP Auctions forthcoming June 24th, 2006 Live Auction in New York. To order a catalogue for this auction call +1 888 752.0002 . The June 24th live auction can also be viewed online at www.sothebys.com as well as www.ebaylive.com. Sotheby's/SCP Auctions is currently accepting consignments for their October, 2006 Internet Auction and November, 2006 Live Auction. Call +1 800 350 2273 for more information on how to participate in these exciting auction events.