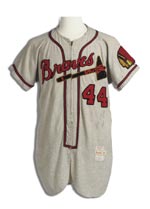 New York, New York - One of the most prolific baseball players of all time, Hammerin' Hank Aaron has been baseball's career home run leader for more than 30 years. In a sterling Hall of Fame career that spanned 23 seasons, he was an All Star 21 times, drove in more than 100 runs 15 seasons, topped 30 home runs on 14 occasions, captured three Gold Gloves, two batting titles and one MVP award. Only one active player, Barry Bonds, has even a remote chance of breaking the home run record (755). Bonds recently passed Babe Ruth for second on the all time list.
In conjunction with Bonds' assault on the record books, Sotheby's and SCP Auctions will offer Aaron's 1954 Milwaukee Braves rookie road jersey (est. $150/250,000) on June 24th. Aaron's record 755-career home runs stands as one of the most hallowed records in all of sport, and has engendered even greater reverence as the mark is approached by Bonds. Property from the sale will be on exhibition at Sotheby's galleries from June 19th to 23rd.
Lee Dunbar, Director of Sotheby's Collectibles department, said: "Aaron is baseball's symbol of consistent excellence. From his rookie year with the Braves in 1954 to his final year with the Brewers in 1976, his level of success in more than twenty years in the big leagues was extraordinary, a plateau that few hope to ever reach."
David Kohler, President of SCP Auctions, stated, "The numbers Hank Aaron produced year-in-and-year-out on a baseball field were incredible. It is hard to imagine, but to some extent, he may be under-appreciated."
At the age of 20, Aaron broke into the Major Leagues with the Milwaukee Braves. He batted .280 and hit 13 home runs. By comparison, Bonds hit .223 with 16 home runs in his rookie season. Aaron's 1954 rookie road jersey hits the auction block amidst renewed reverence for his career accomplishments, as one of many great items featured in the sale from the prestigious Steve Myland Collection.
The Catalogue
The catalogue can be pre-purchased by logging on to www.sothebys.com or by calling (888) 752-0002. Catalogues are also available for purchase in Sotheby's galleries in New York and London. The price for the catalogue is $36 including shipping and handling.
Registering to Bid
Registration is required to bid in Sotheby's auctions. You can register in person at our New York headquarters any time before the sale, or via fax when you submit an absentee bid form. Please call the Bid Department at (212) 606-7414 for further information.
Placing Bids
There are four ways to bid in this sale:
Bid through the Internet beginning June 10th using real-time and absentee bidding at ebayliveauctions.com. You can register there to place bids through eBay's Live Auctions tool. Note that online registration only enables you to bid online.
Bid in the room by attending the auction in New York and raising your paddle (issued upon registration).
Bid by absentee. An absentee bid is a form you fill out and return to Sotheby's bid department via fax or email. The form indicates the highest amount you would like to bid for an item or items. The auctioneer will submit bids on your behalf as necessary, up to -- but never above -- the amount you specify. Absentee bid forms are printed in the back of each catalogue, and are available at Sotheby's offices and at www.sothebys.com.
Bid over the telephone through a Sotheby's representative, who sits in the room and conveys your bid to the auctioneer. Phone bidding is best when you have not set a limit for an item and want to pursue it until it's yours. Call the Bids department at (212) 606-7414 to set up an account.
*Estimates do not include buyer's premium
For more information please visit www.sothebys.com or www.scpauctions.com