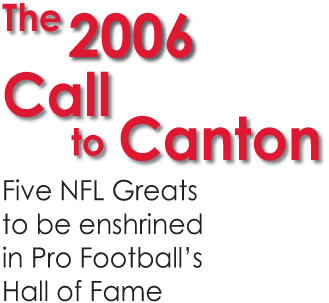 Coach John Madden, quarterback Troy Aikman, linebacker Harry Carson, quarterback Warren Moon, tackle Rayfield Wright, and defensive end Reggie White are the six former gridiron greats who the NFL Hall of Fame Selection Committee have chosen to be immortalized in Canton bronze.
The six-man class of 2006 Pro Football Hall of Fame enshrinees were elected by the 39-member committee last February, during Super Bowl week, in Detroit, Michigan. The newest members of the Hall, who represent the largest class since 2001, were selected from a list of 15 finalists and will increase the number of all-time greats permanently honored in Canton, Ohio's Pro Football Hall of Fame to 235.
Madden and Wright were selected as senior candidates by the Hall of Fame's Seniors Committee who, on an annual basis, reviews the qualifications of players, coaches, and owners whose careers took place more than 25 years ago. The remaining 13 modern-era finalists were taken from a list of 112 preliminary nominees that had been reduced to 25 semi-finalists, and then to 15 finalists. Among the finalists were running back Thurman Thomas, defensive ends L.C. Greenwood and Claude Humphrey, linebacker Derrick Thomas, offensive linemen Bob Kuechenberg, Russ Grimm, and Gary Zimmerman, and wide receivers Michael Irvin and Art Monk. Of the 2006 finalists, Coach Madden had been eligible for 27 years, Wright for 22 years, Greenwood and Humphrey for 20 years, Kuechenberg for 17 years, Carson for 13 years, Grimm for 10 years, Monk for six years, Zimmerman for four years, and Irvin and Derrick Thomas for two years. For Aikman, Moon, Thurman Thomas, and White, 2006 had been their first year of eligibility. To be eligible for election, modern-era players must be retired for at least five seasons, while a coach needs only to be retired.
With formal Hall of Fame enshrinement ceremonies slated for August 5, 2006, the rookie card offerings of these men of bronze have also become immortalized as they now become a part of a coveted NFL HOF set.
As the class of '06 prepares to take their place in Canton's hallowed halls, we thought it would be a good time to take a look back to what these men did to gain admittance, and which of their cards have now become the coveted cardboard for HOF collectors.
Troy Aikman
During his 12-season career, Troy Aikman chalked up 90 wins, led the Dallas Cowboys to three World Champion titles, and received six career Pro Bowl invitations.
Having completed his UCLA collegiate career as an All-American and the third rated passer in NCAA history, Troy Aikman was wrangled by the then-hapless Dallas Cowboys as the first overall pick in the 1989 NFL Draft. The first rookie quarterback to start a Dallas season opener since Roger Staubach did it in 1969, Aikman showed promise although his team only scored one victory all season.
By the following year, Aikman was showing that he could do more than promise – he could also deliver. He threw 399 passes that year and connected on 226 of them for 2,579 yards and 11 touchdowns. The Cowboys were still an embarrassment to Texans but, with Aikman at the helm, they did manage to win 7 games that season.
In 1991, Aikman came into his own. He completed 65.3 percent of his passes (the best completion record in the NFL that year), and led the Cowboys to a remarkable turnaround. The team went 11-5 and even got to the second round of post-season play.
Aikman reached the 10,000-yard passing mark during the 1992 season. He connected on 302 passes to help the Cowboys turn in an impressive 13-3 regular season record. Troy and the Cowboys continued to impress through the '92 post season and capped off the year by trouncing the Buffalo Bills 52-17 Bills in Super Bowl XXVII. Aikman was named the Super Bowl's MVP that year for connecting on 22 of the 30 passes he threw – passes that resulted in a gain of 273 yards and four touchdowns.
The Cowboys continued to turn in winning performances under Aikman's leadership. During the following three seasons, they recorded three 12-4 records and Aikman garnered two more Championship rings for scoring victories in Super Bowls XXVIII and XXX.
By the end of the 1990s, Aikman had claimed the title of being the winningest starting quarterback of any decade in NFL history. Unfortunately, the new millennium would not be kind to Troy, and at the conclusion of the 2000 season, plagued with injuries, Aikman announced his retirement. He wound up his pro career by throwing for 32,942 yards and 165 touchdowns with a passer rating of 81.6.
When the news of his election to the Hall of Fame was announced, Aikman gave credit to the coaches and teammates he worked with throughout his career, and the greats of the game who came before him. "When I think of all the great players who have played the game over the history of it," said Aikman, "to be considered one of the great players that helped define the game itself, it is a humbling experience."
Of the three recognized Troy Aikman rookie cards, the 1989 Score # 270 is the most desired offering. However, now that he is a HOFer, the 1989 Pro Set # 490 and the 1989 Topps Traded # 70T will undoubtedly become more popular.
Harry Carson
In an impressive 13-season career, New York Giants linebacker Harry Carson was named to nine Pro Bowls and earned a Super Bowl ring.
Selected by the New York Giants in the fourth round of the 1976 NFL Draft out of South Carolina State University, Harry Carson won the starting middle linebacker position halfway through his rookie season and went on to be named to the All-NFL Rookie Team. Leading all Giants defenders in tackles for five seasons, he was named to the Pro Bowl nine times, including seven straight from 1982 through 1988.
As an inside linebacker, Carson became known as the man to stop the man carrying the ball. Like his teammate Lawrence Taylor, he possessed great speed and agility. He scored 118 tackles during the 1986 regular season, finishing second in total tackles for the Giants. He augmented that record by chalking up another 23 tackles in the post season and capped it off by earning a Super Bowl ring as the Giants went on to down the Denver Broncos in Super Bowl XXI.
The fact that Carson, who retired in 1988, has been named to the Hall of Fame is actually a bit of a surprise. That surprise doesn't come from his not being totally deserving, but rather because of his vocal criticisms of the Hall of Fame voting process over the years. Having once even gone as far as asking that his name be removed from HOF consideration, Carson bypassed being in Detroit for Super Bowl week when the announcement was made.
"I'm (elated) by Harry's election," said Dallas Cowboy's Coach Bill Parcells, who took Carson and the Giants to their Super Bowl win. "He was a tremendous player and an integral part of one of the NFL's best two or three defenses for several years."
Harry Carson's rookie card is the 1977 Topps # 146. The card has generated little desirability until he was named to the Hall of Fame. It can still be found at fairly reasonable prices in high-grades with the exception of Gem Mint 10.
John Madden
Head Coach John Madden led the Oakland Raiders for a decade. In 1977, he took his team to victory in Super Bowl XI and completed his NFL coaching career with the highest win percentage in history for a coach with 100 career wins.
Although he is best known as a coach, TV pitchman, sports commentator, and video game entrepreneur, John Madden was once a player. A starter, both offensively and defensively for California Polytechnic College at San Luis Obispo, Madden was voted to the All-Conference team in 1958. In the 1958 NFL Draft, he was selected by the Philadelphia Eagles in the 21st round but never made it past his rookie season due to a career-ending knee injury.
With his playing days over, Madden turned to coaching, beginning his career with a three-year stint at Hancock Junior College in Santa Maria, California. In 1964, Madden moved on to San Diego State University were he served as the school's defensive coordinator until 1966. The following year, Madden returned to the NFL, this time as a linebacker's coach with the Oakland Raiders. Two seasons later, the then-32 year old Madden was tapped to serve as the team's head coach, making him the youngest head coach in the American Football League.
In his rookie year as the Raiders head coach, Madden led his team to an impressive 12-1-1 record and the AFL Western Division title, a performance that saw him named the American Football League Coach of the Year. Madden went on to lead the Raiders for 10 seasons, turning in a regular season record of 103 wins, 32 losses and 7 ties. He took his team to seven Western Division titles, including five in a row from 1972 to 1976. Under Madden, Oakland never experienced a losing season and made eight playoff appearances.
In 1976, Coach Madden and the Raiders came within one game of chalking up a perfect season as they won the AFC Western Division. Their success continued as they beat New England in the divisional playoff game and then went on to trounce the Pittsburgh Steelers in the AFC Championship Game. Madden and the Raiders put the crowing glory on their 1976 season by bettering the Minnesota Vikings by a score of 32 to 14 in Super Bowl XI. Madden's .759 regular season winning percentage ranks as the highest ever among coaches with 100 career victories.
Although he did have a brief professional career as a player, card manufacturers passed on including a John Madden rookie in their 1958 offerings.
Warren Moon
After winning five straight Grey Cups in the Canadian Football League, Warren Moon came to the NFL where he threw for over 49,000 yards and 291 touchdowns. During his 17 NFL seasons, he was selected to play in the Pro Bowl nine times.
During the 1978 NFL Draft, pro scouts all seemed a bit too leery to recommend the selection of Warren Moon. A quarterback out of the University of Washington, Moon's rollout pass delivery was out of sync with the NFL's traditional "drop-back" style. Passed over by the NFL, Moon signed with the Edmonton Eskimos of the Canadian Football League where he went on to lead the team to five consecutive Grey Cup victories.
In 1984, the NFL finally took notice of Moon and the Houston Oilers tapped him to serve as their staring QB. Warren had a big start with Houston setting a team record by throwing for 3,338 yards. In 1986, when Houston established the "run-and-shoot" offense, Moon continued to flourish proving to have one of the strongest arms and best running skills in the league.
In 1990, Moon led the league by throwing for 4,689 yards, 362 completions on 584 attempts and 33 touchdowns. The following season, he once again led the league with 4,690 passing yards.
Just prior to the kickoff of the 1994 season, Moon was traded to the Minnesota Vikings. For his Minnesota debut season, he threw for 4,264 yards and led the team to the playoffs. The following year, he again threw for over 4,200 yards.
In 1997, Moon moved on to the Seattle Seahawks as a free agent. He set team records for completions that year, hitting with 313 passes for 3,678 yards. He also earned his ninth invitation to the Pro Bowl. By 1998, age was beginning to take its toll on Moon. He was plagued by injuries throughout that season and saw little play. The following year, he signed on with the Kansas City Chiefs, where as a backup quarterback, he again saw limited action. He retired in 2000 having completed his career with 51,061 yards of total offense and 313 touchdowns.
"All African-American quarterbacks who played before me should share in this," said Moon, who with the February Hall of Fame announcement became the first black quarterback to ever be honored in Canton. "I don't want to make this a racial thing, but I think it is significant. It shows that we have arrived at the pinnacle of our sport."
The most sought-after of Warren Moon's cards are his NFL rookie offering from Topps. The 1985 Topps Warren Moon # 251 card has always been both desirable and expensive in high grades for a modern card. Now that he is a HOFer, and the first African-American quarterback to receive such an honor, conventional wisdom says the card will rapidly become even more sought after and pricey.
Reggie White
As an Eagle, Packer and Panther, Reggie White lived up to his nickname – "The Minister of Defense"– by downing opposing quarterbacks 198 times. He was named to the 1980s and 1990s All-Decade Teams, the 75th Anniversary Team, and selected to 13 Pro Bowls.
Ordained as a minister when he was just 17-years old, Reggie White was tagged by his teammates as "The Minister of Defense" during his senior year at Tennessee. After college and two seasons with the ill-fated United States Football League, White signed on with the Philadelphia Eagles during the 1985 season where he registered 13 sacks and was named the NFL's Defensive Rookie of the Year.
The following season, White scored 18 sacks as a prelude to his 1987 performance, which proved to be one of the most outstanding ever turned in by a defensive lineman. By 1993, after recording 124 sacks in 121 games, White became a free agent and joined the Green Bay Packers. With the Pack he wasted no time in helping the then-hapless team regain the glory of their early days. The Packers steadily improved and, in 1996, with the NFL's topped ranked defense, they soared through the playoffs and took World Championship honors in Super Bowl XXXI, where White recorded a record three sacks.
After the Championship season, White remained with the Pack for two more years. During that time, he chalked up 27 more sacks. Retiring after the 1998 season, White felt he had a bit more to give and returned to the pro ranks for a rather forgettable final season with the Carolina Panthers in 2000.
When White finally did call it quits, he did so as the NFL's all-time sack leader with 198. He was named to the NFL's All-Decade Teams of the 1980s and 1990s, the 75th Anniversary Team, and was voted first-team All-Pro 10 times in his 15-year career.
White, who turned 43 on December 19, 2004, died unexpectedly just seven days later. On the day after Christmas, White was rushed from his North Carolina home to a nearby hospital where he was pronounced dead. White had suffered a fatal cardiac arrhythmia caused by the the pulmonary sarcoidosis disease he had lived with for years. During the 2005 season, three of the teams he had played with retired his number 92 jersey.
"Every city embraced Reggie as a player and as a person," said White's widow, Sara, after the Hall of Fame announcement was made. "The wonderful thing I can say about my husband is there can't be anything negative said about him. Nothing. I (just) wish he were here. That is the only regret I have. But you know what, he is here. He is."
While Topps issued a 1984 Topps USFL Reggie White # 58, it is the 1986 Topps #275 that is White's first NFL rookie card. The Topps # 275 is fairly easy to find although it is costly in the highest grades.
Rayfield Wright
A member of the NFL's All-Decade Team of the 1970s, Rayfield Wright's 13-season career with the Dallas Cowboy saw him play in six Pro Bowls, eight championship games, and five Super Bowls.
As an All-American out of Georgia's Fort Valley State, Rayfield Wright was selected by the Dallas Cowboys in 1967 as a seventh round draft pick. During his first three pro seasons, Wright was periodically used as a defensive end, tight end, and offensive tackle. In preparation for the 1970 season, the Dallas coaching staff, headed by Tom Landry, made the decision to start the six-foot, six-inch, 255-pound Wright as their right tackle.
The following season, Wright, nicknamed "Big Cat", was named All-NFL. He went on to be named either first or second team All-NFL six consecutive times from 1971 till 1976, and was tagged to play in the Pro Bowl following each of those seasons.
Wright, who like Madden, was elected to the Hall of Fame by the Seniors Committee after their eligibility on the regular ballot expired, said he never dreamed he would ever be a professional football player and really never even wanted to play football. "I am so overwhelmed at this time and so honored," he said when the announcement was made.
When it comes to Wright, the card that is in most demand is the 1972 Topps Rayfield Wright # 316. Of the current Hall of Fame class, this will be the hardest of the rookie offerings to find in high grades.