New York, New York - On June 24th, Sotheby's and SCP Auctions will offer one of two known Washington Senators' Walter Johnson jerseys (est. $200/300,000), the only example in private hands. Emerging after some 80 years of seclusion in the estate of Johnson's former Senators teammate Eric "Swat" Erickson, the jersey is one of the most important baseball artifacts ever discovered. The Walter Johnson jersey headlines an auction of Important Sports Memorabilia and Cards which also includes significant New York Yankees items, a prominent single-owner Basketball Jersey Collection, as well as material representing the most prolific figures in the history of America's most popular sports. Another cornerstone piece in the auction is baseball's reigning Home Run King Hank Aaron's 1954 Milwaukee Braves rookie road jersey (est. $150/250,000). Aaron's record 755-career home runs stands as one of the most hallowed records in all of sport, and has engendered even greater reverence as the mark is approached by Barry Bonds. The 1858 Fashion Course All Star Game "Scorers Report" from the Baseball Match between the "New York Nine" and the "Brooklyn Nine" (est. $100/200,000) will also be included. Property from the sale will be on exhibition at Sotheby's galleries from June 19th to 23rd.
Lee Dunbar, Director of Sotheby's Collectibles department, said: "In each one of the Sotheby's/SCP auctions we have broken new ground in sports memorabilia, offering the bat that Babe Ruth used to hit the first home run ever at Yankee Stadium, the contract selling Ruth from the Red Sox to the Yankees and Joe DiMaggio's 1936 Yankees rookie jersey. For this auction we've unearthed the road jersey of the second most successful pitcher of all time, Walter Johnson, who remains to this day the greatest Senator of them all."
Of the selection of material slated for the June, 24th sale David Kohler, President of SCP Auctions, stated, "In every Sotheby's/SCP Auctions sale, we take pride in bringing forth historically important material that is fresh to the marketplace or largely uncirculated. In that regard this auction is our finest to date. Advanced collectors will see many of the finest pieces in the sale for the first time in the pages of our catalogue."
Walter Johnson's 1920's Washington Senators' Jersey from the Estate of a Former Teammate and Friend
An unaltered c. early 1920's road jersey has surfaced as the only the second known example of a Washington Senators' jersey worn by Walter Johnson, one of the greatest pitchers of all time. Johnson's 1927 road jersey resides in the Hall of Fame. The offered c. early 1920's jersey surfaced after some 80 years of seclusion in the estate of Johnson's former Senator's teammate Eric "Swat" Erickson.
Johnson's first pitching assignment was against the Detroit Tigers. Even though the Senators suffered a loss, legendary hitter Ty Cobb immediately recognized the young pitcher's remarkable ability. "The first time I faced him, I watched him take that easy windup - and then something went past me that made me flinch. I hardly saw the pitch, but I heard it. Every one of us knew we'd met the most powerful arm ever turned loose in a ballpark," Cobb said.
The "Big Train" fanned 3,508 batters over a brilliant 21-year career with the Washington Senators, and his 110 shutouts are more than any pitcher. Despite hurling for losing teams most of his career, he won 417 games - second only to Cy Young on the all-time list. His ERA for his career was merely 2.17. The two-time American league MVP (1913 and 1924) was inducted into the Hall of Fame in 1936. He led the league in strikeouts 12 times, in wins six different seasons and in ERA five times.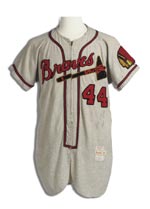 1954 Milwaukee Braves Hank Aaron Rookie Jersey
A great player never known for being the absolute best, Hank Aaron was the model of consistency, topping 30 home runs 14 times in a season and revered for his career record of 755 home runs. In his 23 seasons, Aaron captured just one MVP honor, but will always be known as the man who surpassed Babe Ruth.
On a muggy April night in Atlanta in 1974, relief pitcher Tom House carried a baseball in from the left-field bullpen. When he handed the ball that had eclipsed the most important record in baseball to the unemotional record breaker, House reported that there were tears in Aaron's eyes. Perhaps the emotion was in response to his 715th home run, breaking Ruth's record, but more likely it was in thanks that the ordeal was finally over. Aaron received hate mail and death threats and, when he failed to get number 714 at the end of the 1973 season, he left an entire off-season for speculation and building expectations. The tears may have been the reaction to a giant weight being lifted off his shoulders.
Aaron was able to become the all-time home run champ by sustaining a relatively unspectacular but remarkably consistent career. He was never hurt badly enough to be out of the lineup for an extended period of time. He was not a particularly aggressive base runner, so his legs suffered little wear and tear. His remarkable physical condition allowed him to average 33 home runs a year, hitting between 24 and 45 for 19 straight years. He drove in more than 100 runs 15 times, including a record 13 seasons in a row. Sometimes lost among the home run hullabaloo are Aaron's two batting titles and four Gold Gloves for his play in right field.
At the age of 20, Aaron broke into the Major Leagues with the Milwaukee Braves. He batted .280 and hit 13 home runs. He went on to make the All-Star team each of the following 21 seasons. Aaron's 1954 rookie road jersey hits the auction block (est. $150/250,000) amidst renewed reverence for his career accomplishments, as one of many great items featured in the sale from the prolific Steve Myland Collection.
The Steve Myland Collection
Steve Myland has been a high profile figure in the sports collectibles world for several years and amassed a notable private collection of vintage sports memorabilia. A substantial portion of his collection focusing on New York Yankees memorabilia and items related to Hank Aaron will be a cornerstone of the June 24th auction. Among the highlights from the Myland Collection, in addition to the Hank Aaron rookie jersey, is Babe Ruth's double signed contract with Samuel Goldwyn Inc. for his appearance in the film "The Babe Ruth Story" (est. $20/25,000), a 1914 Yearbook from St. Mary's School for Boys picturing Babe Ruth (est. $10/15,000), and a baseball signed by the 1933 Inaugural American League All-Star Team featuring Ruth and Gehrig (est. $15/20,000).
August 17, 1858 Fashion Course All Star Game "Scorers Report" from the Baseball Match between the "New York Nine" and the "Brooklyn Nine"
The official hand written, scored and dated "Scorers Report" is being offered from the second and most significant of the three matches, played at the famous Fashion Race Course on Long Island, New York. This is not only the earliest known official "Scorers Report" of any organized baseball game extant, but also has additional enormous historical significance. For it was the Fashion All Star Games of 1858 in which ball players first played in an enclosed park and the first in which patrons were charged admission to an organized baseball game. As such, this "Scorers Report" is a significantly important item reflecting the development of professional baseball during a time in which the game would soon be known as our country's National Pastime. This very special lot, containing hand scribed detailed score sheets for each of the two teams, comes from the very scrapbook of Frank Pidgeon, star pitcher for the Brooklyn Eckfords, and winner of this very important All Star match. Sotheby's and SCP are honored to offer this relic to the collecting public for the first time ever (est. $100/200,000). Another significant 19th century item offered in the sale is an 1857 Trophy Ball from a match played by Brooklyn's famed Excelsiors team. The gold painted baseball is marked, "1857 - Sept. 16 Union/Excelsiors - 30/8 - 7 Innings" and sits atop a sterling silver base. The artifact (est. $30/40,000) originates from the estate of the former owner of the New York Globe newspaper who sponsored the Excelsiors team. The Excelsiors were among the premier teams of their time and included such stars as Candy Cummings and Jim Creighton.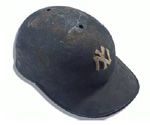 1961 Roger Maris Game Used Batting Helmet
On his way to hitting 714 home runs, Ruth once hit 60 in one season. In the summer of 1961, the New York Yankees lineup possessed the most potent three-four punch since the days of Ruth and Gehrig in the form of Mickey Mantle and Roger Maris. The two sluggers from the eventual World Series champions grabbed the attention of the entire world as they chased Ruth's single season home run record with Maris catching and passing the Babe in the waning days of that dramatic season. Offered on behalf of a gentleman who obtained it directly from Maris in the Yankees clubhouse at seasons end, this helmet (est. $40/60,000) was donned by the reluctant Yankee hero throughout his historic 1961 campaign.
1932 Babe Ruth Autographed Game Used Bat
The "Sultan of Swat" was the first player to hit 30, 40, 50 and 60 home runs in a season, and his slugging style forever changed the way baseball was played. A Ruth game-used bat, the ultimate tool of his trade, is among the most widely coveted objects in the field of sports memorabilia collecting. This exceptional example dates from Ruth's epic 1932 "Called Shot" season and is among the finest of only a scant few known Ruth's gamers autographed by the Bambino himself (est. $150/200,000).
Lou Gehrig's 1934 A.L. All-Star Gold Pendant
Lou Gehrig's consecutive game streak of 2,130 games (a record that stood until Cal Ripken, Jr. broke it in 1995) did not come easily. He played well every day despite a broken thumb, a broken toe and back spasms. Later in his career Gehrig's hands were X-rayed, and doctors were able to spot 17 different fractures that had "healed" while Gehrig continued to play. Despite having pain from lumbago one day, he was listed as the shortstop and leadoff hitter. He singled and was promptly replaced but kept the streak intact. His endurance and strength earned him the nickname "Iron Horse." Gehrig won the Triple Crown in 1934, with a .363 average, 49 homers and 165 RBI. His 1934 A.L. All-Star Gold Pendant (est. $10/15,000) is among the best personal mementos from one of the best seasons by any player in Major League Baseball history.
Private Collection of Important Basketball Jerseys including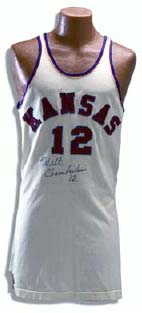 Wilt Chamberlain's 1957-58 Kansas Jayhawks Jersey from Chamberlain Estate
A single-owner collection of important basketball jerseys includes some of the finest individual examples representing many of the NBA's top 50 greatest players ever. Highlighting the collection is Wilt Chamberlain's 1957-58 Kansas Jayhawks Home Jersey (est. $50/75,000). The jersey, originally obtained from the Chamberlain Estate, is arguably the most important college basketball jersey ever offered at auction. Other player jerseys offered from this significant collection include Bob Cousy, Jerry West, Bob Pettit, Bill Bradley, Earl Monroe, Elvin Hayes, Paul Arizin, George Gervin and Meadowlark Lemon. Also included in the sale will be George Mikan's personal copy of the NBA's 50 Greatest Players signed lithograph issued in 1996 (est. $40/60,000).
1955 Mickey Mantle New York Yankees Home Jersey Photo-Matched to 486 ft. HR Game
Mickey Mantle played in twelve World Series, won three MVP awards, a Triple Crown (1956), and became one of the most idolized men ever to don Yankee pinstripes. Mantle wore this Yankees home flannel jersey in 1955 as evidenced by four different images from the 1955 season providing a conclusive "photo-match". One of the photo-matched images shows the Mick slugging his 486-foot home run in Yankee Stadium wearing this very jersey (est. $100/200,000).
Discovery of Never-Before-Seen Topps Cards
The 1968 Topps Test 3D set was a unique set for its time, testing the acceptance of this new "technology" on baseball cards, and offered in the sale will not only be a complete set of this extremely rare issue but also three never-before-seen examples. The players represented on these three un-catalogued cards are Rick Monday, Tommy Davis and John O'Donoghue (est $10/15,000 each). Unlike the previously known Brooks Robinson "Prototype", which was square cut and of a slightly different size with the team name across the front, all three of these cards are manufactured exactly like the other twelve cards in the set, absent any text or logos.
The Catalogue
The catalogue can be pre-purchased by logging on to www.sothebys.com or by calling (888) 752 0002. Catalogues are also available for purchase in Sotheby's galleries in New York and London. The price for the catalogue is $36 including shipping and handling.
Registering to Bid
Registration is required to bid in Sotheby's auctions. You can register in person at our New York headquarters any time before the sale, or via fax when you submit an absentee bid form. Please call the Bid Department at (212) 606 7414 for further information.
Placing Bids
There are four ways to bid in this sale:
Bid through the Internet beginning June 10th using real-time and absentee bidding at ebayliveauctions.com. You can register there to place bids through eBay's Live Auctions tool.
Note that online registration only enables you to bid online.
Bid in the room by attending the auction in New York and raising your paddle (issued upon registration).
Bid by absentee. An absentee bid is a form you fill out and return to Sotheby's bid department via fax or mail. The form indicates the highest amount you would like to bid for an item or items. The auctioneer will submit bids on your behalf as necessary, up to -- but never above -- the amount you specify. Absentee bid forms are printed in the back of each catalogue, and are available at Sotheby's offices and at www.sothebys.com .

Bid over the telephone through a Sotheby's representative, who sits in the room and conveys your bid to the auctioneer. Phone bidding is best when you have not set a limit for an item and want to pursue it until it's yours. Call the Bids department at (212) 606 7414 to set up an account.

*Estimates do not include buyer's premium

For more information, please visit www.sothebys.com or www.scpauctions.com.