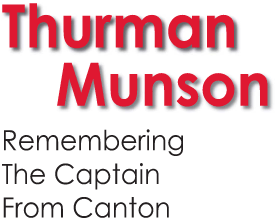 Any baby boomer can tell you exactly where they were and who they were with when they heard that President Kennedy had been shot; when Neil Armstrong took that first small lunar step; when the bulletin hit the airwaves that Elvis had left this Earthly building; and when a deranged gun-touter pointed his weapon toward John Lennon and did the unimaginable.
Those dates – November 22, 1963, July 20, 1969, August 16, 1977 and December 8, 1990 are as indelibly etched in the minds of boomers as December 7, 1941 was with the generation before, and as September 11, 2001 is in today's world.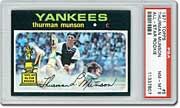 If you are a fan of the New York Yankees, or really of any Major League Baseball team, and are over the age of 30, the mention of August 2, 1979 is another one of those days that immediately rewinds your mind. It was in the late afternoon of that mid-summer day that radio and television stations throughout the nation broke into their regular programming with those stomach dropping words: "We interrupt this program... " You know the news that follows those four words is never going to be good, and sports fans from all over the country stood stunned as they learned that Yankee catcher Thurman Munson's private jet had crashed just short of a runway at Akron-Canton Regional Airport and that Munson had not survived.
It's hard to believe that over a quarter of a century has passed since that afternoon rendered its bad news. And yet, no matter how much time passes, those who remember watching him play can still picture the always-unshaven Munson behind the plate – squatty, disheveled, with a constant look of agitation on that mustached-moon face peering out from behind a catcher's mask.
For diehard Yankee fans, it always seemed a bit odd that the Yanks – those pinstriped gods of Major League Baseball whose legendary heritage included the charismatic Babe, the dignified Iron Horse, the dapper Joltin' Joe and the all-American Mick, would select Munson, whom they referred to as "Pigpen", to serve as their first captain since Lou Gehrig.
""He was absolutely my favorite teammate," pitcher Goose Gossage has said about Munson. "I had some great, great, great teammates. But he was the best."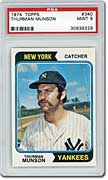 In the same way that the aforementioned legends defined the Bronx Bombers of their era, the New York Yankees of the 1970s had become Thurman's teams. From the first day Munson suited up in Yankee pinstripes after being snagged as a first round draft pick out of Kent State University, he changed the dynamic of the team. The Yanks were in one of their uncharacteristic dry spells and, after five straight forgettable seasons, Munson strutted into The House That Ruth Built with the attitude that this losing thing was over. It has been often said that Munson never really became a part of the Yankees as much as the Yankees became part of Munson.
Munson's close friend and teammate, Bobby Murcer, once said that Thurman was extremely different than most rookies who kept a low profile without making waves. "(Thurman) felt like he belonged the first time he stepped on the field at Yankee Stadium," said Murcer.
As the team warmed up and eventually rallied to Munson's pulsating beat, the Yanks captured three American League pennants and two World Series championships.
Can one man really do that much to influence the enthusiasm and play of an entire team? Well, consider this – from 1975 through 1977, Munson didn't just serve as the spark to light a fire under his teammate's behinds, he himself glowed by batting .300-plus each year while averaging 16 home runs and 103 RBIs. He also chalked up such honors as being named the 1970 Rookie of the Year and 1976's Most Valuable Player. He snagged three Gold Glove awards and was named to seven All-Star teams. Most notably, however, is that in the wake of Munson's death, 17 long years would pass before the Yankees would win another World Series.
A Scrappy Beginning
Thurman Lee Munson came into the world via Akron, Ohio on June 7, 1947. His father, Darrell, was a long-distance trucker who was never going to be nominated for any best parenting awards. The Munson family was poor and, as the youngest child, Thurman learned early on that getting by in life was a day-to-day struggle. Always a scrappy kid, Munson went on to be an even scrappier athlete making a name for himself on the gridiron, diamond and court of Lehman High School. His athletic abilities earned him scholarships to various colleges and he ultimately selected Kent State University where he went on to earn All-America Honors.
In 1967, while playing for the Cape Cod League, Munson was noticed by a Yankee scout who continued to keep an eye on him throughout his senior year. In the early summer of the following year, the Yanks grabbed Munson as the Number One pick in the amateur Free Agent Draft. Pocketing a $75,000 bonus, Munson played minor league ball with the Binghamton Triplets in the Eastern League, and then moved on to Syracuse before being called up to play with the big boys during the 1969 season.
An Unlikely Heir
Munson made such an impression during the '69 season that he was offered the starting catcher position the following year. It has been often said that the early 1970s were a rudderless time for the New York Yankees. Mickey Mantle, the last of the team's legendary "greats" had retired and, for the first time, the team was absent a dominating player. New Yorkers didn't recognize such a team. They were used to larger-than-life players such as The Babe, who handed off the torch to Gehrig, and Joe DiMaggio, who grabbed the torch from Gehrig and passed it on to Mantle.
With The Mick gone, the Yanks found themselves without a team-defining player. That ended when a rather sloppy, slightly overweight catcher from Canton, who always looked like he just rolled out of bed, surfaced as the new heir to the throne and began his reign in the Bronx.
A superb defensive catcher, Munson augmented his physical prowess with a well-thought out mental approach to the game. He was a savvy play-caller who engaged in what some called behind-the-plate managing. He had what has been
described as one of the fastest releases in baseball and he also proved to be an excellent clutch hitter. He possessed an unshakeable confidence that reassured the men who delivered to him from the mound as he relayed what pitches he wanted to receive. He was gruff and unrelenting on the field. His teammate, Lou Piniella, called him "The greatest competitor I've ever seen."
Off the field, he had a knack for business that wasn't immediately apparent to those who only saw him as a stubble-faced-rumpled-mess-of-a-man. He used the fact that he was not polished, and thus underrated, to his advantage and left heads being scratched when his savvy acumen surfaced.
Munson was the last person in the world to care about being famous and did everything he could to shelter himself and his family from his celebrity status. At the time of his death, Munson desperately wanted to return to Ohio to escape New York, where he was known to just about everyone. He was never flashy in any way and didn't give a hoot about style. His bushy hair and droopy mustache were always in a state of chaotic disarray and, when not in pinstripes, he usually draped his pudgy form with jeans and flannel shirts.
An oft-told tale tells of a time Thurm was filling his car at a gas station. While servicing his own car, another motorist pulled up to the pump and, mistaking him for a service station employee, asked Munson to fill 'er up. The kicker of that story is that without a beat Munson grabbed the nozzle and nonchalantly began filling the man's tank.
A Secret Softie
At home, Thurman enjoyed nightly snacks of chocolate cookies and milk with his three children. His widow Diana, has said he never disciplined the kids and if punishment for bad behavior ever had to be levied, the task was either left to her or simply never handed down.
As much as he tried to hide his softer side, Munson gained a reputation with those who knew him as always being willing to lend a helping hand. Another tale of Munson lore tells of the time he learned that a New York sportswriter couldn't afford to have his wife and young children join him in Florida while he covered spring training. Thurm, who ironically never had much of a rapport with the press, penned a check to the scribe to pay for his family's airfare, offering it on one condition, that he never tell anyone.
Munson shunned publicity and the press at every turn and didn't harbor a single ounce of skill when it came to diplomacy and public relations. His less than cheery attitude even put the notoriously cantankerous New York media and fans off at times. Did Thurm care? CARE? He never even noticed! His boss, former Yankee General Manager Gabe Paul once said, "Thurman Munson is a nice guy who doesn't want anyone to know it."
The Fatal Flight
By 1979, Munson had reaped the material rewards that come with a successful sports career. He had chalked up the stats he would need to be a Hall of Fame contender and was respected by his teammates who two years earlier had named him their captain. He had begun to give thought to some of the business ventures he would be getting into as he wound down his playing career. He was looking forward to retuning to Ohio and spending more time with Diana and the kids. Everything was going so right until that fateful summer afternoon when something went so very wrong.
The 32-year-old Munson had been practicing takeoffs and landings in his new Cessna Citation. As he made his final descent toward the runway of the Akron-Canton airport, his plane became unstable. It hit a tree and the fuselage crumbled as the aircraft fell short of the runway. Munson's forehead was covered in blood from hitting the instrument panel, but he was conscious. "Are you guys okay?" he asked his friend Jerry Anderson and flight instructor David Hall, who had been flying with him. There was no answer. Badly injured, Anderson and Hall had managed to extract themselves from the craft.
Munson, whose legs were pinned under the plane's crushed nose, was not able to move. Anderson and Hall desperately tried to help Munson who lost consciousness shortly after inquiring on the condition of his passengers. The cabin was rapidly filling with smoke and, when Anderson pulled the emergency door open, the intensity of the heat threw him back. Within moments, the plane burst into flames.
The National Transportation Safety Board would later release a report that blamed the crash on pilot error. Anderson has said that no matter what mistake Munson may have made, once he knew they were in trouble, he did what he could to ensure the safety of his passengers. "Thurman flew that airplane to the last nanosecond," Anderson said. "He kept it under control and brought us down. He never panicked. He saved our lives."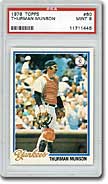 Munson's passing stunned the sport's world and devastated his teammates, who all attended his funeral. Pinella and Murcer eulogized him and then carried him to his rest at Sunset Hills Memorial Park in Canton.
In the mid-1990s, the Munson legacy continued when his son Michael, who was only 4-years old when his father was killed, began what would be a four-year stint in pro ball. Following in his father's footsteps as a catcher, Michael was signed by the Yankees and played with them for three years before his final season with the Giants double-A team.
Had he lived, chances are good that Thurman Munson wouldn't have done much more to guild his place in baseball history. Sportswriters have yet to elect him to the Hall of Fame, but the possibility of that happening is a real one.
Whether or not he is ever immortalized in Cooperstown bronze, the tributes that honor him will always be a part of Yankee Stadium. The Yanks retired Thurman's number 15 jersey and have also memorialized him by placing a plaque on the stadium's centerfield wall. To this day, Munson's locker still stands as a tribute to the captain from Canton. The stall stands at the back wall of the Yankee's clubhouse with the number "15" above it. The locker is empty except for a catcher's mask that once covered that stubble-covered moon face and a chest protector that once protected that big soft heart that Thurman tried so hard to conceal.
The Captain's Collectibles
The most coveted of Thurman Munson's cards were manufactured by Topps. Of the ten Munson cards that Topps offered between 1970 and 1979, the 1970 Topps #189 Thurman Munson Rookie Card is the most desirable. The card, a split window offering on which Thurm shares the front with Yankee first baseman Dave McDonald, is fairly easy to find in mid-grades. Higher grades are more difficult to come by due to the fact that the card's gray border makes it prone to chipping and edge wear.
Munson's autograph is one of the most desirable of all retired Yankees, due in part to his early passing and the fact that he did not sign often by modern-era standards. Single signed baseballs are extremely difficult to locate and nice examples would garner prices in the $5,000-plus range. Bats that were used by the fallen Yankee are hot commodities as well, especially, high-end examples. Game-used bats exhibiting strong use and excellent Munson characteristics are difficult to find and sell for a premium in the marketplace. Expect to pay $4,000 and up for superb examples.