New York, New York - This spring Sotheby's and sports auction house SCP Auctions will conduct their inaugural internet-exclusive sale of sports memorabilia and cards, the first sale of its kind for the partnership. The sale, which will focus heavily on objects from the history of baseball, will close on May 11, 2006. Sotheby's and SCP Auctions next major live auction is scheduled for June 24, 2006.
The internet auction will feature cards from nearly every vintage baseball issue ever produced including early tobacco cards, Goudeys, Play Balls, early Topps, early Bowmans, and an extensive number of scarce regional card issues and pre-war cards. Memorabilia in the sale will include a wide array of single signed and team signed baseballs, game used bats, jerseys, trophies and awards, programs, advertising pieces, pennants, tickets, and several Babe Ruth, Lou Gehrig, and New York Yankee items.
David Kohler, President & CEO of SCP Auctions, said: "While Sotheby's and SCP Auctions will continue to conduct our bi-annual live auctions, the integration of our internet-only auctions allows us to provide a complete solution to consignors covering all price ranges of memorabilia and cards in the marketplace. As our internet-only auctions focus on items ranging from $500 to $10,000, we are now able to consistently offer our buyers significantly more great items to add to their collections."
Leila Dunbar, Director of Sotheby's Collectibles department, continued: "Our previous three live auctions have consistently set records for the best of the best sports memorabilia and cards - achieving average per lot values in excess of $10,000. We are excited to now be able to offer an equally powerful auction format that appeals to a wide range of consignors and collectors."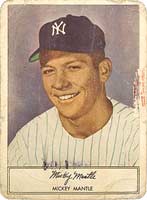 The Mike Cramer Collection, Part Two, will be featured as well as Part Two of the Dr. Douglas Triplett Collection, encompassing complete and near sets of nearly every Topps and Bowman baseball issue from 1948 through 1975 along with nearly all the Topps and Bowman football sets from 1948 through 1956.
Several rare regional sets and lots will be featured including Zeenuts, Stahl-Meyer, Wilson Wieners, Royal Desserts, Tip Tops, Spic and Spans, Hires Root Beers, Hunter, Rodeo, Morrell and Esskay Meats, Laval Dairy, Bell Brands, Kahns, Red Hearts, Mother's Cookies, Clover Leafs, and Sugerdales. A fresh find of important Topps "Test" issues will be featured including a 1968 Topps Test Basketball complete set, a 1969 Topps Super complete set, 1968 Action All-Star Stickers, and a 1974 Topps Deckle complete set.
A significant number of pre-war cards will be included such as an N28 baseball set, assorted Old Judges, Buchner Gold Coins, T-201's, T-205's, T-206's, T-212's, some rare 1934 R304 Al Demaree Die-cuts, Delongs, Batter Ups, Double Plays, Orbit Gum, Goudeys, and Play Balls. Among the prominent single cards to be included are a 1917 Boston Store Babe Ruth card, a T-215 Red Cross back Walter Johnson, a PSA graded 1952 Topps Mickey Mantle, and several PSA graded Goudey Babe Ruth cards.

Memorabilia highlights include numerous Babe Ruth autographed items including a high-grade single signed baseball. The array of vintage autographs in the sale also includes items from the likes of Honus Wagner, Ty Cobb, Lou Gehrig, Walter Johnson, Cy Young, the New York Yankees, and the Brooklyn Dodgers.
Among the many prominent collections previously brought to market by SCP Auctions through their internet auction venue is the famed T206 Harris Collection and several of the industry's most important single baseball cards, as well as estate collections from Honus Wagner, Bob Cousy, George Mikan, and Tony Lazzeri. The sale will be conducted on SCP Auctions' state of the art internet auction program on SCP's website, www.scpauctions.com
Online bidding will begin at www.scpauctions.com on April 27th and the auction will close on Thursday, May 11th. The auction will feature over 750 lots of important sports memorabilia and cards. Each of the 750-plus items will be featured on the SCP Auctions website at www.scpauctions.com and in a full color catalogue available on April 20th. Please call +1 800 350.2273 for more information on how to participate in this exciting auction event.