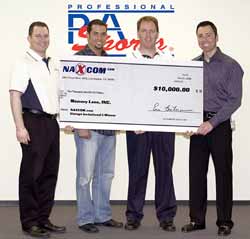 LOS ANGELES, CA. - Just like last year's inaugural Vintage Invitational contest, what began as a battle between 32 of the country's top vintage sports memorabilia dealers concluded with a showdown between two of the industry's most respected hobby retailers - Memory Lane, Inc. and McAvoy Sportcards. And like last year, Memory Lane prevailed to capture the title Vintage Memorabilia Dealer of the Year and $10,000 in the second annual NAXCOM.COM Vintage Invitational presented by PSA. Despite, falling short in the championship round for a second straight year, McAvoy Sportcards still earned $2,500 as the runner-up.
"We commend both Memory Lane and McAvoy Sportcards for their outstanding performance for the second straight year," said Eric Beckerman, CEO of NAXCOM.com. "And like last year, they weren't the only winners. Vintage buyers again were able to get some great deals on Vintage items as these dealers were cutting their best deals to try to win the $10,000 grand prize."
Here are just a few of the great deals and rare sales executed during NAXCOM Vintage Invitational 2:
1963 Topps Pete Rose RC PSA 9 - $10,000
1953 Bowman Color #128 Whitey Lockman PSA9 $5,000
1958 Hires Root Beer Test Set (8 Cards in Set) $2,500
1959 Topps Mickey Mantle PSA 8 - $1,999
1953 Bowman Color Pee Wee Reese PSA 8 - $1,500
1909-11 T206 Batting 0 Red Murray PSA8 - $1,350.00
1966-67 Topps Bobby Orr SGC 80 - $1,350.00
1961 Topps #300 Mickey Mantle - New York Yankees PSA8 $900

NAXCOM.com started in 2001 and just recently purchased ThePit.com from the Topps Company With this acquisition, NAXCOM now offers sports investors and collectors two great choices:
ThePit.com where you can invest in bulk on today's top sports stars and their Best Rookie Card(s) without having to take possession...just like the stock market.
The NAXCOM marketplace - Buy & Sell with over 105,000 users from a giant selection of over 5.5 Million User Listings of Sports Cards & Memorabilia. Buy with confidence with NAXCOM's exclusive Buyer Protection Guarantee; over 1 million transactions and never has a buyer not received their item or their money back. That's why, according to Alexa rankings (www.alexa.com), NAXCOM is now the #1 sports collectibles site on the Internet, surpassing even Beckett!
For more information about NAXCOM.com go to www.naxcom.com or ThePit.com go to www.thepit.com or call 877.255.3162.