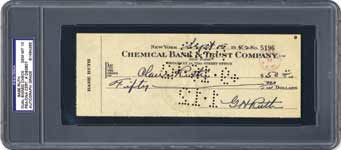 Due to the overwhelming response to our autograph authentication and encapsulation service, we have created an entirely new look for this service. Effective immediately, all autographs that are sent in for this service such as signature cuts, album pages, index cards, checks, uncatalogued cards, etc. will receive a unique blue PSA/DNA label. In addition, any catalogued trading card that requires autograph grading will also feature the blue PSA/DNA label. This will replace the red PSA label currently utilized for trading card and ticket grading.
Be sure to submit the above items on a separate PSA/DNA submission form from other memorabilia for authentication. Catalogued trading cards and tickets will need to be submitted on a separate PSA submission form.
Please keep in mind that items featuring the blue PSA/DNA label are not put through the trading card or ticket expert process. These signed items are being submitted for autograph authentication only.
For example, if you see a signed trading card of Roger Clemens or a signed ticket from an alleged sporting event, the certification only applies to the autograph - not the trading card or ticket. Our expert staff is merely rendering their opinion on the autograph, nothing else.
Of course, PSA does offer a grading service for signed tickets and trading cards where both items are certified but those would appear with the traditional red PSA label and be described as such.
Contact our customer service department if you have any questions at 800-325-1121.