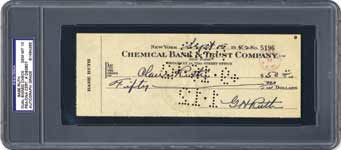 The encapsulation of autographs such as checks, cuts, index cards, unlicensed cards, and the like has become a very popular service at PSA/DNA. Due to its increasing popularity, we have created an entirely new look for this service. Effective immediately, all autographs that are sent in for this service such as signature cuts, album pages, index cards, checks, uncatalogued cards, etc. will receive a unique blue PSA/DNA label. This will replace the red PSA label currently utilized for trading card and ticket grading.
Effective May 1st, 2006 these items must be submitted under PSA/DNA Authentication services. Be sure to submit the above items on a separate PSA/DNA submission form from other memorabilia.
Catalogued trading cards and tickets will need to be submitted on a separate PSA submission form.
To ensure that these items are processed in an efficient manner, please take note of the following:
Encapsulation, if you choose the service, is now included in the full PSA/DNA authentication fee for those items with an authentication fee of $50 or more. Those items under $50, encapsulation is only $10. Please refer to the autograph authentication chart for more information, www.psacard.com/Fees/Autographs. Please make sure to clearly mark the appropriate box for encapsulation on the submission form.
Please remember that if encapsulation is selected, the submitter will forgo the certificate or letter.
If the customer chooses, they may request both encapsulation and the certificate or letter of authenticity for an additional fee of $10.
All autographs submitted for encapsulation must be submitted as a separate order from items not to be encapsulated (separate shipping fees apply). This will ensure more efficient processing.
Please note that encapsulation is available for items that fit in holders currently available. For additional information, please contact Customer Service.
We hope you enjoy this increasingly popular service and, by following the steps listed above, your items will be processed in the most efficient manner. If you have any additional questions, please contact one of our customer service representatives toll-free at (800) 325-1121.