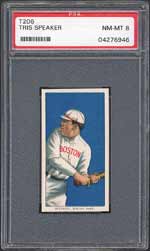 Baseball memorabilia collectors are anxiously awaiting April 29, the final day of bidding for the collecting world's most exciting and highly-anticipated auction, the annual sale by Robert Edward Auctions. Bidding starts April 10 by FAX, phone, or the Internet via the Robert Edward's site and e-Bay Live Auctions. Robert Lifson, president of the Watchung, New Jersey, auction house, expects the total sales for the event to exceed $5-million. Coming to the block will be some 1400 lots of baseball collectibles dating from 1787 to 1987. The oldest item in the sale is an extremely rare children's book, A Little Pretty Pocketbook, by John Newberry, published in 1787 by Isaiah Thomas, Worcester, Massachusetts. It is of particular historic significance because it is the first known appearance in print of the word "Base-ball". From later periods will be many remarkable discoveries and extraordinary rarities in all areas including: over 200 lots of pre-1900 baseball cards and memorabilia; display pieces; original art; rare pinbacks; autographs; graded cards; tobacco cards; caramel cards; regionals; 1930s gum cards; Topps and Bowman sets; bats, gloves, uniforms, and other equipment. There will also be many baseball collectibles from more recent times. For examples, a 1972 Willie May San Francisco Giants game-used and signed uniform will come up for bids. Its estimate is $10,000/15,000, and its reserve $5000. The auction also includes Thurman Munson's last Yankee pinstripe uniform from 1979 (both shirt and pants), which have an estimate of $10,000+, and a reserve of $5,000.
Among the items of special interest will be: the finest T206 complete set to ever come to auction as a set (the 520 cards, all graded by PSA, represent the third highest-graded set ever assembled on the PSA Registry, with an average grade of 5.73; the set includes 102 PSA NM 7, 183 PSA EX-MT 6, and 221 EX 5, Reserve $50,000); an original 19" x 25" painting by illustrator Allan Stephens Foster (1892-1934), Safe on Base, which appeared on the cover of the May 28, 1927 edition of The Saturday Evening Post, (reserve $25,000); a newly discovered 1931 postcard of Josh Gibson produced by Harrison Studios, Hot Springs, Arkansas, signed twice, is of special significance as it is the first-ever known card of Josh Gibson from his playing days (est. $10,000/20,000, reserve $5000); the only known baseball signed by Effa Manly, the newly-elected and first woman to ever be a member of the Hall of Fame (est. 2,000/$3,000, reserve $1,000); an extremely rare 1869 Peck & Snyder advertising trade card featuring baseball's first professional team, the Cincinnati Red Stockings (est. $8,000/12,000, reserve $4,000); an extraordinary 1910 collection of 297 T210 Old Mill tobacco cards (est. $20,000/$30,000, reserve $10,000); hundreds of nineteenth-century baseball cards including N167 and N172 Old Judges; an extraordinary array of rare nineteenth-century cards including examples issued by Four Base Hits tobacco, Yum-Yum Tobacco, G & B Gum, and Allen & Ginter, as well as many rare nineteenth-century baseball cabinet cards; hundreds of Cracker Jack baseball cards issued in 1914 and 1915; literally thousands of 1910-era baseball tobacco, one the largest selections to ever be offered at auction; the number one set on the PSA Registry of E90-1 American Caramel (119 of 120 cards, est. $20,000+); complete Topps and Bowman sets from virtually every year including a complete set of 1952 Topps with the rare high-numbers (est $10,000/$20,000, reserve $5,000); one of the finest selections of game-used bats to ever come to auction, including Babe Ruth (three different examples), Stan Musial, Hank Greenberg, Willie Mays, Roberto Clemente, Ted Williams, George Sisler, Hank Aaron, Harry Hooper, Eddie Mathews, Duke Snider, and 1919 Black Sox star Joe Jackson; three extraordinary Mickey Mantle bats, including the only circa 1961 Mickey Mantle game-used bat known to exist signed by both Mantle and Maris (est. $25,000+, reserve $10,000); a bat used by Joe DiMaggio in the 1947 World Series (est. $10,000/$20,000, reserve $5,000); a 1928-1930 Rogers Hornsby signed game-used bat, (est. $20,000/30,000, reserve $10,000); a 1907 softcover book, History of Colored Baseball by Sol White, (Est. $5000/10,000, reserve $2500); a 1965 Al Kaline, Detroit Tigers game-used flannel road jersey, worn during the season and in the World Series, (est. $10,000/15,000, reserve $5000); a 1937 Rock-Ola World Series Arcade electronic game, 53" x 41" x 29", (est. $20,000/30,000, reserve $10,000); an Official American League (Harridge) ball signed by Babe Ruth and Lou Gehrig, graded as Near Mint to Mint + 8.5 by PSDA/DNA, the highest grade ever received by a Ruth/Gehrig ball (est. $20,000/ 40,000, reserve $10,000); a 1967 Willie Mays signed and game-used MacGregor glove with a letter of authenticity from Mays, (est. $10,000/20,000, reserve $5,000); an extraordinary previously unknown 1912 T202 Hassan triple-fold tobacco store advertising display featuring Ty Cobb and Christy Mathewson, (reserve $50,000); a newly discovered1914 Baltimore News Babe Ruth rookie card in Fair to Good condition, (reserve $10,000). A similar card in higher grade sold for $243,000 at the 2005 Robert Edward auction.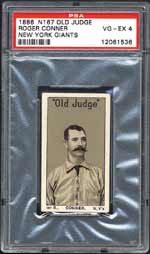 Additional items of special note include: an incredible newly discovered find of twelve 1910 Schmeltzer's Sporting Goods pins including two Joe Jacksons and three Ty Cobbs (Cobb was previously unknown, previous to this find fewer than twelve Schmeltzer's pins in total were known to exist, Reserve $20,000); an extraordinary selection of nonsport original card artwork from many sets including three never-before-offered original 1962 Topps Mars Attacks artworks (est. $10,000/$15,000, reserve $5,000 each); the highest-graded 1940 Superman Gum Inc. complete set (est. $5,000/$7,500+, reserve $2,500); a large selection of high-grade low population report cards from key sets such as 1933 Goudey and T206 (including examples from the Harris Collection); a Vg-Ex example of legendary T206 rarity, Eddie Plank, one of the finest known (est. $20,000/$40,000, reserve $10,000); a 1910 T210 Old Mill Tobacco card featuring Joe Jackson as a minor leaguer, universally recognized as one of the great prizes in all of card collecting, in Very Good condition (reserve $10,000); a 1933 Goudey #106 Nap Lajoie graded PSA EX-MT 6 (est. $10,000/20,000, reserve $5,000); complete sets of 1933 and 1934 Goudey "Big League" bubble-gum cards; a 1933 Goudey uncut sheet (est. $8,000/$12,000, reserve $4,000); an extraordinary collection of unique copyright registration cards from the files of the Goudey Gum Company; uncut proof sheets of the first 1952 Topps cards ever printed; and an extraordinary 1913 Barnum & Bailey "Famous Elephant Base-Ball Team" circus poster (est. $2,000/$4,000, reserve $1,000).
The auction also includes an incredible selection of very high quality Comic, Pop Culture, and Americana related items. In addition to nonsport cards dating from the 1880s to the 1960s, the Americana section is highlighted by the earliest known Bob Dylan (Bob Zimmerman) Handwritten Poems, dating from 1956, saved by a high school friend, accompanied by a photo of Dylan on a motorcycle with his friend (est. $2,000/$4,000, reserve $1,000); a February 6, 1955 Elvis Presley original concert poster - the date Elvis met colonel Tom Parker, one of only six examples known (est. $20,000/$30,000, Reserve $10,000); and "The Ambler Collection" of Original Golden Age Comic Books, comprised of 390 books saved and consigned by their original owner, to be offered intact as a collection.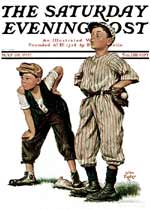 For over 30 years Robert Edward Auctions has specialized in all areas of historic baseball collectibles, as well other sport, non-sport, and Americana collectibles including political and campaign memorabilia, autographs and manuscripts, and original illustration art. Robert Edward Auctions has been responsible for many of the most important baseball memorabilia sales including overseeing the sale of the $26-million Barry Halper baseball collection, universally recognized as the best and largest in the world; the legendary "Gretzky-McNail" T206 Honus Wagner card, $1.3-million; the uniform Yankee legend Lou Gehrig was wearing in 1939 when he gave his famous farewell speech, saying "Today, I consider myself to be the luckiest man on the face of the earth", $306,000; and the 1854 Knickerbocker Trophy baseball, now on permanent exhibit at the Baseball Hall of Fame, Cooperstown, New York, at a then-record $72,000.
Copies of the 500-page full-color premium catalog (shipping April 7) are available free. To review the catalog on-line, to learn more about Robert Edward Auctions, or to receive a complimentary copy of the catalog, visit www.RobertEdwardAuctions.com. Robert Edward Auctions is currently assembling their next sale. For further information contact: Robert Edward Auctions, PO Box 7256, Watchung, NJ or call (908)-226-9900.