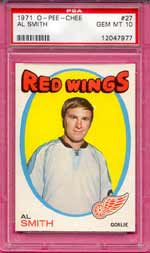 In a set that boasts rookies of Dryden, Lafleur and Dionne, it's hard to believe that a checklist would be the most coveted card, but that is the case with the 1971-1972 O-Pee-Chee (OPC).
In fact, the elusive Series One checklist (Card #111) is so highly sought after that some have called it the toughest OPC card to obtain.
"(The checklist) might be the hardest card from the '70s to find," explains Dale Weselowski, owner of Ab D. Cards in Calgary, Alta.
One reason for the card's apparent scarcity is that it comes from the first series, which is generally considered more difficult to find than Series Two. This, coupled with the fact that kids often marked checklists from this era, helps explain the dearth of high-grade examples. Of the 52 evaluated by PSA (as of this print date), only one has rated as high as a PSA Mint 9.
But while the checklist is the most lucrative card, the set, which is OPC's most valuable issue from the past 35 years, also boasts a number of other desirable singles. Comprised of two 132-card series (Series One: #1 - #132, Series Two: #133 to #264), this set could be formed from wax packs or vending boxes.
The differences between the two series are minimal. Mark Ironside, a savvy hobbyist whose set ranks fifth on the PSA Set Registry, points out that the card numbers on Series One singles are "thicker" than the numbers on Series Two. Also, Series Two cards are sequenced by team (followed by trophy winners and then all-star cards) while Series One singles are in random order.
Aside from the checklist, other notable cards in Series One include the Ken Dryden rookie, a Bobby Orr regular issue and sophomore singles of Gilbert Perreault and Bobby Clarke. Series Two offers the Guy Lafleur and Marcel Dionne rookies, as well as two additional Orr cards (a trophy and all-star card), a second-year Darryl Sittler, and special retirement cards of Gordie Howe and Jean Beliveau. Also included in Series Two is a checklist (Card #264), which is valued at approximately a third of its series one counterpart.
In a practice that has baffled many industry experts some hobby publications have listed Series Two commons at a higher price than Series One.
"It was always way easier by comparison to get the second series than the first - no ifs, ands or buts … I've always said that has been wrong. For 15 years, I've been saying it," says Weselowski.
Gerry Chartrand, owner of Gerry's Sports Cards in Dorval, Que., concurs, adding that high-grade cards from Series One are difficult to keep in stock.
"Low number cards in high-grade condition sell very well," he says.
The PSA Population Report also appears to support the theory that there are more Series Two cards in circulation. According to PSA data, there have generally been about 10 to 15 examples of each Series One common graded, while Series Two commons tend to boast between 15 and 25 examples.
Overall, the set's popularity can be attributed to a number of factors. Its biggest selling point is that it offers the rookie cards of three revered Hall of Famers (Dryden, Lafleur and Dionne) - and the fact that two of these legends toiled for the Montreal Canadiens doesn't hurt either, adds Ironside.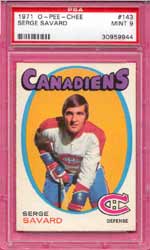 "Basically a lot of guys who collect hockey are Montreal Canadiens fans and two of their biggest rookies are in this set," he says.
Collectors have also embraced the design, which showcases the player's photo inside an oval on the card's front. While biographical data (in English and French), each player's career statistics, and a cartoon illustrating a little-known fact about the player are highlights of the light-green back.
"I think it's the nicest looking set from the '70s," claims Darren Styles, a Minneapolis-based hobbyist, whose set ranks second on the PSA Set Registry.
Ironside, who collects numerous vintage sets, agrees that the layout of the cards is the set's key attraction.
"The biggest reason (for the set's popularity) is that guys just happen to like that oval design and the colors, but unfortunately, when it comes to graded cards, they're tough to find," he says.
The PSA Population Report supports Ironside's contention. Of the 5,814 that have been submitted for evaluation, only around 7% have registered a PSA 9 Mint grade. In comparison, over 10 per cent of the cards sent in for the 1970-71 OPC set have graded PSA Mint 9 and close to 13 per cent have been deemed that grade for the 1972-73 edition.
Among the condition issues that make high-grade cards from this set scarce are OPC's inconsistent cutting practices.
"OPC is notorious for its jagged edge cutting," notes Styles.
Another byproduct of OPC's less-than-stellar slicing is bad centering. A high percentage of this set's singles are off center left to right - a problem further complicated by the fact that some cards are centered on the front, but not centered on the back and vice versa.
"They do tend to be off. It's not very often you are going to get perfectly centered (cards). I mean, the thing is people try to gauge it by today's standards … Those things were done in 1971, I mean they just hacked and wacked them," says Weselowski.
One fault that Ironside has uncovered is what he deems a "factory ripple."
"The thing with 1971 in OPC is a lot of the cards that came out of the vending cases have what I call a factory crease. It's not actually a crease. It's more like a ripple in the cardboard. '71 is famous for this and it's usually on the back of the card," he says.
Most hobbyists, Ironside indicates, can't even see this "ripple" and are dismayed when their cards come back assigned a lower grade by a grading company. Although he has no hard evidence, Ironside believes that these ripples are apparent on cards from wax packs as well.
"The ripple problem seems widespread enough that it was most likely simply a trait of the cardboard stock used in 1971," he adds.
Other common flaws on the backs of these cards include discoloration due to aging and gum stains, says Chartrand.
"People know they can use a nylon cloth to get it (a gum stain) off the front, but how do they get it off the back?" he asks.
One single card that's particularly difficult to find in high-grade condition is Card No .1, Poul Popiel. Of the 10 Popiel cards submitted to PSA, none have scored above a PSA 8.
"It's a condition sensitive set anyway and the cards 1, 2, and 3 on the top of the pile tend to get a hit a lot," explains Joe Henninger, a Bloomfield, Mich., native whose set ranks ninth on the PSA Registry.
The All-Star cards in Series Two are also tough to uncover in high-grade condition.
"All of the all-star cards seem to be harder to find centered - usually left to right centering is the trouble," explains Ironside.
With the cards being made on sheets, he points out, this means that horizontal cards like the all-star cards were sideways on the sheet, and, as a result, may have posed cutting challenges.
On top of the abundance of condition issues, the competition for high-grade cards from this issue seems to be increasing.
"I started collecting them probably a year, a year and a half, two years ago when nobody was really buying the '71s … I was buying a bunch of nine (PSA 9) stuff for very little. I was getting them for like $30 to $40 a piece. Then all of a sudden people started getting into getting their whole sets done and the price went up immediately," he says.
So far only one complete set is showcased on the PSA Set Registry. Clearly collectors who are trying to finish this issue in high-grade have their work cut out for them. And while they compete for cards of legends like Dryden, Orr, Lafleur, Howe and Dionne, they'll likely have to reserve their most tenacious battle for the coveted Series One checklist.