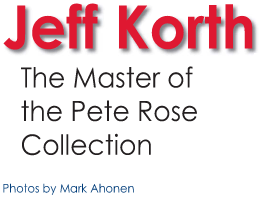 Since its establishment in 2001, the PSA Set Registry has paid homage to collectors who have committed themselves to amassing the world's finest sets of sportscards, autographed material, game-used bats and sporting event ticket collections. For anyone who has ever tried to complete a set of 1951 Bowman cards, collect a ball signed by every member of Baseball's Hall of Fame, or obtain an unused ticket from each one of history's 39 Super Bowls, it is no secret that to reach such a goal, one has to be driven, financially secure, and most importantly, completely dedicated.
The PSA Set Registry is dedicated to those dedicated individuals, which includes Jeff Korth of Cincinnati, Ohio who has been honored for compiling the number one All-Time Finest Pete Rose Master Set.
Korth's dedication to America's Pastime can be traced back to the late 1950s. As a young boy growing up near Princeton, New Jersey, he had a connection that sealed his fate as a diehard baseball fan. That connection was his father.
"I'm a baby boomer," said Korth. "And every baby boomer remembers that Yogi Berra was the spokesman for the chocolate drink Yoo-hoo. Well, my father was in the soft drink business and when we would go to Yankee Stadium for games he would get clubhouse passes. I got to meet all the great players of the era. Of course, after I met them, I wanted their cards. I had a great collection of cards. But, like with most every kid's card collection, my mother threw them away."
With his treasured childhood card collection scattered to the wind (or, to put it a bit less romantically, to a central New Jersey land fill), Korth focused his attention on the things that typically ease the pain of thrown away cards – school, sports, cars, the opposite sex, and plans for the future. Those future plans would include matriculation at the Georgia Institute of Technology. During his time at Georgia Tech, Korth played baseball, studied mechanical engineering and even got to attend Atlanta Fulton County Stadium on the evening of April 8, 1974, to see Hank Aaron turn an Al Downing fastball into his record breaking 715th homer.
After graduating from Tech in 1977, Korth began his professional career with Proctor & Gamble, married, and moved to Cincinnati where he and his wife Liz were soon joined by two sons – Jason who was born in 1978, and Garrett, who came along in 1981.
"When our kids were young I would take them out to the stadium just like my father did with me," said Korth. "So, like I grew up with Yogi Berra and Joe DiMaggio, my kids grew up with Pete Rose."
Korth is the first to admit that there was an extremely distinct difference between the men he idolized as a kid and the one his children looked up to. Unlike the cuddly Yogi, who spewed his non sequiturs and inspired the name of a famous cartoon bear, and the gentlemanly Yankee Clipper, who dressed like a movie star and married Tinseltown's most alluring screen goddess, the scrappy Rose was all about tough guy muscle and on-field hustle.
"Pete Rose was always very controversial," said Korth. "He was a tough guy. But he was what he was, and the bottom line is that you can't take away what he did on the field. He played 500 games at five different positions – 27 seasons of incredible accomplishments! No one can dispute that or take that away from him."
Like many others who have reached a time in their lives when they have established themselves and earned a bit of a breather to reflect, the mid-1990s found Korth thinking back on his childhood love of cards. "That was when I started getting back into cards," he said. "However, I was strictly into collecting Pete Rose cards. I was fascinated by him – with all the controversy surrounding him – I equate him to Shoeless Joe Jackson. Pete Rose will always be a legendary character."
As the years went by, Korth's collection of Rose cards continued to grow. Working with dealers and utilizing eBay, his online bids soon caught the attention of one of the hobby's most legendary names. "One day, I got a call from Marshall Fogel," Korth recalled with a laugh. "He had seen all my activity on Rose cards and he wanted to know who I was and what my logic was in bidding on all the Rose cards. I told him they were cheap and he was controversial, so I felt they may be valuable some day and I was buying them to tuck away for my kids."
By 2000, Korth had become a savvy collector and had moved far beyond just randomly buying Rose cards and tucking them away. "I had decided I wanted to put together the basic Rose set in PSA 8 or better," he said.
In order to accomplish that feat, Korth called upon Marshall Fogel who began working with him. "Marshall was most definitely the catalyst for me to complete the basic set and then to move on to the master set," said Korth. "That was when the bug bit hard and I was addicted."
Along with Fogel's help, a New Jersey collector by the name of Ed Clark was also instrumental in assisting Korth. "Ed had a great full master Rose set that had taken him years to compile," Korth explained. "When he decided to break up the set he gave me the first shot at it. I also relied on Bill Feay from Tennessee who was very helpful with the high-end cards."
As the years went by, Korth's addictive obsession to collect every Pete Rose card ever manufactured has been viewed in different ways by his family. "My son Jason has always been very excited about the collection," said Korth. "But, my wife, Liz, has thought I was crazy," he continued with a laugh. "However, she is coming around to understand what an accomplishment this is. She has begun to warm up to it and now she tolerates it."
As of press time, Korth was only missing three cards to complete his master Rose set. "I will definitely finish it soon," he said pragmatically. "The cards I'm missing are by no means valuable or expensive cards, which is actually why I've been having a hard time finding them. No one is out selling cheap cards or has them graded by PSA," he reasoned. "So, while there are a lot of them out there somewhere, it's hard to know where they are."
Of all the cards Korth does have, he said he is partial to the Topps 1974 and '75 cards that he has in PSA 10 and, of course, the 1963 Topps, which was Rose's rookie card. "I have the '63 Topps in a PSA 9," Korth said proudly. "I got that from a dealer named Tony Arnold – a superb guy who has been relentless in helping me put this set together."
While speaking of the people who have been helpful to him in his pursuit, Korth mentioned that it is those connections that have been one of the most enjoyable things about returning to card collecting. "I have found that the credible people are the ones who deal with PSA graded cards," said Korth. "Anyone who has been involved with this hobby knows it has its 'shysters' and its quality people. The people who deal only in PSA cards are light-years above the others. PSA has taken the risk out of what dealers do as well as what I do as a collector."
Today, as he works as a vice president of sales for a power generation company, and is so very close to finishing off his Rose collection, Korth has begun to put his accomplishment into perspective. "It started out as a goal to capture something of intrinsic value for my kids," said Korth. "Then it blossomed into a real passion. As I finish it, I am staying sort of low key and low profile with the set. It's just sitting in a safety deposit box. But I have been thinking of approaching the Reds to see if they would have any interest in displaying it. I know their front office does sort of shy away from Rose to stay in good graces with the powers-that-be in Major League Baseball. But they also know how much the people in Cincinnati still love him. As for the future – my hope is that the collection would stay in my family," he said. "Then, in maybe 20 or 30 years I can imagine it would be either broken up or sold as a full set as the highlight of a big auction."
Many collectors say that along with the feeling of accomplishment they also feel a sense of sadness when they complete a set they have been working on for many years. It is a feeling that stems from the hunt being over. Korth said he is too busy looking for other things that he collects to feel that way. "I also collect Georgia Tech memorabilia," he said. "Like me, my son Garrett graduated from Georgia Tech, so we collect Tech yearbooks and have some from as far back as the turn of the century. My son Jason graduated from Notre Dame so we collect Notre Dame yearbooks also. We are currently looking for their first one from 1906. That has become my new passion and obsession."
It would be an obvious oversight to not question the man who has the top Rose master set in existence on his feelings of Charlie Hustle's banishment from baseball. Korth is quick to voice his adamant opinion that the ban should be lifted and Rose should be eligible for the Hall of Fame. "Major League Baseball should most definitely reverse their decision," he opined. "Rose has an addiction to gambling. If he had an addiction of some other kind, he would be offered help. Instead, he is just being thrown under a bus. But this guy has always been a fighter and as far as I'm concerned there has never been a better all-around player in baseball. When you look at what he has done on the field, it is just phenomenal. Do I think he will ever be admitted to the Hall of Fame? I think it will happen after he is dead. And I think it would have already happened if he had played for a team in New York or Los Angeles, or Chicago because they are huge franchises with big media coverage that could put the pressure on Major League Baseball. Cincinnati isn't a big media town and because of that their fans and sportswriters don't have a lot of clout to pressure the League or the Commissioner."
Even if the decision to keep Rose on the outside looking in is never reversed, Korth said that he, like most Cincinnati fans, have come to terms with the fact that there is no need for a bronze bust in the hallowed halls of Cooperstown to document his incredible stats. "Pete Rose has always been a controversial guy and always will be," said Korth. "But his accomplishments are there in black and white. What he did on the field was superb and that will live forever!"