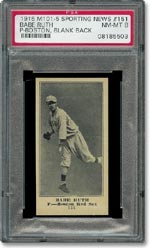 Centennial, Co. - Mile High Card Company's recently completed December 7th auction was in many respects a record setting event for both the firm as well as the hobby in general. The sale grossed an amazing $2,062,745 which represents a company record as well as an industry record for an auction whose focal point is vintage Sportscards.
This auction was a continuation of the firmly held thought that if new fresh items of tremendous importance are brought to market the results will be nothing short of miraculous. To prove this MHCC procured such items of note as an 1887 N690-1 Kalamazoo Bats Pittsburg Team Cabinet which realized an astounding $62,299.00 after the gavel fell. The company also offered a scintillating 1915 Sporting News #151 Babe Ruth Rookie card graded PSA 8 NM/MT that commanded a record price of $140,665. Company Principal Brian Drent noted, "Collectors are surely drawn to an auction of both this size as well as importance... We (MHCC) have surely entrenched ourselves as the preeminent vintage card auction company... We feel confident that our prices for upper echelon material exceed the prices realized of our competitors... We look forward to offering more key pieces to the marketplace."
In addition, Drent explained, "The proof really is in the pudding! All you really need to do is take a look at the prices realized to see that MHCC is at the very forefront of the high grade vintage collectibles market, and has gotten there through offering tremendous material combined with effective marketing as well as using low minimum bids and a lack of hidden reserves. Our advanced Internet bidding solutions combined with the aforementioned strategy has ensured our stronghold on our chosen segment of the market."
The "Babe"
The December 7th auction had a long litany of highlights but here are a few chosen ones that are sure to be attention grabbers. As always, Babe Ruth seems to be at the forefront of the list! A 1923-25 Hillerich & Bradsby Louisville Slugger Game Used Babe Ruth Bat graded Mears A-10 garnered $152,849, while a stunning single signed ball of the Babe was gaveled down for $16,405. Other Ruth cards included: 1921 E121 Babe Ruth in PSA 6 EX/MT: $12,660; 1948 Leaf #3 Babe Ruth in PSA 8 NM/MT: $6,562; 1933 Goudey #144 Babe Ruth in PSA 6 EX/MT: $4,101; 1933 Goudey #181 Babe Ruth in PSA 6 EX/MT: $4,921. Finally, an extremely tough 1929 Star Player Candy card of the Bambino graded SGC 40 (3) VG found a new home at $5,955.
1948 Leaf
One of the true highlights of this auction was the breakup on a card by card basis of one of the most difficult postwar Baseball sets, the 1948 Leaf set. Mile High Card Company broke the 2nd all-time finest set on the PSA Set Registry and the results were truly astonishing in many cases. The highlights include but are not limited to: #1 Joe DiMaggio PSA 8 NM/MT $10,168, #4 Stan Musial PSA 8 NM/MT $5,955; #76 Ted Williams PSA 9 MINT $19,850; #88 Frank Gustine PSA 10 GEM MINT $21,617. Many of the short prints from the set performed to stunning levels including: #5 Virgil Trucks PSA 6 EX/MT $1,712; #13 Casimer Michaels PSA 8 NM/MT $3,868; #30 Billy Goodman PSA 8 NM/MT $5,616; #33 Harry Lowrey PSA 8 NM/MT $3,516; #36 Al Zarilla PSA 8 NM/MT $6229; #43 Eddie Stevens PSA 7 NM $2,740; #48 Johnny Schmitz PSA 8 NM/MT 2,641; #51 Al Dark PSA 7 NM $2,552; #54 Bobby Adams #3,196; #55 Tommy Henrich PSA 7 NM $2,808; #63 Barney McCosky PSA 8 NM/MT $4,680; #66 Orval Grove PSA 8 NM/MT $5,663; #68 Ed Miller PSA 8 NM/MT $5,663; #93 Bob Feller PSA 6 EX/MT $3,868; #98 Hal Newhouser PSA 8 NM/MT $6,329; #102 Gene Hermansk (incorrect spelling) PSA 6 EX/MT $2,491; #113 Emil Leonard PSA 7 NM $2,491; #127 Enos Slaughter PSA 8 NM/MT $3,930; #129 Kirby Higbee PSA 7 NM $3,648; #137 Harry Walker PSA 8 NM/MT 3,829; #142 Danny Murtaugh PSA 8 NM/MT $5,616; #146 Harold Reiser $4,641; #153 Floyd Baker PSA 8 NM/MT $6,167.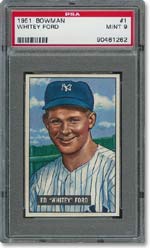 Cardboard Highlights
A superlative group of truly prized cardboard performed to astounding levels, highlighted by the following: 1915 Cracker Jack #30 Ty Cobb SGC 88 (8) NM/MT $22,967; 1932 US Caramel #14 Ty Cobb PSA 8 NM/MT $9,383; 1934 Goudey #61 Lou Gehrig PSA 8 NM/MT $10,827; 1939 Play Ball #26 Joe DiMaggio GAI 9.5 GEM MINT $11,205; 1948 Leaf #8 Satchel Paige GAI 8 NM/MT $37,285; 1949 Bowman #29 Ralph Kiner PSA 10 GEM MINT $12,139; 1951 Bowman #1 Whitey Ford PSA 9 MINT $39,701; 1951 Bowman #305 Willie Mays PSA 8 NM/MT $9,022; 1952 Topps #400 Bill Dickey PSA 9 MINT $9,022; 1954 Bowman #66 Ted Williams PSA 8 NM/MT $7,940; 1954 Topps #128 Henery Aaron SGC 96 (9) MINT $19,850; 1955 Topps #210 Duke Snider GAI 9 MINT $8,964; 1958 Topps #418 World Series Batting Foes (Mantle, Aaron) PSA 9 MINT $7,457; 1961 Topps #2 Roger Maris PSA 9 MINT $6,340; and a 1962 Topps #200 Mickey Mantle PSA 9 that found a new owner at $7,466.
Memorabilia
Included in this amazing sale were some select pieces of memorabilia that performed to levels well beyond their expectations. Highlights of this part of the sale are as follows: 1895 Base Ball Club Championship Team Photograph $3,061, a stunning 1912 Boston Garter Advertising Display Sign that was hammered down at $31,705, 1891 Cleveland Spiders vs. New York Giants scorecard featuring Cy Young on the cover which realized $2,324, an awesome miniature 1894 Baltimore Base Ball Club Champions Pin that sold for $1,312, and a prized 1907 W-601 Sporting Life composite which garnered $2,952. A Honus Wagner pencil signed 3x5 card authenticated by PSA/DNA sold for an impressive $2,487, and an amazing nearly completely autographed 1953 Topps Baseball card set reached an impressive $23,779. Putting a cap on the impressive memorabilia sales totals was the realization of $24,019 for a 1965-68 Louisville Slugger Game Used Bat of Mickey Mantle that was authenticated and graded A7 by MEARS.
More Card Highlights
In this auction there was a definite prewar flavor, and the material performed to some truly staggering levels. Drent remarked, "Without question there has been an amazing response to prewar material as of late and the prices seem to be extremely strong in this area of the hobby." Supporting this quote were some truly outstanding realizations. In addition to the previously mentioned sale of the 1887 N690-1 Kalamazoo Bats Pittsburg Team Cabinet for $62,299, other 19th Century material performed to equally impressive levels -- highlighted by an extremely scarce 1893 Just So Tobacco E. J. McKeon SGC 70 (5.5) EX+ which realized $18,488. A nice group of high end PSA 7 1887 N28 Allen and Ginters performed to strong levels including Anson $5,955, Clarkson $2,625 and a Kelly which sold for $3,281. Twentieth Century material performed strongly as well, highlighted by: 1909-11 T206 Ty Cobb Bat Off Shoulder PSA 7 $10,549; 1909-11 T206 Ty Cobb Bat On Shoulder PSA 7 $8,311; 1909-11 T206 Ty Cobb Green Portrait PSA 6 EX/MT $6,103; as well as a 1909-11 Ty Cobb Red Portrait PSA 7 NM5,548; 1909-11 T206 Addie Joss Portrait PSA 8 NM/MT $6,189; 1909-11 T206 John McGraw Portrait No Cap PSA 8 NM/MT $5,625; 1909-11 T206 Christy Mathewson Dark Cap PSA 7 NM $3,516; 1909-11 T206 Cy Young Bare Hand Shows PSA 7 NM $3,868; 1911 T205 Ty Cobb PSA 6 EX/MT $7,926; 1912 T202 Hassan Triple Folder T. Speaker/J. Wood PSA 8 NM/MT 7,992. Also performing to stong levels were: 1933 Goudey #1 Benny Bengough PSA 7 NM $10,462; 1933 Goudey #22 Pie Traynor PSA 8 NM/MT $3.609; 1933 Goudey #29 Jimmy Foxx PSA 7 NM $3,493; 1933 Goudey #89 Tris Speaker PSA 8 NM/MT $3,281; 1933 Goudey #160 Lou Gehrig PSA 7 NM $5,360; and a 1950 Bowman #22 Jackie Robinson PSA 9 MINT $9,925.
There's More Than Baseball
Not to be left out of the strong prices, Football, Basketball and Hockey cards all performed to extremely strong levels. This MHCC auction featured the breakup of a stunning 1935 National Chicle Football set and the realized prices surely didn't disappoint. Some of the highlights include: #1 Dutch Clark PSA 8 NM/MT $3,609; #3 George Kenneally PSA 8 NM/MT $1,278; #6 Pug Rentner PSA 8 NM/MT $1,278; #9 Knute Rockne PSA 8 NM/MT $4,880; #15 ben Ciccone PSA 8 NM/MT $1,701; #21 Cliff Montgomery PSA 8 NM/MT $2,265; #25 Dale Burnett PSA 7 NM $1,823; #27 "Bull" Tosi PSA 6 EX/MT $2,487; #31 Nic Niccolai PSA 8 NM/MT PSA 8 NM/MT 2,778; #32 Chester Johnston PSA 8 NM/MT $2,526; #34 Bronco Nagurski PSA 7 NM $9,022; and #36 Bernie Masterson PSA 8 NM/MT $5,602. Besides the impressive prices realized from the 1935 National Chicles, Football was more than adequately represented by outstanding prices realized on the following cards: 1965 Topps #122 Joe Namath PSA 8 NM/MT $4,921, and a truly staggering $22,033 for a 1972 Topps #200 Roger Staubauch PSA 10! Basketball cards performed to strong levels represented by the following: 1948 Bowman #55 Max Zaslofsky PSA 9 MINT $3,493, 1969 Topps #25 Lew Alcinder GAI 10 GEM MINT $6,497 and a 1969 Topps #50 Oscar Robertson PSA 9 MINT $1,598. Hockey also had more than its share of impressive realizations highlighted by the following: 1952 Parkhurst #1 Maurice Richard GAI 8 NM/MT $4,227, 1954 Topps #8 Gordie Howe SGC 92 (8.5) NM/MT+ $3,056, and a stunning MINT 9 example of Norm Ullman's 1957 Topps rookie card which found a new home at the tune of $1,934.
Complete Sets
As has become the norm, this Mile High Card Company auction included a bevy of impressive complete sets and amazing high grade groups. Without question the true highlight of this sale was an exceptionally high grade 1955 Topps Completely Graded Complete Set that featured 187/206 cards graded an amazing PSA 8. This set realized an awesome $51,151. The #2 ranked PSA Set Registry 1955 Topps Double Header Set sold for $17,897. Another 1955 Topps set that was completely graded and predominantly PSA 7 fetched $14,436. A 1956 Topps Completely Graded set featuring mainly PSA 6's and 7's realized $11,483. Many regional sets that were offered commanded astounding prices led by the following: a 1950 Drakes complete set that ranged in condition from G to NM sold for $4,880. A 1954 Red Heart Completely Graded PSA 8 set realized $9,925., A 1959 American Motors Hoe Run Derby Complete Set sold for $11,326 and a 1958 Hires Root Beer Complete Set With Tabs sold for $4,101. Besides Baseball, other sports were very well represented. A 1954 Bowman Football Complete Set that was completely graded sold for $11,508 and a stunning high grade 1969 Topps Football Completely Graded Set sold for $6,340. Completing the extremely impressive results from the complete sets was the sale of the #1 PSA Set Registry 1966/67 Topps USA Test Hockey set. It found a new owner at $18,046.
Mile High Card Company is planning a May 2006 auction as follow-up to this tremendously successful sale, and is currently accepting consignments. To consign your valued sports treasures to the spring auction or to add your name to the mailing list to receive a catalog in the future, go to www.milehighcardco.com or call them directly at (303) 840-2784 (8:00-5:00 MST M-F).