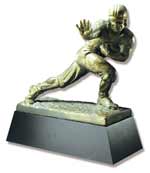 New York - Today, in a full salesroom, Sotheby's and SCP Auctions sold the original plaster cast of the Heisman trophy sculpture from 1935, used as the model for the most famous and significant individual award in college football and the most magnificent trophy in sports, for $228,000 in an auction of Important Sports Memorabilia and Cards. Voted on by more than 1,000 sportswriters and announced every December in New York City, the Heisman trophy has been awarded annually for seventy years, and the winner of the 71st Heisman Trophy will be announced this evening. The cast was consigned directly from the family of the artist, Frank Eliscu, who completed it at the age of 23 in 1935.
Lee Dunbar, Director of Sotheby's Collectibles department, said. "This is the first time there will be two Heisman winners in one day. The Heisman is the most recognizable trophy in sports and I think the spirited bidding reflects the esteem in which this trophy is held."
David Kohler, President of SCP Auctions, continued, "We were proud to have offered this important sports sculpture the same day that the 2005 Heisman trophy will be presented."
Members of the Downtown Athletic Club originally conceived the idea of an annual award to honor the most outstanding college football player. Artist Frank Eliscu, a then 23 year-old New York native who had recently won the National Academy Prize, was commissioned for the work. Ed Smith, a leading player on the 1934 New York University football team, assisted Eliscu as his model. After preliminary sketches of the statue, the DAC suggested that the artist move the outstretched arm to the side, as it would be more natural in how a runner would push away a tackler. Eliscu's finished product was used to create the mold for the bronze trophy that is handed out each year. He was paid $200 for his work.
Today the trophy is an icon in the world of sports. The first award of the DAC Trophy was made on Dec. 9, 1935 to Jay Berwanger of Chicago. Following John W. Heisman's death in 1936, the DAC Trophy was renamed the Heisman Memorial Trophy. The first DAC director, Heisman is credited with effecting more change in the game's development than anyone else, including the advent of the forward pass.
In addition to the Heisman Trophy sculpture, Eliscu, who passed away in 1990, compiled a prominent list of works throughout his career, including the creation of President Gerald Ford's inaugural medal and a state gift for the late Soviet leader Leonid Brezhnev. His "Cascade of Books" is mounted on the front of the James Madison Library of Congress in Washington, DC.
OTHER SALE HIGHLIGHTS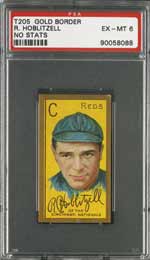 Important and Rare Baseball Cards
Dating from the very beginning of professional baseball, a recently-discovered and rare group of (8) Autographed 1871/72 Boston Red Stocking Cabinet Cards from Warren Studios including Al Spalding and Harry Wright sold for $120,000, twice their high estimate, to a West Coast Collector over the telephone (lot 1, est. $40/60,000*). A collection of (48) early autographed Hall of Fame postcards, which have laid dormant in a safe deposit box for most of the 65 years that have passed since they were signed, brought $72,000 (lot 129, est. $50/60,000).
Other notable card sales included a 1911 T205 Gold Border Hoblitzell "No Stats" PSA 6 EX/MT which sold for $33,000 (lot 318, est. $12/15,000), a 1952 Topps #311 Mickey Mantle PSA 7 NM that brought $42,000 (lot 243, est. $15/25,000) and a 1953 Topps #82 Mickey Mantle PSA 8 NM/MT (lot 244, est. $6/8,000) that sold for $9,000.
Game-Used Baseball Bats
A number of the game-used bats commanded strong prices, including Babe Ruth's H&B Model 125 'Dash-Dot-Dash' Bat, c. 1917-1921, which sold for $102,000 (lot 195, est. $80/120,000), Mickey Mantle's H&B Bat, c. 1966, which brought $48,000 (lot 264, est. $30/50,000) and Harmon Killebrew's 1970 All-Star Game Used Bat (lot 351, est. $4/6,000) sold for $16,800.
Other Highlights from Sotheby's/SCP Auctions Dec. 10th Sale
1952 (World Champion) New York Yankees Team Signed Baseball (est. $2/4,000) - sold for $12,600
Jackie Robinson Handwritten Letter (est. $10/15,000) - sold for $19,200
Ty Cobb Single Signed Baseball PSA Graded Mint 9 with Related Handwritten Postcard (est. $30/40,000) - sold for $39,000
1905 World Series Program at New York (est. $7,500/10,000) - sold for $14,400
Original Unrestored Polo Grounds Double Figural Seat (est. $5/7,000) - sold for $10,800
Honus Wagner Full Sized Decal Bat, circa 1910 (est. $5/7,000) - sold for $10,200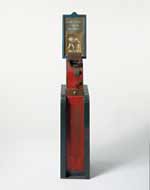 Original Unrestored Mutoscope Machine with 1938 Joe Louis vs Max Schmeling Fight Reel (est. $12/15,000) - sold for $33,000
Muhammad Ali Fight Worn Robe vs. Chuck Wepner-March 24th, 1975 (est. $8/12,000) - sold for $30,000
1924 Boston Bruins (First American NHL Franchise) Sweater Worn by George Redding (est. $8/12,000) - sold for $19,200
1966 Super Bowl I Champion Green Bay Packers Team Signed Football inc. Lombardi (est. $4/6,000) - sold for $11,400
Babe Ruth 1930 New York Yankees Signed Player's Contract (est. $50/60,000) - sold for $84,000
1931 Babe Ruth Handwritten Letter and Accompanying Snapshot (est. $10/15,000) - sold for $27,000
Bronze Memorial Plaque That Marked the Birthplace of Lou Gehrig - Dedicated in 1953 (est. $8/12,000) - sold for $21,600
Lou Gehrig Handwritten ''Get Well'' Letter (est. $10/15,000) - sold for $21,600
1907 World Series Program - Detroit Tigers vs. Chicago Cubs (est. $15/20,000) - sold for $20,400
*Estimates do not include buyer's premium
For more information, please visit www.sothebys.com or www.scpauctions.com.