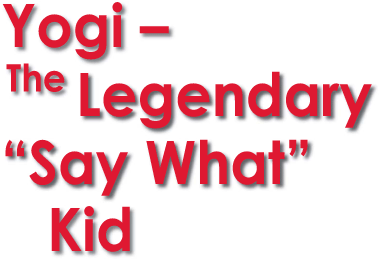 His teammates and contemporaries were the legendary royality of America's Pastime – Mantle, Robinson, DiMaggio, Mays and Aaron. He is one of only a handful of players to be named the Most Valuable Player of the American League three times, and one of only six managers to lead both American and National League teams to the World Series. He also owns a World Series Championship ring for every finger – a collection that no other Major Leaguer can tout.
Referencing his tendency to fracture the English language with malapropisms and non-sequitur syntax, President George W. Bush has called him his linguistic inspiration.
Justin Kaplan, the editor of Bartlett's Familiar Quotations, has called him the most quoted man in America.
His pearls of wisdom have peppered the speeches of Ronald Reagan, Tim Russert, Bill Clinton, and just about every person who has ever been tapped to make a commencement speech.
Willie Mays may have been tagged the "Say Hey" kid, but when it comes to the undisputed "Say What" kid, one man stands alone – Yogi Berra.
"I don't think you can explain Yogi Berra," comedian and actor Billy Crystal once said. "It's too hard to do. I can't even attempt it. Because that would be to damage what is just a delightful little jewel that we should cherish."
From Lawrence to Lawdie to Yogi to Legend
Born on May 12, 1925 in "The Hill" area of St. Louis, Lawrence Peter Berra was tagged with the nickname of "Lawdie" at an early age. That moniker didn't last very long. When he was a teenage ballplayer, one of Berra's friends, Bobby Hofman, watched him as he awaited his turn to hit. Hofman observered that Lawdie would sit with his arms and legs crossed while on deck which made him look like a Hindu holy man he had seen in a movie – a yogi. And thus, one of the most famous tags in all nicknamedom was born.
Leaving school after the eighth grade, Yogi began perfecting his skills as a catcher while playing with a local American Legion league team. In 1942, the pro scouts began noticing him. The St. Louis Cardinals General Manager, Branch Rickey, had gotten wind of this minor league catcher who could hit and offered Yogi $250 to sign with his team. Yogi was tempted but ultimately passed on the offer when he learned that his childhood friend, Joe Garagiola, had been offered a whopping $500 to sign a contract with the Cards. Rickey, who wasn't used to having players turn him down, reportedly told Yogi he would never become anything more than a Triple A ballplayer at best. Leo Browne, a scout with the New York Yankees, disagreed with Rickey's prognostication and ponied up the $500 that lured Yogi into the Yank's camp.
Assigned to the Norfolk Tars of the Class B Piedmont League, Yogi continued to show promise on the field until he traded in his baseball uniform for one that was issued by the United States Navy. World War II was in full swing when the then-18 year old Yogi participated in the D-Day invasion at Omaha Beach. During his Naval stint, he also served in North Africa and Italy before finishing his service career stateside.
After the war, Yogi returned to baseball and played with the Yankees' New London, Connecticut farm team. It was there that Giants Manager, Mel Ott, saw him play and tried to lure him away with a lucrative $50,000 deal. When the offer reached the desk of the Yankees General Manager Larry MacPhail, he was caught off guard. MacPhail had no idea who this "Yogi" character was, but reasoned that if Ott was so desperate to have him, he was probably worth keeping.
In 1946, Yogi suited up with the Newark Bears of the International League before stepping up to the Majors in the latter part of the '46 season. As a member of the Bronx Bombers, Yogi quickly became a fan favorite, who while known for his wild swing, rarely struck out. In 1950, he came to the plate 597 times and was only fanned 12 times.
Yogi-isms – The Beginning of the Start
The year of 1947 would prove to be an important one in establishing Berra as a legend – and it had nothing to do with his on-field prowess, but rather his lack thereof in the art of communicating. In a story that has gone down as one of the oft-told tales in baseball legend and lore, the Yankees were playing in St. Louis, where the City decided to honor their visiting hometown boy. Nervous about what he would say in the pre-game honors, Yogi asked one of his teammates to write a very short speech for him. And short it was – as in just one line that read: "I want to thank all the people who made this day possible."
"So, I got up to the mike," Yogi has recalled on numerous occasions. "I say,' I wanna thank everybody here for making this night necessary.'"
And thus, the Yogi-ism was born.
While Yogi would go on to be ribbed and razzed for the things that came out of his mouth, it never did anything to quiet him down. Behind the plate, Yogi was a chatterbox, or a "talker" as some batters call catchers who won't shut up. Yogi was widely known to make all sorts of annoying comments in an attempt to distract batters. Of those who had to deal with that annoyance, Hank Aaron has often repeated the story of how during the 1958 World Series, Yogi kept yammering away whenever Hammerin' Hank stepped into the batters box. "(Yogi would tell me) to hit with the label up on the bat," Aaron has said. Finally frustrated by the talkative catcher's interruptions, Hank finally turned and told Yogi: "I came up here to hit, not to read."
The Unlikely Superstar
Yogi, who was once called "an unlikely superstar" by Billy Crystal, went on to appear in fifteen All Star Games and snagged the American League's MVP Award three times. In the 14 World Series he played in, Yogi chalked up records that include most World Series games played by a catcher (63), most hits (71), and most times on a winning team (10). His World Series records also include first in doubles, second in RBI's, third in home runs, oh yeah, and in 1947, Yogi was also the first batter to pinch hit a home run in a World Series game. In a career that is rife with memorable moments, one of Yogi's most memorable came in 1959 when Yankee Stadium celebrated "Yogi Berra Day".
At the end of the 1963 season, when Yogi's playing days were over, the Yankees named him as their manager. With Yogi at the helm, the team went on to win the American League pennant, but lost the World Series to, of all teams, the St. Louis Cardinals. Yogi suffered the slings and arrows of a merciless New York media and unhappy fans. Even the Yankees front office wasn't thrilled with his performance and asked him to turn in his pinstripes.
Released from the Bronx Bombers, Yogi simply headed over to Queens where he signed on with the New York Mets as a player-coach. At Shea, Berra was once again teamed up with the legendary Casey Stengel, who was serving as the Mets manager. After Stengal, the Mets named Gil Hodges to lead the team. When Hodges died in 1971, the nod went to Yogi.
In the dwindling weeks of the 1973 season Yogi led the Mets from last place to win the National League pennant. Spurred on by relief pitcher Tug McGraw's "Ya gotta believe!" rally cry, the Mets made a valiant effort to get Yogi his eleventh Championship ring. That chance was however dashed as Reggie Jackson, Sal Bando, Gene Tenace, Jim "Catfish" Hunter, and the rest of the Oakland A's bettered the Mets in the Series' Seventh Game.
Yogi continued on with the Mets until 1975 when he returned to The House That Ruth Built to serve as a Yankee coach. In 1984, George Steinbrenner tapped Yogi to once again manage his team. The Yanks weighed in with a less-than-spectacular showing under Yogi's guidance, and shortly into the next season, King George relieved Yogi of his managerial duties. The following season Yogi again resurfaced, this time in Houston, where he remained with the Astros until his 1992 retirement.
In a career that saw Yogi play in 2,120 games, he stepped into the batter's box 7,555 times. From the box he chalked up 2,150 hits, 358 homers, and 1,430 RBIs. Yogi was elected to the Baseball Hall of Fame in 1972. His inclusion into Cooperstown came by way of a whopping 85.61% as he garnered 339 votes of the 396 ballots cast.
Today, Yogi Berra is renowned for his charitable work, giving generously of his time for numerous organizations. He also stages an annual golf tournament in Montclair, New Jersey that has raised well over $1 million, which benefits special need scouts, educational programs and scholarships. At the age of 80, he stands as one of baseball's goodwill ambassadors who serves on the Hall of Fame Veterans Committee. A spokesperson for various companies, Yogi has always been a strong family man. Married to his wife, Carmen, for over 50 years, he is the father of Larry Berra who was a former minor-league catcher, Tim Berra, who enjoyed a brief stint as a receiver in the NFL, and Dale Berra, who followed in his father's footsteps making it to baseball's Major Leagues.
In 1996, Yogi received an honorary doctorate from Montclair State University, and two years later the Yogi Berra Museum and Learning Center opened its doors to the public, paying tribute to an American legend and his lifelong commitment to the education of young people.
Perhaps one of the greatest tributes to Yogi came from journalist Leonard Koppett who wrote: "In the brightest of publicity spotlights, for more than four decades, Yogi remained completely himself – a rarer and more difficult accomplishment than making the Hall of Fame."
Collectin' THE Yogi Card
Cards that sport the image of Yogi Berra have been, and will continue to be, popular with collectors for many reasons. A huge fan fave from the beginning of his career, Yogi played on one the most dominating and legendary teams in the history of baseball. Add to that the fact that he chalked up great stats, is a Hall of Famer, and an iconic legend for his famous Yogi-isms, and there's no wondering why his cards are in demand.
The most important Berra card is the one that is the only recognized rookie offering of the man who scored more World Series wins than any other player in baseball history – the 1948 Bowman # 6 Yogi Berra.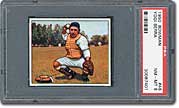 While the '48 Bowmans will never be desired for their aesthetic beauty, it is still a highly popular set due to that fact that, along with Yogi, it is a set well seasoned with the rookie cards of Hall of Famers Ralph Kiner, Johnny Mize, Bob Feller, Phil Rizzuto, Enos Slaughter, Warren Spahn, Stan Musial and Red Schoendienst.
The Musial and Berra cards are by all means the most desired offerings in the '48 Bowman set. They are both rare in Gem Mint 10, but can be found with relative ease (albeit significant expense) in high grades. The Berra card, like all of the '48 Bowmans, has a tendency to suffer from centering problems and print defects. The most notable print problem that plagues the card is black ink spots that encroach upon the image. The card also suffers toning problems, especially along the edges.
The Wit and Wisdom of the Yogi-ism
So, just how did Yogi Berra, an unlikely superstar who was only schooled through the eighth grade and who served as the inspiration for Hanna-Barbera's cartoon character, Yogi Bear, become one of the most widely quoted men on the planet?
"I don't mean to be funny," Yogi once told CBS television correspondent Bob Simon. "Them sayings come out. I don't even know I say 'em. I really don't."
Joe Garagiola, has said that he believes that because he never found Yogi trying to be an amusing or witty guy. "He says funny things, or he'll say things in a funny way," said Garagiola. "(But) Yogi's not a funny guy."
Still, Yogi has become an American legend a la Will Rogers by not giving much thought to the funny things he says, but by just keep saying them. The following are just some of his most classic Yogi-isms:
"Always go to other people's funerals, otherwise they won't come to yours."
"Baseball is ninety percent mental and the other half is physical."
"Half the lies they tell about me aren't true."
"He's amphibious. He hits from both sides of the plate".
"I always thought that record would stand until it was broken."
"I never said most of the things I said."
"I wish I had an answer to that because I'm tired of answering that question."
"If people don't want to come out to the ball park, nobody's gonna stop 'em."
"If you ask me anything I don't know, I'm not going to answer."
"If you come to a fork in the road, take it."
"It ain't over till it's over."
"It's like deja-vu, all over again."
"Slump? I ain't in no slump... I just ain't hitting."
"The future ain't what it used to be."
"We made too many wrong mistakes."
"You better cut the pizza in four pieces because I'm not hungry enough to eat six."
"You can observe a lot by just watching."
"A nickel ain't worth a dime anymore."
"Pair up in threes."
"I knew exactly where it was. I just couldn't find it."
"Why buy good luggage? You only use it when you travel."
"Shut up and talk."
And, when asked about a popular Fort Lauderdale nightclub that players and seemingly everyone else were flocking to in droves during the preseason, Yogi told the press: "Nobody goes there anymore. It's too crowded."