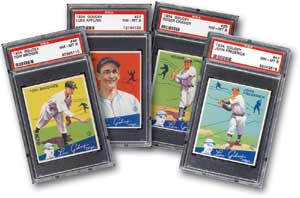 Collectors won big in Memory Lane Inc.'s November 16th Auction! Memory Lane Inc. auctions continue their ascent as a premier sales of hard to find, high-quality graded cards and autographed material.
The 78-year-old Babe Ruth signed baseball -- sold by its original owner Harry Gates, an 85-year-old Californian who received the ball from Ruth personally in Ruth's famed 1927 year -- was truly a prize.
"I was shocked by the huge number of people who viewed the special video interview of Mr. Gates telling his story we posted on our web site -- and the great story about Mr. Gates that USA Today did on Mr. Gates and the ball. The ball truly is a special and rare piece," noted JP Cohen, Memory Lane's Inc.'s, Director of Client Services.
Bidding on the ball was very competitive. The Babe Ruth signed ball produced an extraordinary $35,000+ in realized values as it sold to a private collector.
Vintage graded cards, graded autographs, and cancelled checks did extraordinarily well in the auction. In fact, every sold lot in the Auction proved to be a big winner for both the buyers and the consignors -- in all, the auction was a huge success for the hobby!
A $41,000 Masterpiece!
A 1932 US Caramel #3 Bobby Jones card in MINT 9 sold for $41,000, which is an outstanding 97% above the SMR book value of $21,000! This card is complete mint quality, a most stunning, record-setting copy. (See a closer view of the card images, the Harry Gates Ruth Ball, and all lots on MLI's web site. Just go towww.memorylaneinc.com and click on Past Auctions on the home page.)
An Auction of Deals and Values!
MLI's November '05 auction can be characterized as an Auction of Deals for collectors and Values for consignors, as both achieved great success. For example, a grouping of PSA graded 1949 Bowmans produced exciting results! An outstanding copy of a 1949 Bowman #46 Robin Roberts Rookie card in PSA MINT 9 sold for $4,365, producing a strong 164.5% above SMR book! A '49 Roy Campanella Rookie produced 70% above SMR book! These values indicate that savvy collectors are willing to spend for high-end quality, which is what Memory Lane Inc auctions focus on.
The 1950s Topps cards were big winners too! A 1956 Topps Mickey Mantle #135 in PSA MINT 9 realized nearly 15% above SMR book, and a 1957 Topps Mantle #95 produced a value 20% above book. Both of these realized values for high grade Mantle cards are excellent. A 1958 Topps Early Wynn #100 Yellow Letter in PSA GEM MINT 10 produced a value of 369% above the closest SMR book 9 value!
"Our collector customers want high-end graded cards and memorabilia items that are rare, unique, and graded by companies like PSA. That's why we are so very selective in choosing what we put into our auctions. That's why our auctions are so popular with the really discerning collectors," explained Roger Cameron, MLI Auction Director.
Early Vintage produced strong results as well! A 1916 M101-5 Sporting News #146 Ed Roush with a blank back in PSA 8 sold for a stupendous 981% above book! An 1888 Allen & Ginter Buck Ewing in PSA 9 realized 21% above SMR book. Overall, the auction offered a broad selection of 1888 A&G's, T206 White borders, and T205's, all of which produced strong results. Included in the early vintage was also a grouping of hard to find graded 1911 T-3 Turkey Reds that realized great values, such as #40 Vic Willis in PSA EX 5 which pulled 163% above SMR!
Another huge success was a raw (but gradable) complete 1919-1921 W514 Strip set of all 124 cards. Filled with early Hall of Fame players like Ruth, Cobb, Hornsby and seven of the eight Chicago Black Sox players (including Shoeless Joe Jackson), this incredible set realized over $5,400.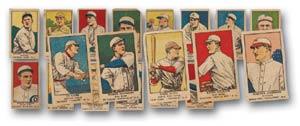 Quality cards and Sets on fire!
Whether Star or tough common, this auction had them: a grouping of high grade '34 Goudeys exploded the SMR values! A 1934 Goudey #47 John Frederick in NM-MT 8 produced values of 460% above SMR book, and a '34 Goudey #25 Roger Cramer in a NM-MT 8 soared at 409% above SMR book. Another '34 Goudey, #44 Tom Bridges, streaked to 283% over book! 1934 Goudey stars were winners too! A HOF '34 Goudey #27 Luke Appling in a PSA NM-MT 8 attained a robust 59%+ above SMR book.
Sets are simply marvelous!!
The Auction offered an incredible 17 full and partial sets across all major sports from all vintage eras. A rare and pure vintage Hockey tobacco set, 1911-12 C55 cards, proved a real find and flexed some real collector power, generating over $10,000 in value!
In all, Sets did very well. A starter 1986 Fleer grouping, all in PSA GEM MINT 10, generated over $10,000 in value as well. (All set values and images may be viewed on MLI's web site).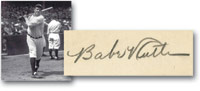 Slabbed and graded autographs a big hit!
Another area of excitement on auction night was the slabbed and graded signatures and cancelled checks. A special 10 page grouping did exceedingly well! These catalog pages were filled with graded autographs and photos of vintage HOF greats from major sports. The material really shined and turned out to be a real treat for collectors! Included were a couple of Babe Ruth signatures: a MINT 9 cancelled check and a GEM MINT 10 signed album page realized values in excess of $5,800 and $3,800 respectively. A combined lot with Joe DiMaggio and Marilyn Monroe cancelled checks, both graded MINT 9, attained a value over $2,600, and a PSA MINT 9 slabbed Lou Gehrig signature brought an outstanding value of over $3,600! A GEM MINT 10 Cy Young Government Post Card weighed in strongly at over $1,700.
Graded Packs continue to be Top Performers!
Graded Packs by quality grading companies continue to climb in popularity and demand with collectors. Memory Lane auctions are quickly becoming the place to be for pack collectors and the November event did not disappoint. With dozens of lots offering single unopened packs, pack groupings, racks, and boxes with graded packs, the bidding was very spirited and values were strong across the board. For example, a 1957 Topps Baseball Wax 5¢ pack (2nd Series), graded NM-MT 8, pulled over $2,600.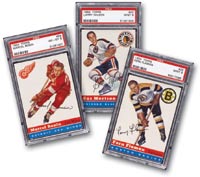 Graded Hockey cards hot!
Again, high quality graded cards shined regardless of the sport and Hockey was no exception; in fact it was a leader! The auction offered a spectacular grouping of 1954 Topps hockey cards all in high grade and collectors jumped on them. For example, a 1954 Topps Hockey #59 Marcel Bonin in PSA NM-MT 8 exploded book values by selling for a whopping 3,346% above SMR book!! Another '54 Topps Hockey card, #40 Larry Wilson, in PSA MINT 9 sold for 522% above SMR book! And this is just a sampling; another '54 Topps Hockey #25 HOF Fern Flaman in a MINT 9, sold for 726% above SMR book. See all these great Hockey card auction lots and their realized values on MLI's web site.
In all, high-end graded cards and authenticated graded autographs ruled the day!
Quality is in big demand, as collectors continue to improve the graded quality of their collections and sets. MLI's very successful national brokering services arm has brokered some of the highest value cards, sets, and signed balls in the hobby -- an example being the recent sale of a 9.5 GEM MINT graded Babe Ruth signed ball which sold for $150,000. MLI brokers know what the hobby is looking for, and with their carefully crafted auctions they deliver on material and values. Collectors can register for MLI auctions by calling 877-606-5263, or by going to their web site at www.memorylaneinc.com. MLI has also informed us that consignments are now being accepted for their March '06 Auction event; interested parties with vintage material can call them for a no-fee evaluation of its auction potential.