SEAFORD NY, NOV. 21, 2005 - A genuine Heisman Trophy, one of the most coveted awards in all of sports, is joined in the Lelands.com 2005 Winter Auction by other items that also hold paramount significance including a 1921 Babe Ruth game bat -- the earliest known Ruth home run bat known to exist (and one of four historic bats in the auction) -- and Wayne Gretzky's first Edmonton Oilers contract signed on The Great One's 18th birthday.
The Lelands.com 2005 Winter Auction includes more than 1,700 items in an Americana and Sports auction. The action will close on Dec. 15-16, 2005. All bidding can be done at www.Lelands.com.
The 1941 Heisman Trophy ($50k*), awarded to the University of Minnesota's Bruce Smith, is one of just six Heisman Trophy awards that have ever found their way into auction. This is the same trophy handed to Smith just two days after the bombing of Pearl Harbor, and was the seventh Heisman awarded overall.
The Ruth bat ($25k) is the same club he used to launch his 52nd home run in that memorable season in which he shattered the previous single-season home run mark with 59. It comes with impeccable documentation directly from the family of the original owner who was presented the bat by Ruth more than 80 years ago. Also in the auction are game bats from Lou Gehrig ($5,000), Tris Speaker ($10k) and a very rare game-used bat of Jim Thorpe ($25k).
"This auction offers opportunities that may never be seen again," said Josh Evans, Founder of Lelands.com. "An actual Heisman Trophy, handed to the best player in college football one year, is a rare piece of sports memorabilia that few have ever had the opportunity to even touch, let alone own. The Ruth and Thorpe bats are, quite frankly, two of the most significant pieces of game-used baseball memorabilia we've ever handled and are loaded with historical importance. And we're absolutely thrilled to be able to offer Gretzky's first Oilers contract."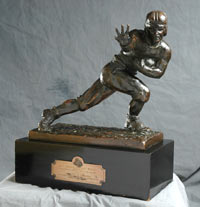 The Most Prestigious Award in College Football Highlights Historic Football Lots
There have been 70 Heisman Trophies awarded since 1935, but most -- as you might imagine -- never leave the grip of their owners. This one was awarded to Bruce Smith, a halfback with the University of Minnesota who led the Gophers to back-to-back undefeated national championships in 1940 and '41. Smith's acceptance of the award during the Heisman dinner on Dec. 9, 1941, was interrupted by an air raid signal when a group of American Army planes were initially mistaken for German bombers. Smith passed away in 1967.
Other lots of Smith memorabilia are also in the auction, including a signed University of Minnesota PR photo ($500); Smith's Minnesota letterman sweater he wore around campus ($300); his game-worn Golden Gophers jersey ($500); and a tattered leather Naval jacket worn by Capt. Smith during World War II ($500).
For fans of the pro game, there are outstanding pieces that highlight the history of the league such as an NFL football ($1,000) and an AFL football -- both used in Super Bowl II; a lot of five Vince Lombardi playbooks when he was offensive coordinator of the New York Giants ($1,000); Lance Allworth's 1963 AFL Championship ring ($10k); and a spectacular late 1980's Miami Dolphins helmet, game-worn and autographed by Dan Marino in his prime ($2,000).
Game-Used Lumber From Thorpe, Ruth, Gehrig, Speaker Plus Amazing Baseball Items
While there have been other Ruth bats to surface in the hobby, few can be directly traced to an historic home run. This bat was presented to young Harry Borgman of Cincinnati more than 80 years ago for winning a newspaper contest. Incredibly, the bat had remained in the Borgman family since it left Ruth's hands. A type-written letter from The Babe that came with the bat reads, "Here is the bat that hit the ball that brought me my fifty-second home run. It served me well in baseball... it is yours with my compliments at any rate."

If the Ruth bat were not enough, Lelands.com is also proud to present truly one of the rarest and most impressive bats to ever surface from Thorpe, perhaps America's greatest athlete. This circa-1918 Louisville Slugger is the only Thorpe signature model game bat known to exist. In addition to winning Olympic gold medals in the pentathlon and decathlon, Thorpe also starred in college football and professional football, and had a stint playing MLB where he swung this bat, which still contains black tape on the handle where Thorpe's hands gripped it.
In addition to an early 1930's Gehrig game-used bat, the auction also includes another significant bat -- a 1928 Tris Speaker game-used Louisville Slugger. As was custom in the day, ballplayers would often send one of their bats to H&B to order exact duplicates. This bat was sent to H&B by Speaker, and upon arrival at the factory, it was marked with a grease pencil "Tris Speaker 7-2-28" and kept in the company's vault. Determining the exact year of use of a bat can be tricky; but thanks to the organization and file keeping of the Hillerich & Bradsby Company, the origin of this bat is traced right back to The Gray Eagle during his last year as an active player -- and his only season with the Philadelphia A's.
Other prominent baseball items include: 1875 New York Knickerbockers baseball trophy ($25k); Gil Hodges' '55 Brooklyn Dodgers World Series ring ($10k); famed Brooklyn Dodgers Sym-Phony Band Megaphone ($7500); '47 Brooklyn Dodgers signed photos ($10,000); visually stunning Ruth/Gehrig dual-signed baseball in which the autographs rank 9/10 for Ruth, and 8.5/10 for Gehrig ($35k); '33 A.L. All-Star team signed baseball ($5,000); John F. Kennedy signed baseball ($5,000); Mickey Mantle's personal 500th HR game presentation album ($25,000) plus his album from Mickey Mantle Day ($10,000); five canisters of film with Mantle at-bats including from '51 ($10,000); '34 Tour of Japan baseball signed by Ruth and Gehrig ($10,000); '66 Aaron game-worn jacket ($800); 1911 single-signed Cy Young ball ($2,000).
Gretzky Signs on the Dotted Line Plus Significant Hockey Sweaters
On his 18th birthday (Jan. 26, 1979), the future "Great One" had quite a celebration as he signed an historic 10-year contract with the WHA's Edmonton Oilers. At the time, the deal was believed to be the longest contract in hockey history, binding him to the Oilers through the 1986-87 season. After the WHA folded in 1979, the Oilers joined the NHL and the rest is history. The contract is signed multiple times. In terms of importance, this contract is truly The Great One. Bidding will begin at $5000 but the sky is the limit on this special piece of hockey history.
For pure star power, it's hard to beat the lineup of hockey Hall of Fame sweaters available: '38-39 Bruins jersey worn by Bill Cowley ($5,000); two Phil Esposito gamers '70-71 Bruins ($3,000) and '79-80 Rangers ($3,500); Red Wings jersey Gordie Howe wore during the last game at Olympia Stadium ($3,000); '63-64 Dave Keon Maple Leafs jersey ($5,000); Bobby Hull's WHA '74-75 Winnipeg and '75 WHA All-Star jerseys ($3,000 each); and a '40-41 Bobby Bauer Bruins sweater ($5,000).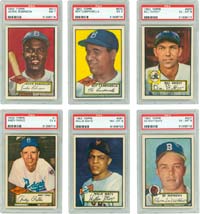 Great Card Sets, Wax, Singles another Josh Gibson Toleteros and More
Fresh off the heels of selling the highest-graded Josh Gibson Toleteros card ever uncovered for an astounding $69,262.70, Lelands.com presents another impressive Gibson Toleteros -- this one is graded PSA 7 NM ($5,000).
Other significant cards and sets include: a lot of high-grade '52 Topps (less Mantle) with PSA graded stars ($3,000); a group of 57 B18 "Felt" Blankets with Joe Jackson, Ty Cobb and Walter Johnson from 1914; High-grade 1953 Bowman Color Baseball complete set with PSA-graded stars; 1952 Bowman Large Football complete set and a 1951-52 Parkhurst Hockey set.
Several other special items include: a set of Babe Didrickson Zaharias golf clubs ($5,000); an impressive collection of Pele memorabilia including four jerseys, among them, his last Cosmos gamer ($5,000); St. Louis Rams Super Bowl XXIV Lombardi Trophy ($3,000); Ron Turcotte's signed Secreteriat race worn silks ($3500); a seat from Boston Garden with Parquet floor signed "Bill Russell #6" ($300).
Americana Auction Features The King, The Beatles and Many Others
One-half million copies in sales -- that's the benchmark figure the Recording Industry Association of America (RIAA) uses to award a Gold Record, a milestone achievement for a recording artist. This auction features several Gold Records: Elvis Presley for his final No. 1 -- "Suspicious Minds" ($2,000); Bruce Springsteen for the albums "Born To Run" ($500), "Darkness At The Edge of Town" ($500) and "Greetings From Asbury Park" ($300;) and John Lennon for "(Just Like) Starting Over" ($500), the single released just before his death in 1980.
Other items are: Elvis's 1953 high school yearbook ($750) once owned by a classmate and signed by The King; Captain Kirk alternate universe hero tunic and sash from the Star Trek "Mirror Mirror" episode ($7,500); self-winding Edison stock ticker tape ($8000); 9-page letter from Janis Joplin ($3500); 1965 Bruce Lee contract with three signatures ($3,000); an autographed book signed in 1932 by Amelia Earhardt ($500); and a pair of fence posts ($5k each) taken from the Dealy Plaza grassy knoll.
Lelands.com is the nation's foremost auction house of sports and entertainment/Americana. It was established in 1987 as the first auction house to specialize in sports. Joshua Leland Evans is Founder and Chairman. Michael Heffner is President.
* Prices in parentheses indicate the item's reserve