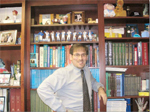 As a child, Stephen Soloway used to drop trading cards from the window of his family's apartment in a Queens, New York highrise. "I liked to watch them spin and turn in the wind as they floated down," Soloway recalled. "Then the building's landlord would go and pick them all up and bring them back to me," he continued with a laugh.
Today, as a respected Southern New Jersey rheumatologist who still has most of those wind spun cards, Dr. Stephen Soloway would never think of treating his cherished treasures in such a cavalier manner. The only person to date to have registered a fully graded, complete 1909-11 T-206 White Border set on the PSA Registry, Soloway is also the proud owner of numerous full sets including the complete compliment of 1933 Goudeys, 1956 Topps, and 1887 N28 Allen & Ginters.
"My parents knew I loved cards," said Soloway. "I would collect all sports - baseball, basketball, football - and every week my mom used to take me to the store to get two packs."
That two-pack a week habit helped young Stephen compile a collection of well over five-thousand cards, including every Topps card manufactured between 1969 and 1971. Then, when he hit his teens, the serious collecting began. "Every year, for my birthday, I would get $20," Soloway said. "I began going to card shows and $20 would go a long way back then. One year, I bought every Hank Aaron Topps card, every Willie Mays card from 1954 to 1965, every Mickey Mantle card with the exception of his rookie card, all for just $20! One year, I even bought a 1934 Goudey Lou Gehrig Greenback for just $15."
Along with the cards he was purchasing at local stores and card shows, summer camp also proved to be fertile collecting ground for Soloway. "There was a counselor who we would get cards from," he said. "I still have all of the cards I got at camp and my entire childhood collection. I love all of them."
As is the case with most collectors, Soloway's interest in cards waned a bit when they had to compete with things such as cars, girls, college, med school and the beginning of a career and family. "I stopped collecting when I was in college but did start again while I was in med school," Soloway said. "After I finished med school, I really got back into cards."
As Dr. Soloway's medical practice grew, so did the financial resources he had to put into his collection. However, by that time the price of cards had gone way beyond snagging an entire group of Aaron, Mays and Mantle offerings for a double sawbuck.
"When I got back into collecting, my first goal was to get every Topps card ever made," said Soloway. "I have always had a special love for Topps cards and, to this day, they are still my favorites. Especially my 1969 Tom Seaver (# 480) that I have in a PSA 9."
As Dr. Soloway's knowledge of cards grew, he began to find intrigue in vintage cards, most notably the T-206s.
"When I began collecting T-206s I really didn't think it was possible to put together an entire set," Soloway said. "I wasn't even aware if they all existed. I figured it would be hard enough to just find the key cards much less all of them. But when I learned they were all available, I thought it would be spectacular to put together a full set."
Perusing on-line auctions, dealer's catalogues and card shows, Soloway hit the jackpot when he teamed up with another collector to buy an offering of T-206 commons. After splitting the lot, Soloway found that he was less than fifty cards short of completing the entire 524-card set.
"It is such a difficult thing to do," Soloway said of completing a T-206 set. "The (Honus) Wagner, the (Eddie) Plank and the (Larry) Doyle cards make it so hard to put a full set together. The cost alone will keep most people from ever completing this set. There are single cards in that set that cost more than many people make in a year. And, along with being cost prohibitive, it is also extremely time consuming to find these cards. When I completed my set and listed it on the PSA Registry, I got over 100 e-mails from people congratulating me."
While Soloway's most desirable T-206 cards are in lower or mid grades (his Honus Wagner is a PSA 2 and is Eddie Plank is a PSA 5), he feels that having built a complete set is a more significant achievement than just having the financial wherewithal to own the highest graded cards in existence. "Collecting is very personal. Everyone has his personal obsessions. Some people want every card in the same grade. For me the biggest thing is putting together complete sets. Having a full set of T-206 cards means more to me than owning any single card. I'm a collector in the truest sense. So if someone has an entire set in a lower grade, that impresses me more than the person who has a handful of cards from the set in the highest grades available."
Soloway's T-206 set, which has been given an overall PSA rating of 5.100, is just one of many sets he has compiled and registered with PSA, whom he lauds for what they have done for the hobby of card collecting. "PSA has defined the hobby," said Soloway. "They have made collecting competitive and opened the door for collectors to learn so much more about cards, about their values and which ones are really rare. They have also help cut fraud and card doctoring out of the hobby. They have given every collector a great reference as to what a card should really cost and look like. I love the competitiveness PSA has brought to the hobby. I love the people who are involved. The Registry has made the hobby so interactive and has given us all exciting challenges. All records are made to be broken and I love to see who will be next to complete a T-206 set or finish the Big Three (the 1909-11 T-206 White Border, the 1933 Goudey, and the 1952 Topps)."
A lifelong New York Mets fan who harbors a diehard hatred for the Yankees, Soloway also collects Mets memorabilia, original sports paintings, and various signed items. "I have every Mets yearbook," he proudly touted. "I also have a helmet signed my Joe Namath and gloves signed by Muhammad Ali. But, my most prized piece is a Hank Aaron jersey signed by 13 members of the 500 Home Run Club."
When queried on why he is so passionate about collecting, especially cards, Soloway said that he sees cards as a way of better understanding our nation - where we came from and where we're going. "When I look at cards from 1887, to me they are lessons in American history," said Soloway. "You can see the history in the player's faces, in their clothing, in the style of their hair. They take you on a journey of our country through the decades."
Soloway, who has absolutely no interest in collecting current day cards, said that the older cards are also reminders to him of what the game of baseball once was and why he was once so passionate about the game. "The cards from the late 1800s through the 1950s show the players who played baseball because they loved the game," he said. "When I look at the current crop of players, I don't see any love for the game. I see expansions. I see free agency. I see steroid use. Unfortunately, baseball today is just about big business. It's a huge economic boost for the country, but I don't see the passion there once was."
While speaking with SMR, Dr. Soloway's 9-year old son, Jake, occasionally excused himself to ask his dad some questions about the modern cards that make up his collection. "He loves his baseball cards," Soloway laughed. "But he doesn't have a real appreciation for what I have yet."
So, just what does the good doctor have when it comes to the value of his collection? "Let's just say that it's valued at well over a dollar," he said with a laugh. "It's a lot easier that way, and besides, the financial part of the hobby is not what it is about for me. As I have said, I still have all of my childhood cards and I will never sell them. I will never sell any of my cards. I am a collector in the purest sense of the word. It is not in any way about being an investment for me."
As with anyone born with the "collector" gene, Soloway is always on the lookout for more to add to his amassment. "I'm currently looking for any card I need to complete the various sets I'm still working on," he said. "My immediate goal is to finish my T-202 set and I'm also working on completing a 1915 Cracker Jack set."
While the completion of sets is Soloway's goal, his ultimate quest is to amass a set that will name him to the Hall of Fame. No, not Cooperstown or Canton - The PSA Set Registry Hall of Fame (for which the criteria for entry includes set popularity, difficulty, grade average, completion percentage, domination, and degree of competition within the set category). "That's my dream," said Soloway. "I want that so badly so I can put it on my resume. I can't really put on my resume that I'm a card collector. There are hundreds of thousands of card collectors. But if I can be named to the PSA Hall of Fame then it's something that sets me apart from everyone else. Most doctors are quick to tell everyone that they are a doctor. But for me, I want everyone to know I'm a card collector, and I want to be a Hall of fame card collector."
The Doctor Is In - With Over Fifty PSA Registered Sets
Among the more than fifty different card sets that Dr. Stephen Soloway has registered with PSA, he has the only registered complete set of 1909-1911 T-206 White Borders. He also has 16 other complete sets and is extremely close to completion on three more. While the majority of his sets are graded in mid range, he says he is the type of collector who dwells more on compiling full sets than obsessing on grade. "I have far more respect for a collector who is really out there working to complete full collections than I am with the guys who just buy these high end cards that get all the attention. I am far more impressed with the guy who has put together a complete set of T-206 cards in PSA 1 then with the guy who has half a set in PSA 9." The sets that Soloway has taken to full compliment and registered to date include:
1909-11 T206 White Border HOF Players in a set grade of 5.230
1909-1911 T206 White Border in a set grade of 5.100
1911 T205 Gold Border in a set grade of 5.150
1911 T205 Gold Border HOF Players in a set grade of 5.320
1933 Delong in a set grade of 4.660
1933 Goudey in a set grade of 5.690
1934 Goudey in a set grade of 5.270
1938 Goudey in a set grade of 6.390
1941 Play Ball in a set grade of 4.940
1951 Bowman in a set grade of 5.320
1951 Topps Blue Back in a set grade of 7.970
1951 Topps Red Back Basic in a set grade of 7.300
1952 Topps Basic in a set grade of 5.560
1955 Topps in a set grade of 5.290
1956 Topps Basic in a set grade of 5.480
1968 Topps Game in a set grade of 4.580