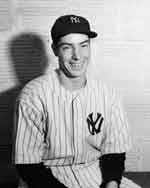 On December 10th, Sotheby's and SCP Auctions will hold a sale of Important Sports Memorabilia and Cards, including unique material representing the most prolific figures in the history of America's most popular sports - baseball, football, basketball, hockey and boxing. Among the highlights is Joe DiMaggio's 1936 New York Yankees Home Rookie Full Uniform, one of the most historically important artifacts of sports memorabilia ever offered at auction (estimated to bring in excess of $600,000). Property from the sale will be on exhibition in Sotheby's 2nd floor galleries from December 5th to 9th. The sale is expected to bring approximately $5 million*.
"This auction tells a number of amazing sports stories," said Lee Dunbar, Director of Sotheby's Collectibles department. "In 1936, Joe DiMaggio burst on the scene in the middle of the Depression and both re-ignited the nation's passion for baseball and re-invigorated the Yankees' dynasty, leading them to four consecutive World Championships, the first wearing this Yankees pinstripe uniform. Additionally, as a 23-year old, sculptor Frank Eliscu created the original Heisman Trophy sculpture, bronzed into the country's most celebrated award in college football, which, seventy years later, is still the most magnificent trophy in sports."
David Kohler, President of SCP Auctions, continued, "Our December 10th sale features 350 lots of scarce sports memorabilia and cards. In our two past auctions, we have set records with exceptional items, such as the bat that Babe Ruth used to hit the first home run ever at Yankee Stadium on Opening Day 1923 and the 1919 contract selling Ruth from Red Sox to the Yankees. Once again we have unearthed a number of historic pieces that have never been out before for public sale. We are offering the most significant piece of Joe DiMiaggio memorabilia, his 1936 New York Yankees Rookie Home full pinstripe uniform. And, interestingly, the original 1935 Heimsan Trophy Plaster Sculpture will be sold on the same day as the 2005 Heisman trophy winner is announced in New York City."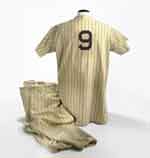 Joe DiMaggio's 1936 New York Yankees Home Rookie Full Uniform
The cornerstone of the sale is a 1936 New York Yankees Home Rookie Full Uniform from Joe DiMaggio, who many believe to have been the greatest all-around player in the game. In 1936, Joe DiMaggio was a highly-touted rookie with unparalleled promise, arriving at a time when the country's optimism was waning and when Americans needed a symbol of heroism. More than fifty years after his retirement, fans continue to marvel at his achievements on the diamond. Manufactured by Spalding, the uniform, consisting of a pinstriped jersey and pants, is in superb original condition. The original red chain stitching in the collar reads "Joe DiMaggio 9" and the stitching on the pants reads "Joe DiMaggio 9 36." DiMaggio wore this uniform during both the regular season and the World Series. The full uniform is the most important DiMaggio item ever to be offered at auction, and it is estimated to bring in excess of $600,000.
During the 1930s, Yankee players were commonly issued two home uniforms and two road uniforms for the season. At that time, Yankee uniform numbers were often issued based upon a player's appearance in the batting order, and in 1936, DiMaggio was such a celebrated prospect that he was assigned #9 for his rookie season. Following 1936, DiMaggio would don his famed #5 for the remainder of his career. Following the season, as a cost-savings measure, teams typically sent their uniforms to their farm clubs for use, as was the case with this uniform. The uniform was handed down to a promising young pitcher, Charles "Smoke" Mason, who signed with the Yankees in 1938 from the University of Missouri. Mason was then sent to Joplin, Missouri, home of one of the Yankees farm teams, and upon arrival Mason was given a uniform for his workouts prior to the start of Joplin's 1938 season. Unbeknownst to Mason at the time, he was given DiMaggio's 1936 uniform. Mason held on to the uniform for nearly seventy years, and now, at 89, has chosen to sell this extraordinary baseball artifact at auction. The jersey is accompanied by a letter of authenticity from MEARS, the most respected uniform authenticators in the industry, and a letter of provenance from the Mason family.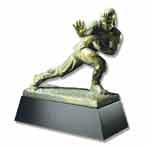 Original 1935 Heisman Trophy Plaster Sculpture
Another highlight of the sale is the original 1935 Heisman trophy plaster sculpture, used as the model for the most famous and significant individual award in college football and the most magnificent trophy in sports. Voted on by more than 1,000 sportswriters and announced every December at New York's Downtown Athletic Club (DAC), the Heisman trophy has been awarded annually for seventy years. Many of the players have become both household names and Pro Football Hall of Famers, such as Paul Hornung, Marcus Allen, Barry Sanders and Roger Staubach. In 1935, when the DAC first decided to bestow an annual award upon college football's most outstanding player, they commissioned Frank Eliscu, a 23-year old New York native who had recently won the National Academy Prize in sculpture, to complete the sculpture. Using his good friend and former player Ed Smith as a model for pose and costume and exaggerating his biceps and calf muscles, Eliscu created a model in plaster, the mold from which the final bronze statues would be made. Although Eliscu completed many other commissions during his career, the Heisman remained his favorite. In a 1994 interview Eliscu insisted that he approached the work as a labor of love. "It's an honest work," he said. "I think that the Heisman has a feeling. I think that you can feel not only the movement by the intensity of the piece. That's what I call honesty." Consigned directly from the family of the artist, the sculpture is estimated to bring $200/300,000. This year's Heisman trophy will be awarded in New York City on December 10th, 2005, the same date that the Heisman sculpture will be offered.
Game-Used Baseball Bats
Another sale highlight is "Shoeless" Joe Jackson's Game-Used "Black Betsy" bat. Jackson, one of the most well-known baseball players of all time, was dubbed "Shoeless" Joe when he played a game barefoot after getting blisters on his feet from a new pair of cleats. Recognized as Jackson's favorite bat, "Black Betsy" was arguably the most famous piece of sports equipment attributed to a single athlete and was used throughout his magnificient 13 years in the big leagues. On August 1, 1932, a Greenville, South Carolina, newspaper quotes Jackson in reference to this bat: he states that he originally received the bat in 1908 from a friend who fashioned it from a piece of hickory. "I've had it ever since and it's never been broke, although its getting old now and I expect it (to break) at any time." The bat weighs more than 40 ounces, compared to today's average bat weight of 32-34 ounces. Jackson took his final major league swings during the infamous 1919 World Series known as the "Black Sox" scandal that alleged eight players "threw" the Series. Jackson, who boasted a career .356 average and hit .408 for the 1911 season, hit .375 during the 1919 series with a home run. The eight, including Jackson, were banned from baseball for life by being placed on Major League Baseball's "ineligible" list, one of 19 players in baseball history to be banned in this way. Jackson's fame was forever immortalized in the 1989 blockbuster "Field of Dreams," in which he appears with his Chicago teammates in the form of ghosts, prompted by the line: "If you build it, they will come..." Jackson was a member of the 1917 Chicago White Sox, the last year the Sox won the World Series before the 2005 team won the World Championship by beating the Houston Astros just weeks ago.
Authenticated by all of the industries' leading third party authentification firms, "Black Betsy" was originally sold by Joe Jackson's family in 2001. The bat is accompanied by photo documentation of Jackson with the bat and is the only game-used Jackson bat with documented Jackson family provenance (estimate upon request).
Other game-used baseball bats in the sale include those once wielded by such icons as Babe Ruth, c. 1917-1921 (est. $80/120,000), Mickey Mantle, c. 1966 (est. $30/50,000), Ty Cobb, c. 1921 (est. $50/70,000), Joe DiMaggio, c. 1947-48 (est. $15/20,000), Roberto Clemente, c. 1964 (est. $8/12,000) and Stan Musial, c. 1940's (est. $6/8,000).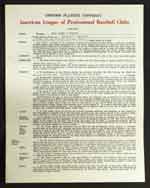 Baseball Contracts
Also on offer is a selection of signed contracts, and among them are Christy Mathewson's 1900 New York Giants Rookie Contract (est. $50/75,000), Mickey Mantle's Signed Yankees Contract from the storied season of 1961 (pictured left, est. $50/60,000) and Babe Ruth's 1930 Yankees Contract (est. $50/60,000).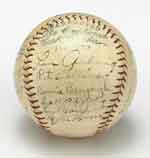 Autographed Baseballs
Numerous autographed baseballs include single signed balls by Babe Ruth (est. $30/40,000), Lou Gehrig (est. $6/8,000), Ty Cobb (est. $30/40,000), Cy Young (est. $8/12,000), Ed Walsh (est. $4/6,000), Walter Johnson (est. $8/12,000), Honus Wagner (est. $8/12,000) and Roberto Clemente (est. $8/12,000). Among the important team signed baseballs are examples signed by the 1955 Brooklyn Dodgers (est. $20/30,000), the 1927 New York Yankees (pictured right, est. $30/50,000) and the 1934 Tour of Japan (est. $25/35,000) will also be sold.
Game-Used Baseball Jerseys, Awards and Rings
Among the game-used jerseys to be featured are Ted Williams' 1948 Boston Red Sox home jersey (est. $40/60,000), Reggie Jackson's 1967 Kansas City Athletics Rookie jersey (est. $20/30,000), Duke Snider's 1962 LA Dodgers home jersey (est. $12/18,000), Jimmy Dykes' 1933 Chicago White Sox home jersey (est. $8/12,000) and Alex Rodriguez's 1995 Rookie jersey (est. $8/10,000). Also available will be the cap that Hank Aaron wore when he broke Babe Ruth's home run record hitting home run #715 (est. $20/30,000) and the first baseman's glove Mickey Mantle used during the last 3 years of his career (est. $30/50,000). A number of rings and awards on offer include a Mickey Mantle 1957 MVP award, one of only two produced (est. $20/30,000).
Important and Rare Baseball Card "Finds"
Rounding out the auction is a diverse sampling of 19th century, pre-war and post-war single cards and sets, including a recently-discovered and rare group of (8) Autographed 1871/72 Boston Red Stocking Cabinet Cards from Warren Studios including Al Spalding and Harry Wright, which date from the very beginnings of professional baseball (pictured left, est. $40/60,000). Offered in the sale will be a cache of circa 1903-04 E-107 Breisch Williams cards. Nearly tossed into a trash can in recent months, this group is another remarkable "find." Several E-107 Hall of Famers and Commons will be sold, including Honus Wagner, Cy Young, Eddie Plank, Nap Lajoie and Ed Delahanty. Also offered will be the finest known T-205 Hoblitzell "No Stats" card (est. $12/15,000).
Complete and Near Sets of Rare and Important Baseball Cards
Among the complete sets of baseball cards to be sold are 1933 & 1934 Goudeys, 1934-36 Diamond Stars, 1941 Play Ball, 1948-49 Leaf, 1951 Topps Connie Mack and Current All Stars, 1952 & 1953 Topps and 1949, 1950, 1951, 1952, & 1953 Bowman complete sets. Many scarce regional sets and near sets include 1954 Wilson Weiners, 1953 & 1954 Stahl-Meyers, 1955 & 56 Rodeo Meats, 1950 Drakes, 1953 Glendale Meats and 1953/54 Briggs.
The Hunter Kaplan Program Collection
A selection of rarely seen and historically important sports programs covering the history of baseball, football and basketball will be offered from long-time collector Hunter Kaplan. Examples include an 1875 first Harvard vs. Yale football game program (est. $5/7,000) and a 1907 World Series program - Detroit Tigers vs. Chicago Cubs (est. $15/20,000).
The Catalogue
The catalogue can be pre-purchased by logging on to www.sothebys.com or by calling (888) 752 0002. Catalogues are also available for purchase in Sotheby's galleries in New York and London. The price for the catalogue is $36 including shipping and handling.
Registering to Bid
Registration is required to bid in Sotheby's auctions. You can register in person at our New York headquarters any time before the sale, or via fax when you submit an absentee bid form. Please call the Bid Department at (212) 606 7414 for further information.
Placing Bids
There are four ways to bid in this sale:

Bid through the Internet beginning November 15th using real-time and absentee bidding at ebayliveauctions.com. You can register there to place bids through eBay's Live Auctions tool. Note that online registration only enables you to bid online.
Bid in the room by attending the auction in New York and raising your paddle (issued upon registration).
Bid by absentee. An absentee bid is a form you fill out and return to Sotheby's bid department via fax or mail. The form indicates the highest amount you would like to bid for an item or items. The auctioneer will submit bids on your behalf as necessary, up to -- but never above -- the amount you specify. Absentee bid forms are printed in the back of each catalogue, and are available at Sotheby's offices and at www.sothebys.com.
Bid over the telephone through a Sotheby's representative, who sits in the room and conveys your bid to the auctioneer. Phone bidding is best when you have not set a limit for an item and want to pursue it until it's yours. Call the Bids department at (212) 606 7414 to set up an account.
*Estimates do not include buyer's premium
For more information, please visit www.sothebys.com or www.scpauctions.com.