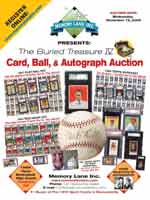 The auction falls into seven main categories, each is unique and full of high quality graded material.
Category One: Blue Chip Cards. Rare Blue Chip cards are really hard to get in high grade! This auction offers a 1933 Goudey Babe Ruth, a Lou Gehrig, and a 1933 Sport King Ty Cobb. The especially interesting items are a group of 1949 Bowman cards in high grade such as a Jackie Robinson #50 and # 84 Campanella. Both cards are PSA 9 MINTs!
Category Two: High Grade Sets. This auction offers 17 different sets, starting with a 1969 Topps Super Set. That set is the #1 Set on the PSA Registry! There is also a great 1986 Fleer Basketball Starter Set that is in PSA GEM MINT 10's! Overall, there are sets for everybody in all the major sports.
Category Three: High Grade Commons and Stars from the 1940's, 50', 60's. This is an absolute great grouping, starting from a superb selection of 1951 Bowman's and 1952 Topps to the great Topps 60's cards!
Category Four: Autographs. Over 100 HOF Autographs in PSA GEM MINT 10's and MINT 9's. Many of these autographs are very rare!! Babe Ruth, Ed Barrow, Joe DiMaggio and Marilyn Monroe, Cy Young, Lou Gehrig, Chief Bender, Eddie Collins, Vince Lombardi, Casey Stengel, et al. This incredible list goes on and on!!!
Category Five: Early Vintage. 1887 Old Judge N172's, 1888 Allen & Ginter N29's, 1911 T-3's Turkey Reds, 1911 T205 Gold Borders, 1909-1911 T206 White Borders and a gorgeous grouping of 1933-34 Goudey gems. A huge selection - all in high grades.
Category Six: Authentic unopened packs, including a 1960 Baseball Topps BOX with graded packs, and a 1968 Football Topps BOX with graded packs.
Category Seven: The Harry Gates, "1927 Signed Babe Ruth Ball", just splendid, and a host of other high quality, fully PSA/DNA Authenticated Signed balls.
See the entire Auction online at www.memorylaneinc.com. You are also invited to ask for a free auction catalog by calling MLI at 877-606-LANE (5263) or email them at: [email protected]. Have fun with this great auction!