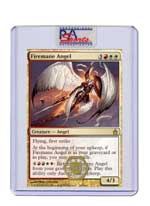 Leading Provider of Third-Party Collectibles Verification Technology to Help Ensure Authenticity of Magic: The Gathering Cards
(Newport Beach, CA) – PSA/DNA, a division of Collectors Universe, Inc. (NASDAQ: CLCT) and a leading provider of value-added authentication and grading services to dealers and collectors of high-value collectibles, today announced an alliance with Wizards of the Coast, Inc., a subsidiary of Hasbro, Inc. (NYSE: HAS) and maker of the iconic MAGIC: THE GATHERING Trading Card Game (TCG).
"Integrity of product is crucial to ensuring the vitality of MAGIC: THE GATHERING," said Joe Hauck, Vice-President of Marketing for Wizards of the Coast. "By allying with PSA/DNA, we hope to alleviate any fear that the current or out of print card that you are trading for is counterfeit. We believe that this process will provide an added level of service and value to the community of fans of the world's first and most popular trading card game."
Beginning this fall, MAGIC players will be able to help protect their collection by employing PSA/DNA's unique verification technology. After certification by PSA/DNA authenticators, MAGIC cards will be tagged by PSA/DNA with a synthetic DNA strand that can be seen only when illuminated by a specific laser frequency. The cards then will be inserted into a holder specially designed for this project by UltraPRO with a tamper-evident PSA/DNA seal, helping to mitigate the risk of fraud or forgery. The technology will first be available for MAGIC fans at the MAGIC Pro Tour Los Angeles, October 28 – 30, 2005.
"It is an extremely effective way to combat potential fakes because the DNA ink has an astronomical 1-in-33 trillion chance of being accurately reproduced by counterfeiters," said Joe Orlando, President of PSA/DNA.
"Today's tournaments are a big part of the excitement of collecting MAGIC cards. We are truly excited about being part of the ground-breaking process that ensures a level playing field and eliminates counterfeit products from entering the market and tournament arenas," Orlando said.
SMI Games of California was instrumental in bringing all parties together for this authentication breakthrough, and Mike Berkus of SMI Games will coordinate the project.
For more information on Collectors Universe and PSA/DNA authentication services, visit psadna.com. For more information on Wizards of the Coast, visit wizards.com.
About Collectors Universe and PSA/DNA
Collectors Universe, Inc. is a leading provider of value added services to the high-value collectibles markets. The Collectors Universe brands are among the strongest and best known in their respective markets. The Company authenticates and grades collectible coins, sports cards, autographs, stamps and paper currency. The Company also compiles and publishes authoritative information about collectible sports cards and sports memorabilia, United States and world coins, and entertainment memorabilia. This information is accessible to collectors and dealers at the Company's web site, http://www.collectors.com, and is also published in print.
About Wizards of the Coast
Wizards of the Coast, Inc., is a worldwide leader in the trading card game and tabletop role-playing game categories, and a leading developer and publisher of game-based entertainment products. The company holds an exclusive patent on trading card games (TCGs) and their method of play and produces the premier trading card game, Magic: The Gathering®, among many other trading card games and family card and board games. Wizards is also a leading publisher of role-playing games, such as Dungeons & Dragons®, and publisher of fantasy series fiction with numerous New York Times best-sellers. For more information, visit the Wizards of the Coast website at wizards.com.
Wizards of the Coast, Magic, Magic: The Gathering and Dungeons & Dragons are trademarks of Wizards of the Coast, Inc. in the United States and other countries. All rights reserved.