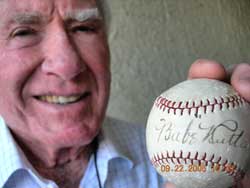 The 1927 ball being offered was truly a boy's dream come true for the 7 year old boy, Harry Lester Gates, as he recalls the thrill of talking with Babe Ruth at the very zenith of his legendary career. Here is Harry's story about getting a ball signed by the great Babe Ruth in his own words:
"I was born and grew up in southern California. As a young boy (7 years old) I enjoyed listening to baseball games on the radio, and in playing "sandlot" baseball with my friends. I heard about the Babe and dreamed of meeting him someday. My mother and father were planning a trip to Los Angeles to meet family and friends for a long weekend. The drive was about 4 hours from our home in Brawley, California (SE California approximately 75 miles south and east of Palm Springs.)
I was the only child, and my parents wanted to do something special for me. They heard Babe Ruth was going to appear on stage at the Los Angeles Philharmonic Auditorium in downtown Los Angeles (The Auditorium is no longer standing). My family and I attended the Babe Ruth event on a Saturday evening in 1927.
Babe Ruth was on stage and asked, if any young boys in the audience wanted to meet him they should come forward up on stage. I was eager to meet him and went on the stage and shook Mr. Ruth's hand. We spoke for a few minutes and he asked me about my family. Then Babe signed a brand new baseball in front of me and gave it to me!
I'm 85 years old now and I've kept that ball all these years with all my fond memories and my story of how I got it. My son passed on last year of heart failure so there is no next generation to give the ball too. I am the only person who has ever owned this ball and I got it directly from the Babe! My wish is, I want the ball to go to someone who can appreciate it as I do, it's a piece of baseball history."
The bold and clear Ruth signature has been fully authenticated by PSA/DNA and a Letter of Authenticity will be provided to the winning auction bidder verifying the authenticity of the ball and its historic Ruth signature. The ball can be viewed after October 26th online at www.memorylaneinc.com . Anyone wishing to examine the ball and Ruth signature personally may do so at Memory Lane Inc.'s Tustin, California office. Please call for an appointment - visitors are welcome, or call for an Auction Catalog which contains a full color, high resolution photo of this great piece.
The address is Memory Lane Inc., 202 Fashion Lane, Suite 115, Tustin, CA 92780. Email: [email protected] or call 714-730-0600. Office hours are 9-5 pm PST Monday -Friday.