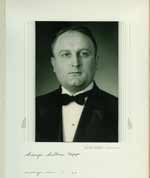 Native Hoosier and passionate Baseball collector George S. Hipp (1905-1983) came from a baseball loving family. His father, Grover Hipp, who played baseball for the Grover Hill team and later for the Kids & Kubs, passed on his love of America's Pastime. Although he never played baseball himself, later in life Hipp's interest in the sport became an obsessive hobby. Over the course of more than a decade, Hipp made it his goal to collect the signature of every living player from the dawn of Baseball through players from his time, the 1950s and 60s. Hipp used the business skills he developed as a record keeper at E.W. Plante/Adair Co. to thoroughly and methodically seek out even the hardest to find players. In the end he collected and documented over 4,000 signatures on card, 170-plus baseballs, many with multiple signatures, as well as numerous correspondence letters, most on company letterhead from E.W. Plante. 138 of the 258 Hall of Famers are represented with at least one signature. In the early 1950s, in recognition of his efforts and vast knowledge, Hipp was asked to contribute to "The Official Encyclopedia of Baseball" and was given the title Accredited Representative.
In his letters, Hipp often requested the autographs for his grandson Chuck Brown who has been the diligent caretaker of this collection. In 1963, Mr. Hipp abruptly stopped his collection and put it in storage. He then went on to pursue equally obsessive hobbies including stamp collecting and visiting all 50 states. The Hipp collection has not seen the light of day since 1963.
Shortly after the collection was brought to Antique Helper, PSA/DNA was enlisted to help authenticate and grade key pieces. After extensive reviewing of the entire collection by PSA/DNA it was decided that a Letter Of Authenticity (LOA) would be provided by PSA/DNA for each lot in the collection. They have also authenticated & graded 32 of the baseballs, many with multiple signatures as noted, they include (Note: only the autograph grades being represented below):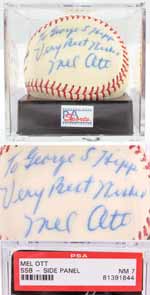 Single Signed Balls: Al Simmons PSA8; Frank Frisch PSA9; Honus Wagner PSA7; Al Kaline PSA8; Ty Cobb PSA9 in green ink; Mel Ott PSA7; Stan Musial PSA7; Joe McCarthy PSA7; Jimmie Foxx PSA 8; Carl Hubbell PSA8; Pie Traynor PSA9; Rube Marquard PSA9; Leo "Gabby Hartnett PSA9; A. C. "Dazzy" Vance PSA9; "Wahoo" Sam Crawford PSA8; Bill Dickey PSA7; Bill Terry PSA 9; Dizzy Dean PSA8; President Harry Truman PSA8.
Multi-Signed Balls: Elmer Flick PSA8 & Larry Lajoie PSA6; Bing Crosby, Bob Hope, & Joe E. Brown; Ed Walsh PSA9 & Roderick Wallace PSA8; James Bottomley PSA8, Edd Roush PSA9 & Freddy Lindstrom PSA7; Henry Myers, Bill Sherdel PSA8 & Charles Hafey PSA10; Joe DiMaggio PSA7, Dom DiMaggio PSA7 & Vince DiMaggio PSA9; Herbert Hoover & Clark Griffith both PSA9; Fred Clark PSA7 & Billy Maloney PSA8; Franklin Baker PSA8 & Lefty Grove PSA8; 1955-56 NY Yankees w/26 signatures Mantle, Berra, Ford.; 1955-56 NY Yankees w/24 signatures Berra, Rizzuto, Mantle; Cal Earl Combs & George "High Pockets" Kelly both PSA8; Edward Cicotte PSA8, Joe Wood PSA9 & Joe Wood Jr. PSA9.
In addition to this great collection, Antique Helper has just added a second session with additional sporting consignments including 80,000-plus sports cards and much more.
Antique Helper Auctions is proud to present the George S. Hipp collection. His grandson knew it would be his wish to have his collection appreciated by and shared with his fellow Baseball enthusiasts.
Finally, we would like to extend a special "thanks!" to PSA/DNA for their extra help in putting together this monumental collection. Considered an important collection by PSA/DNA, they enthusiastically took on the task of reviewing the entire collection, and select balls and signatures have also been graded and authenticated by PSA/DNA experts.
The George S. Hipp Baseball Collection is TO BE SOLD IN ITS ENTIRETY WITHOUT RESERVE by auction at Antique Helper Auctions on Saturday, October 8, 2005, at 10:00 AM, with previews available 10:00 AM-6:00 PM Thursday, October 6 and Friday October 7. An online catalog will be available on our website at www.antiquehelper.com. If you have questions regarding this special auction, please call 317-251-5635.
Dan Ripley's Antique Helper
2764 E 55th Place
Indianapolis IN
46220
Visit us at http://www.antiquehelper.com
Providing free appraisals and accepting consignments.
Antique Helper- Indiana's Specialty Live and Online Auction House