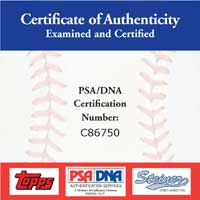 Newport Beach, CA, - Collectors Universe, Inc. (Nasdaq: CLCT), a leading provider of value-added authentication and grading services to dealers and collectors of high-value collectibles, announced today its agreement with The Topps Company, Inc. (NYSE: TOPP) to authenticate single signed baseballs through a Collectors Universe division PSA/DNA Authentication Services, or PSA/DNA. The PSA/DNA authenticated baseballs will be distributed and sold by Topps through Sam's Clubs around the United States.
PSA President Joe Orlando commented, "We are quite pleased that Topps, our long time friends in the sports card market, have expanded their offerings to include autographed items authenticated by PSA/DNA. We believe Topps has entered a market with an excellent product with PSA/DNA authenticated single signed baseballs and we believe that we can continue to grow this relationship with other PSA/DNA authenticated products."
"Genuine and authentic autographed sports merchandise is a product line that can satisfy huge demand by collectors and sports fans," stated Michael Haynes, Chief Executive Officer of Collectors Universe. "Topps, one of the largest distributors of sports collectibles, recognizes this demand for different, unique and personalized items, and the need for the consumer confidence provided by authenticity services from PSA/DNA. This co-branded offering brings together two superb sports brands in Topps and PSA/DNA to address what we believe is a very large market that up until now could only be satisfied with look-alike logo apparel."
About Collectors Universe
Collectors Universe, Inc. is a leading provider of value added services to the high-end collectibles market. The Company authenticates and grades collectible coins, sports cards, autographs and stamps. The Company also compiles and publishes authoritative information about United States and world coins, collectible sports cards and sports memorabilia and collectible stamps. This information is accessible to collectors and dealers at the Company's web site, www.collectors.com, and is also published in print.
Forward Looking Information
This news release contains statements regarding our expectations about our future financial performance which are "forward-looking statements" as defined in the Private Securities Litigation Reform Act of 1995. Forward-looking statements can be identified by the use of words such as "believe," "expect," "anticipate," "intend," "plan," "estimate," "project," or future or conditional verbs such as "will," "would," "should," "could," or "may."
Our financial performance in the future may differ, possibly materially, from our current expectations as set forth in this news release due to a number of risks and uncertainties. Those risks and uncertainties include, but are not limited to: the possibility of changes in general economic conditions or conditions in the collectibles markets, such as a possible decline in the popularity of some high-value collectibles, which could result in reductions in the volume of authentication and grading submissions and, therefore, the fees we are able to generate; a lack of diversity in our sources of revenues and our dependence on coin authentication and grading for a significant percentage of our total revenues, which makes us more vulnerable to adverse changes in economic and market conditions, including declines in the value of precious metals or recessionary conditions, that could lead to reduced coin and other collectibles submissions, with a resultant reduction in our revenues and in our income; our dependence on certain key executives and collectibles experts, the loss of the services of any of which could adversely affect our ability to obtain authentication and grading submissions and, therefore, could harm our operating results; increased competition from other collectibles services companies that could result in reductions in collectibles submissions to us or could require us to reduce the prices we charge for our services; the risk that we will incur unanticipated liabilities under our authentication and grading warranties that would increase our operating expenses; the risk that new service offerings and business initiatives that we may undertake will not gain market acceptance or will increase our operating expenses or reduce our overall profitability or cause us to incur losses; the risk that our strategy to exit the collectibles sales business and focus substantially all of our resources on our authentication and grading businesses will not be successful in enabling us to improve our profitability over the longer term or to grow our existing businesses or expand into new collectibles or high value asset markets; and. if we grow our business by acquiring any existing or commencing any new authentication and grading businesses, the risks that we will be unable to successfully integrate those businesses into our operations, that those businesses will not gain market acceptance; and that business expansion may result in a costly diversion of management time and resources and increase our operating expenses. Additional information regarding these and other risks and uncertainties to which our business is subject is contained in our Prospectus dated February 16, 2005 as filed with the Securities and Exchange Commission pursuant to Rule 424(b) under the Securities Act of 1933, as amended.
Due to the above-described risks and uncertainties and those described in that Prospectus, readers are cautioned not to place undue reliance on the forward-looking statements contained in this news release, which speak only as of its date, or to make predictions about future performance based solely on historical financial performance. We also disclaim any obligation to update forward-looking statements contained in this news release. Contacts:
Mike Lewis
Chief Financial Officer
Collectors Universe
949-567-1375
Email: [email protected]

Brandi Piacente
Investor Relations
The Piacente Group, Inc.
212-481-2050
Email: [email protected]

SOURCE Collectors Universe, Inc.
09/13/2005
CONTACT: Mike Lewis, Chief Financial Officer of Collectors Universe, Inc., +1-949-567-1375, [email protected]; or Investor Relations, Brandi Piacente of The Piacente Group, Inc., +1-212-481-2050, [email protected], for Collectors Universe, Inc.
Web site: www.collectors.com
(CLCT TOPP)