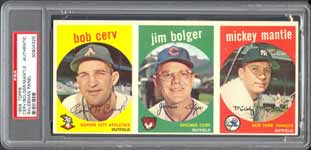 One of the great things about online sports memorabilia auctions is the 'serendipity' factor. There's always one item up for auction that you have never seen before, yet you decide to take a chance on it. In my case, that item was a salesman's sample strip card printed by Topps in 1959, featured in an auction in August of 2004.
Topps sales reps used these cards to show retailers what each upcoming year's baseball cards would look like. The sales rep hoped that each retailer would be so taken with the design that they would immediately place multiple case orders on the spot with their distributor (whose name was stamped on the back of the sample card).
Since these were salesman's samples, they were likely printed in very limited quantities, subject to lots of rough handling and discarded afterwards. Not only was this the first example I had ever seen, but it also featured Mickey Mantle's 1959 pose on the front. Bob Cerv, an off-and-on New York Yankee through the 1950s and early 1960s, was also featured along with little-known Jim Bolger of the Chicago Cubs.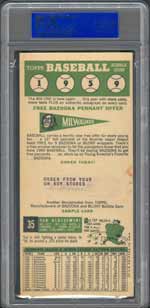 In 1959, Cerv occupied the roster of the cellar-dwelling Kansas City Athletics, which many sportswriters of that time considered to be the Yankees' minor league farm team. As a collector of Yankees memorabilia and cards from the 1950s through the early 1960s, I knew I had to have this piece. And after several hours of bidding into the wee hours of the morning, it was mine.
While the front of the card is a real eye catcher, the back of the card is basically an advertisement, proclaiming "The BIG ONE is here again…this year with more color, more facts, plus an authentic autograph on each card." Retailers are advised that a free window streamer will be available "to let the youngsters know you have 1959 BASEBALL".
There is also a reminder to stock up on lots of Topps bubble gum so every young fan "could get a free 15" felt pennant of his favorite team for five BAZOOKA or BLONY wrappers." Directly behind the Mantle sample is a card back showing the vital statistics for Reds and Pirates slugger Ted Kluszewski.
A nice catch, to be sure, but how would I protect and display it? The card was shipped to me in an 8x10 photo hard sleeve, but I thought that a large PSA holder designed for Hires Root beer cards (with the tabs) might work better.
I made a phone call to Joe Orlando to see if he had a solution. Joe was also curious to see the card, so off it went to California. Not long afterwards, the strip card returned to me "authenticated" in a PSA holder, adding considerably to its eye appeal.
It is a great conversation piece and a unique Mantle collectible, not to mention a classic example of American mass merchandizing from the mid-20th century. The fact that PSA would authenticate it was the icing on the cake. So check those auction listings carefully -- who knows how many other salesman sample cards are out there?