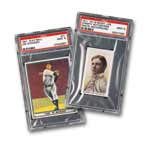 Tustin, California — Memory Lane Inc.'s Card and Ball Auction, Thursday, August 11th created over $930,000 in value on just 288 Lots, as Memory Lane auctions continue to climb in popularity with collectors. Among the highlights are a strikingly colorful, very impressive, high quality 1941 Play Ball Joe DiMaggio (#71) card in a PSA 9 MINT, which sold for $96,074 -- a very robust 60% above book. Another stunning card in excellent condition, a PSA MINT 9 1911 Christy Mathewson M116 Sporting Life (Pastel Background) card, also did extremely well, selling for $18,726 -- a strong 150% above book!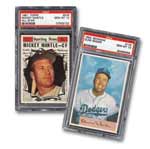 One of the reasons Memory Lane Inc. (MLI) auctions are so popular is the company's success in brokering high quality cards. MLI uses its brokering connections to secure hard to find, high-end cards and material in high demand to carefully craft their auction offerings. The result of this focus on quality has been to produce extraordinary auction values for their consignors and for the collectors who participate in their auctions -- it's a win-win for both bidders and sellers!
Other first-rate highlights include: a PSA GEM MINT 10 1961 Topps Mickey Mantle (#578) which sold for $10,571; a tremendous 428% above the closest PSA MINT 9 book. A PSA GEM MINT 10 1954 Bowman Duke Snider (#170) sold for $9,358 -- another equally impressive 751% above the closest PSA MINT 9 book.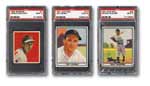 Collectors were pleased to find a dazzling selection of tough-to-find cards, and took advantage of this limited availability with strong bidding. A pristine copy of a 1949 Bowman Vernon Bickford (#1); the number one card in the issue in PSA MINT 9, pulled $11,316 --producing a whopping 817% above book. An eye popping 1941 Play Ball Joe Cronin (#15), PSA MINT 9, sold for 146% above book, and a tough to get, simply gorgeous 1941 Play Ball George (Mac) McQuinn (#23) sold for 656% above book!

The 1948 and 1953 Bowman also garnered strong interest. A rare, absolutely perfect, 1953 Bowman Color Herman Wehmeier (#23) in PSA GEM MINT 10 produced a value 804% above the closest PSA MINT 9 book. A pure, clean '53 Bowman Color Ted Kluszewski (#62), in PSA MINT 9, sold for 481% above book. A stunning '53 Bowman Color Saul Rogovin (#75), PSA GEM MINT 10, sold for 993% above the closest PSA MINT 9 book! An equally blazing '53 Bowman Color Joe Astroth (#82), in PSA GEM MINT 10, sold for 752% above the closest PSA MINT 9 book. A '53 Bowman Color Whitey Ford (#153), in PSA MINT 9, sold for 71% above book. All results are posted on MLI's web site: www.memorylaneinc.com.

The Auction offered a complete 1948 Bowman first issue with all 48 cards in high grade and collectors responded with enthusiastic attention. For example, a sharp 1948 Bowman Warren Spahn (#18), PSA MINT 9, sold for 111% above book, and an equally sharp '48 Bowman Yogi Berra (#6), his only recognized Rookie card, in a high grade PSA MINT 9, sold for 70% above book. Other highlights from Topps issues included an excellent 1956 Topps Mickey Mantle (#135), PSA MINT 9, which sold for 47% above book; a '59 Topps Hank Aaron (#561), PSA MINT 9, that came in at 60% above book; and a very clean 1957 Topps Mantle/Berra Yankee Power Hitters (#407), PSA NM-MT 8, that sold for 161% above book. The auction also produced values from a wide spectrum of issue eras, such as a beautiful 1933 Goudey Carl Hubbell (#230), PSA MN-MT 8, which sold for 85% above book. (See a full listing of the varied and interesting auction offerings on MLI's web site.)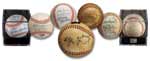 Balls showed strongly too. The auction's single, team, and All-Star group signed baseballs performed very well. A Cy Young ball with a clear, deep, black and bold signature sold for a very respectable $9,025, and a number of team and All-Star balls, along with a 500 Home Run Club ball, also produced excellent values.
A final collector note: with material of this caliber and the values produced, more and more collectors are bookmarking Memory Lane Inc. as the must see auction site. Anyone wishing to contact Memory Lane Inc. may do so by e-mail at [email protected], or call JP or Adam Cohen directly at 877-606-LANE (5263). MLI is now taking consignments for their Fall event. Consignors who act now can get their material in for what promises to be another great success.
Collectors can request subscription on Memory Lane's Catalog mailing list either through their web site (www.memorylaneinc.com) or by calling MLI at 877-606-5263. Office hours: 8:30-5 p.m. PST, M-F.