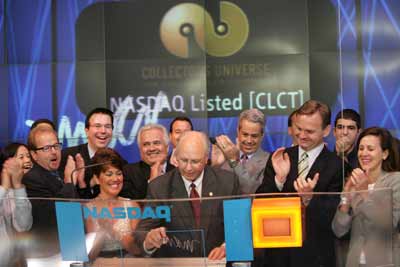 Video of CLCT Opening Bell Ceremony on NASDAQ
High Bandwidth (Cable/DSL)
Low Bandwidth (Dial-up)
New York, NY – The finest known T-206 Honus Wagner baseball card was a "surprise guest" at the opening bell-ringing ceremony of the NASDAQ Stock Market in New York City, Friday, July 22, 2005.
Michael R. Haynes, Chief Executive Officer of Collectors Universe, Inc. (NASDAQ: CLCT), brought the card and other valuable collectibles certified by Collectors Universe to Times Square when he was invited to open the day's trading.
NASDAQ officials and several dozen guests, including author and former American Numismatic Association Vice President Scott A. Travers, were given a private showing by Haynes of several of the finest-known numismatic, philatelic and sports collectibles certified by Collectors Universe. The items included:
The Eliasberg/Legend 1913 Liberty Head nickel purchased in June by Legend Numismatics for $4.15 million, the second highest price ever paid for any rare coin;
the finest-known $1,000 denomination 1890 U.S. Treasury note valued at more than $1 million and nicknamed the "Grand Watermelon" because the three large green zeroes in the printed denomination resemble watermelons;
the renowned 1909-era Honus Wagner baseball card formerly owned by hockey star, Wayne Gretzky, and later purchased for $1.3 million at an auction in 2000; and
a 1918 "Inverted Jenny" 24-cent denomination airmail postage stamp misprinted with an upside down bi-plane in the design that recently sold for $577,500.
While in New York, Haynes planned to meet with investors and news media representatives to discuss the collectibles markets, business highlights, and what the American consumer and investor community should look for before purchasing high-value collectibles.
Professional Coin Grading Service (PCGS), Professional Sports Authenticator (PSA), Professional Stamp Experts (PSE) and PCGS Currency are divisions of Collectors Universe.
About Collectors Universe
Collectors Universe, Inc. is a leading provider of value added services to the high-value collectibles markets. The Collectors Universe brands are among the strongest and best known in their respective markets. The Company authenticates and grades collectible coins, sports cards, autographs, stamps and paper currency. The Company also compiles and publishes authoritative information about collectible sports cards and sports memorabilia, United States and world coins, and entertainment memorabilia. This information is accessible to collectors and dealers at the Company's web site, http://www.collectors.com, and is also published in print.