Offered at auction August 11th by Memory Lane Inc. is an absolutely immaculate group of all 48 cards in the 1948 Bowman first issue. Each magnificent card is to be sold individually at auction.
This offering includes an incredible number of 42 PSA high-end MINT 9's – in all out of a total of 48 cards! There is no doubt this is a Once in a Lifetime collecting opportunity!
Collectors hold on to your Want lists! Memory Lane Inc is offering Collectors a landmark collecting opportunity to buy "truly rare" high end 1948 Bowmans! 1948 Bowman cards are very hard-to-get in high grade, and this auction presents a truly unique and rare chance for collectors to own these very tough to get cards.
It's tough to find '48 Bowmans in high grade.
To find '48 Bowman cards in high end high PSA grade like MINT 9's is an accomplishment. 1948 was Bowmans first major card issue. They produced 48 cards using a soft and thin cardboard. The cards and the corners bent easily with handling and there were number quality problems with the issue like, centering, toning, and print dotting defects. So to find a group of high pedigree, cards, all graded high end PSA MINT 9 and NM-MT 8, is an extremely rare find! Many of the cards in this group look like they just came out of the pack. Score this a big opportunity.
Offered Cards have Excellent Centering and Sharp corners
A known production problem of the first issue Bowmans was centering. This makes the group offered at this auction a very select group. The centering is perfect to near perfect across the board on each of the cards offered in this group. This group deserves the high PSA MINT 9 and NM-MT 8 grades. The corners on the offered cards are also very strong corners across all of the cards and also very deserving of the high PSA grades.
Offered Cards have Outstanding Clarity and Image Focus
This Bowman first issue portrays the players using black and white photography. The clarity and image focus of the cards in this select offering is absolutely terrific! The images jump out! The images are superbly sharp and clear. These offered cards are most worthy of the high grades bestowed upon them.
Yogi Berra and Stan Musial ROOKIE Cards!
The 1948 Bowman issue is famous because it has the only recognized Rookie card of the great Yogi Berra; and one of only two recognized Rookie cards of the great Stan Musial. Both these '48 issue cards are considered to be two of the Top 200 Sportscards in the Hobby.


Yogi Berra (HOF' 72)
A Top 200 Sportscard in the Hobby
PSA 9 MINT
Berra's only recognized Rookie Card.
An absolutely pristine gem of a card.
Tone free – no printer defects.
This Yogi is a prize.

Stan Musial (HOF '69)
A Top 200 Sportscard in the Hobby
PSA 9 MINT
One of only two recognized Musial Rookie cards.
This portrait card is hard to find without printing dots.
It's Tone free – this card is very very clean


MLI Lot 63
MLI Lot 64
Get a great view of these cards Online – www.memorylaneinc.com
The '48 Bowman First issue had a total of 19 Rookie cards! Six of these Rookies went on to become Hall of Fame inductees. Besides the pristine Berra and Musial cards there are four other Rookie cards of future HOF players in this issue -- all cards in this group are in high end, high quality condition.


Ralph Kiner (HOF '75)
PSA 9 MINT
A very clean copy!

Warren Spahn (HOF'73)
PSA 9 MINT
Sharp image – bright.

Phil Rizzuto (HOF '94)
PSA 9 MINT
Like new! It shines.

Red Schoendienst (HOF '89)
PSA 8 NM-MT
This copy really pops!

MLI Lot 66
MLI Lot 70
MLI Lot 68
MLI Lot 71
Offered are Exceptional LOW POP cards – PSA high grade Gems!
All of the '48's offered in the auction are tough cards to get but there are some are even more exceptionally tough cards to get in high grade. These "Low Pop Gems" are a high end collector's dream come true. Their availability at auction offers collectors the very rare chance to acquire the cards individually.


Hank Sauer
Rookie Card
PSA 9 MINT
LOW POP 2
None graded higher!


George Stirnwiess
Rookie Card
PSA 9 MINT
LOW POP 3
None graded higher!


Walker Cooper
PSA 9 MINT
LOW POP 2
None graded higher!



Bobby Thompson
PSA 9 MINT
LOW POP 3
None graded higher!
*The toughest card in the Issue to find in high grade.

MLI Lot 108
MLI Lot 100
MLI Lot 76
MLI Lot 110
Further Evidence that this auction offers a very rare chance for Set Collectors
The First and Last cards in the issue are available; and both are in high grade. Bob Elliot the #1 card in the '48 issue (PSA 9 MINT) is one of just four with nothing graded higher; and George Koslo #48 the last card in the issue (PSA 9 MINT) is one of just three in this grade with none graded higher!
Lots of Tough commons can be had too!
There are also a number of really tough LOW POP commons available for the upgrade seekers. In all there are dozens and dozens of classic names representing the Yankees, NY Giants, Brooklyn Dodgers, Philadelphia Athletics and on in this great issue in high grade.


Bob Elliot Card #1
The First Card in '48 issue
PSA 9 MINT
LOW POP 4
No card is graded higher!

George Koslo Card #48
The Last Card in the issue
PSA 9 MINT
LOW POP 3
No card is graded higher!

Emil Verban
PSA 9 MINT
LOW POP 3
None graded higher!


Whitey Lockman
PSA 9 MINT
LOW POP 3
None higher!


MLI Lot 65
MLI Lot 72
MLI Lot 93
MLI Lot 95
The '48 first issue also has great Hall of Fame "future notables" in high end hard to find condition; Fastball ace, Bob Feller (HOF'62) in a PSA 9 MINT ; The power hitting NY Giant/NY Yankee Johnny Mize (HOF '81) in a PSA 9 MINT, and another Cardinals the great Enos "Country" Slaughter (HOF '85) – all in MINT 9 grade!


Bob Feller
(HOF'62)
PSA 9 MINT
A very clear image.

Johnny Mize
(HOF '81)
PSA 9 MINT
Like new, very bright.

Enos Slaughter
(HOF '85)
PSA 9 MINT
Great visual detail.

MLI Lot 67
MLI Lot 74
MLI Lot 69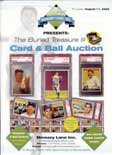 In all, there are 48 cards in the Bowmans first issue in 1948, and as noted; an incredible 42 of them are PSA MINT 9's! Even more remarkable is all cards in the issue will be sold as individual lots. The Memory Lane Inc. Auction is Thursday August 11, 2005. Lot Preview and Bidding begins online July 25th go to www.memorylaneinc.com


Watch for this Catalog coming soon in the mail.
The MLI has sent out over 33,000 auction catalogs. If you would like to get a free Catalog sent to you call them at 877-606-LANE (5263) or EMAIL them at [email protected].
See the Magnificent '48 Bowmans on display along with all the auction lots at the Memory Lane Inc., Booth 1102, at the National show in Chicago, July 26th- 31st. MLI is always buying vintage cards are to show – stop by.