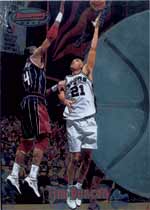 The San Antonio Spurs had to fight right down to the last minute of Game Seven of the NBA Finals to claim the title of World Champions for the third time in the last seven seasons. When the final buzzer sounded, ticker tape rained down on the court as a jubilant celebration rocked the rafters of the SBC Center.
Just minutes after the Spurs took the title, NBA Commissioner David Stern presented the championship trophy to the team, and the MVP trophy to Tim Duncan.
The slightest of smiles briefly crossed his face. "It's an honor," he told Stern. "But this team has so many MVPs."
And that was about the extent of Duncan's post-game celebration.
He's an interesting character, ol' Tim Duncan. Duncan is not the most exciting player in the game, that's for sure, but he is certainly one of the best.
He's a superb technician who wields his power with finesse. He seems to possess a sixth sense when it comes to knowing when a teammate is open or well positioned for a jump shot, even if he's being double-teamed. On the defensive side, he is as solid as they come – capable of blocking shots and rebounding as if there was a magnetic force between his hands and the ball.
He may not be perfect, but he may be as close to perfection as you can find in today's NBA. Just ask any current pro coach or owner who they think is the cream floating on the top of today's crop of players and you're sure to hear one name over and over – Tim Duncan.
Born on St. Croix in the Virgin Islands on April 25, 1976, Timothy Theodore Duncan was the only son of William and Ione Duncan, who prior to Tim's arrival had two daughters, Cheryl and Tricia.
Tricia Duncan was an excellent swimmer and Tim's childhood dream was to follow in his big sister's wake. When Tim was 12, he became even more awed by his sibling's athletic skill when Tricia competed in the 1988 Summer Olympics in Seoul, Korea.
With Tricia as his inspiration, Tim continued to build his strength, speed and agility in the water until the following year. In 1989, when hurricane Hugo blew through the Caribbean, decimating all of the pools on St. Croix, Tim, then a ninth-grader, began to make a splash on a new stage – giving up chlorinated H2O for lacquered hardwood.
By 1992, Tim had become a star player with the hoops squad of St. Dunstan's Episcopal High School. It was that year, by means of a serendipitous encounter with Chris King, that young Tim Duncan's world dramatically changed. King, who had been a star forward at Wake Forest University, had just been drafted by the Seattle Supersonics. While touring the Caribbean, King caught a St. Dunstan's game and was extremely impressed by the team's six-foot-eleven-inch tall center.
After the game, King contacted his college coach, Dave Odom, told him about the discovery he made on the isle of St. Croix, and strongly suggested that Wake Forest do all they could to recruit Duncan. Odom heeded King's suggestion, which resulted in Duncan heading for North Carolina when he quickly proved that King's scouting eye was sound.
On the court of the Laurence Joel Veterans Memorial Coliseum, Duncan, a psychology major, psyched out opponents with hands that made him somewhat of a defensive legend. Named the NCAA's National Player of the Year by the Associated Press, the NBA began heavily romancing Duncan after his junior year. Assured to be the number one pick in the NBA draft, Duncan shunned the offer in order to fulfill a promise both he and his sisters had made to their mother before she died of breast cancer – to earn a college degree. Two years later, with lambskin in hand to prove he had earned a bachelors degree in psychology, Duncan also earned the distinction of being the all-time shot blocker in the Atlantic Coast Conference.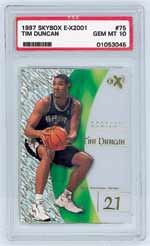 As anticipated, Duncan was the number one pick in the 1997 NBA draft. Scooped up by the San Antonio Spurs, he was voted as Rookie of the Year and was the only rookie selected for the 1998 All-Star game. The following season, Tim led the Spurs to an NBA championship over the New York Knicks and was named the Finals MVP – not bad for a guy's second season. In each of his six NBA seasons, Duncan has averaged more than 20 points per game, and has been included in both the All-NBA team and All-Defensive team. Along with David Robinson, Duncan was a part of San Antonio's "Twin Towers" who helped lead the Spurs to NBA titles in 1999 and 2003.
Despite what Duncan has accomplished in St. Croix, Winston-Salem and now in San Antonio, there has been no lack of sports writers and columnists who have commented on "The Big Fundamental's" low-key style, his perceived lack of leadership qualities, and the glossed over look he maintains after making a great shot or block. Many have written that while he has all the makings to be an NBA superstar, he lacks the personality and panache, both on and off the court, to rightfully have that moniker attached to him.
Huh? That doesn't seem to make sense. How could an NBA star of this caliber – a guy who has thrice been named MVP – a guy who, at 29, now has a third championship ring and one of the most impressive resumes in NBA history – be the same guy who only two years ago topped a Sports Illustrated list called Sports' Most Boring Superstars?
Many attribute Duncan's lack of star power to the fact that he plays for the San Antonio franchise. Hey, granted Duncan and the Spurs have made an indelible mark on the NBA world, but Wilt the Stilt had Tinsel Town, Dr. J had Philly, Magic had Hollywood, Earl the Pearl had the Big Apple, Air Jordan had Chi Town, and Larry Legend had Bean Town. Duncan has San Antonio, whose claim to fame are tributes to revolution and redevelopment.
Geography aside, Duncan himself is anything but flashy – on and off the court. He has been able to accomplish the unimaginable by showing even less emotion than Shaq when speaking with the media. His non sequitur quotes, delivered in brain-deadpan style, saw S.L. Price call him "a paragon of anticharisma" in a 2003 Sports Illustrated piece.
But guess what? It is just that lack of showboating, bling and brashness that has endeared Duncan to many NBA fans, both in San Antonio and beyond. Basketball purists are grateful for the lack of commotion and diversions that surround the Kobes and Iversons of the league. They are more interested in his hard-to-penetrate, flat-footed defense, his always well-executed bank shot, and his classic drop step.
These purists also harbor an appreciation that Duncan approaches his work in the NBA in much the same way that people do who don't do their jobs on television, in front of millions of people and are gifted with huge salaries and oversized diamond rings for doing their job. There seems to be a refreshing quality to a guy who does nothing to position himself as a media darling, a brooding genius, or a over-the-top publicity monger.
Duncan has never cared about endorsement deals, magazine covers or other markers of fame. He prefers a simpler life, centered on basketball, his family and his charity work. There is a quiet admiration for the work he does with various charities including the Children's Bereavement Center of San Antonio, who works with children who, like him, have lost a parent at an early age.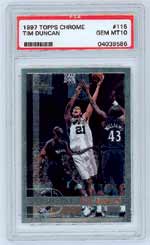 Along with his wife, Amy, Duncan has created the Tim Duncan Foundation, an organization that helps charitable causes in San Antonio, Winston-Salem, and in the Virgin Islands. The Foundation supports, among other things, academic excellence in youth and cancer organizations. Duncan also makes tickets available to underprivileged kids to every Spurs home game in a section of the SBC Center that has become known as "Timbuktu. Back home in St. Croix, Duncan has also worked with various communities and government officials to help bring sports and business opportunities to the island.
Since the 1998 retirement of Michael Jordan, the NBA has been without an era-defining superstar. Many think that as time goes by it may be LeBron James who fills that role. But at this juncture, in the wake of this year's NBA season, Tim Duncan's name has got to be at the top of most lists. His name is certainly at the top of the list with those purists who revere him for simply doing his job, doing it extremely well, and for so clearly ignoring the media and publicity circus that has become so much a part of superstar athletes.
Tim Duncan is featured on several rookie cards including the 1997-98 Bowman's Best #106, the 1997-98 Finest #101 and the 1997-98 Ultra #131 among a host of others. They are all relatively affordable in comparison to other star rookie cards manufactured in the late-1990's.
Will Tim Duncan ever achieve super-popular status with the fans? Maybe not, but he has earned the respect of his peers, perhaps more than any other player in the game.