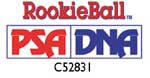 (Newport Beach, California) - Responding to collectors' requests to certify autographs signed during an athlete's rookie era, two new services now are available from the PSA/DNA division of Professional Sports Authenticator: RookieBall™ and RookieGraph™.
"This is an entirely new collectible, a new form of collecting rookie autographs," said Joe Orlando, President of PSA, a division of Collectors Universe, Inc., (NASDAQ: CLCT).
"PSA is very excited about this new service because it has the potential to forever change the way autographs are perceived. Any item that is autographed and received by PSA/DNA prior to the beginning of the athlete's second full season of play may be submitted for certification."
The RookieBall™ service is designed to certify autographed game-related balls specifically related to the signer's sport. The RookieGraph™ service covers all other rookie-autographed items.
"Autographed items signed by an athlete must be received by PSA/DNA prior to his or her team's Opening Day/Night during the athlete's second full season. The key issue under this rule is the definition of 'second full season.' There are rules in each sport that pertain to and define this issue," Orlando explained.
"When you think of the rookie card concept and apply it to autographs, you can see the enormous potential for certified rookie-era signatures. For example, the difference between a 1951 Bowman Mickey Mantle rookie card and Mantle's 1952 Bowman card is a mere year. Despite that slight difference, the difference in perceived value between the two cards is enormous: the market value is about five times greater on the rookie card; listed in Sports Market Report at $16,500 for a PSA 8 but only $3,250 for the 1952 card."
Why? Because the Mantle rookie card is Mickey's first one. Rookie cards, simply by designation, become THE cards to own of any athlete. If that is true for cards, there is no reason that rookie autographs should not be perceived in the same fashion."
When collectors or dealers submit an autograph of any athlete prior to the beginning of their second full official season, the items will be documented and certified as rookie autographs under either the PSA RookieBall™ or RookieGraph™ programs. This service cannot be applied retroactively, but now PSA/DNA can ensure that rookie autographs will be documented from this point forward.
"For example, if star quarterback Ben Roethlisberger of the Pittsburgh Steelers continues to perform and becomes a potential NFL Hall of Famer then just imagine what affect this type of documentation could have on the potential value of his rookie autograph five to ten years from now. This new service can provide tremendous additional value to autographs well into the future," Orlando said.
The complete rules covering the new RookieBall™ and RookieGraph™ services will be posted soon online at www.psacard.com. For additional information, call PSA/DNA's Customer Service representatives at (800) 325-1121.