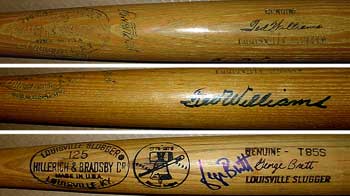 Victor Moreno, CEO of AmericanMemorabilia.com of Las Vegas, NV, in association with Rocco DiPierro CEO of Kingdome Sports of Boca Raton, Florida examined a collection of 600 Vintage Game Used Major League Baseball Bats in Boca Raton last week. The consignor, who wishes to remain anonymous, chose AmericanMemorabilia.com to handle the sale of his amazing collection.
For the hobby of Sports Memorabilia this is one of the most important discoveries in recent years. The collection includes Game Used Bats from the more esteemed and difficult to find members of Baseball's Hall of Fame. The collector who takes great strides in attaining the finest in vintage bats must give this opportunity earnest consideration. The most discriminative of collectors will find bats in this collection that were previously unobtainable at any price. From our initial examination we have found the following:
1. 1932 Signed Game Used Babe Ruth Bat with supporting paperwork from Hillerich and Bradsby.
2. Early 1950's Eddie Matthews Game Used Bat
3. Early 1960's Willie Mays Game Used Bat
4. George Brett Bicentennial Game Used Bat
5. Mike Schmidt Signed Worth Bat with Home Runs 510 and 511 inscribed by Schmidt
6. Roberto Clemente Game Used Momen Bat from his Rookie Year.
7. Ted Williams Signed Game Used Bat.
8. Gamers from the esteemed 500 Home Run Club including, Frank Robinson, Willie McCovey, Mickey Mantle and More.
AUTHENTICATING THE FIND
After the initial inspection of the collection, John Taube of PSA/DNA Authentication Services was dispatched to Florida to commence with the first stage of the authentication process.
AmericanMemorabilia.com chose John Taube and Vince Malta of PSA/DNA to examine and authenticate each of the 600 bats in this amazing find. The reasons for contracting the services of PSA/DNA over other known authenticators in the hobby are simple according to Moreno:
One of the primary reasons is PSA/DNA presents NO conflict of interest. PSA/DNA does not commercially or privately purchase or sell baseball bats to collectors, dealers or auction houses.
John Taube and Vince Malta are among the most knowledgeable expert authenticators of Game Used Bats.
PSA/DNA is the nations leading Authentication Service, we have come to trust PSA's first-rate authentication and grading criteria.
John Taube, Vince Malta and PSA/DNA have an impeccable reputation in the hobby.
Mr. Moreno along with Mr. DiPierro and the Consignor came to terms as far as the distribution of the sale. The more significant bats of the collection will be divided up and sold over a course of one year headlining as a "Feature Collection" in each of AmericanMemorabilia.com's seven yearly auctions. A selection of bats, not yet specified will be available for direct sale through AmericanMemorabilia.com in Las Vegas and Kingdome Sports in Boca Raton.
This is exciting news for all concerned in the hobby of Sports Memorabilia. Vintage treasures that have been out of circulation for decades will once more be obtainable. For more information please feel free to contact AmericanMemorabilia.com at 800-430-0667 or via email at [email protected].
Contacts:
Victor Moreno: (800) 430-0667
Rocco DiPierro: (954) 568-2717