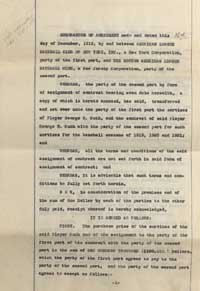 NEW YORK - This afternoon, there was extended applause in the salesroom when Sotheby's & SportsCards Plus auctioned the contract selling Babe Ruth from the Red Sox to the Yankees, for $996,000 (lot 187). The buyer was Peter Siegel, owner of Gotta Have It Collectibles, Inc., the historic collectibles dealer in New York, New York. Six bidders competed for the contract in the room and on the phone, but Siegel ultimately triumphed over an anonymous phone bidder. The seller, Alan Feinstein, has said that the profits from the contract will benefit America's Second Harvest, the nation's largest hunger-relief organization. The sale of Important Sports Memorabilia and Cards, which spanned the history of baseball, basketball, football, boxing, tennis and track & field, brought a total of $5,527,200 with nine lots selling above $100,000.
Of this purchase, Mr. Peter Siegel said: "Growing up as a Yankee fan, I am ecstatic to have purchased the contract selling Babe Ruth from the Red Sox to the Yankees - it's a true dream. This is not only the most important document in sports history but is also important in American history. The contract is larger than life, a royal gem."
Lee Dunbar, Director of Sotheby's Collectibles department, commented: "We are absolutely thrilled with the result of today's sale. We're extremely pleased that the Babe Ruth contract will go to a new owner, Peter Siegel, who is acutely aware of its special significance in sports history and that the proceeds are earmarked for a worthy cause."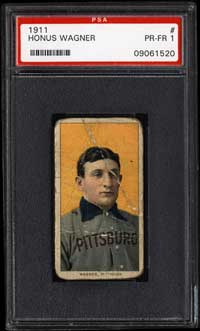 David Kohler, President of SportsCards Plus, continued: "We are ecstatic about the sale of the Babe Ruth contract, which reached almost $1 million, a record for a sports document at auction. We treasure our great relationship with Sotheby's and we look forward to another successful auction in the late fall."
Among the other top highlights of today's sale was Babe Ruth's Signed Game Bat from 1920, used during his pivotal first season as a New York Yankee, arguably the most important of his storied career, which was bought for $216,000 by a private California collector over the phone (lot 183, est. $200/250,000). Signed and Presented to Chicago Mayor William "Big Bill" Thompson, the bat was used in a face-off between the Yankees and the Chicago White Sox in which the Sox beat the Yankees 6-4.
Mr. Siegel also purchased the rare Lou Gehrig 1934-36 H&B "Small Signature" Game Bat, which soared to $156,000 (lot 263, est. $50/70,000) from the Estate of Robert Moses "Lefty" Grove, one of the finest pitchers in baseball history and a mainstay of the Philadelphia Athletics and the Boston Red Sox.
The first baseball pitched at the 1912 Grand Opening of Fenway Park, home to the Boston Red Sox and the country's oldest ballpark in operation, commanded $132,000 and was purchased by David Hunt, a baseball memorabilia auctioneer who was bidding in the room on behalf of a private client (lot 1, $30/50,000). On the ball, Tom Connolly, one of Major League Baseball's first umpires, has inscribed "Fenway Park, First Ball Pitched, April 20, 1912," as well as the pitching batteries, umpires and attendants and the final score: "Boston 7, New York 6".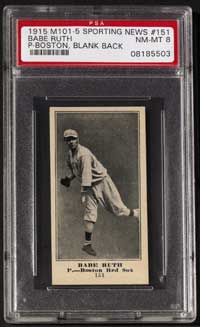 Also from the Tom Connolly Collection was a Babe Ruth and Lou Gehrig signed baseball, celebrating one of the most legendary hitting duos in the history of the game, which sold to an online bidder for $42,000 (lot 12, est. $20/30,000). Opening Day baseballs signed by important figures such as President Woodrow Wilson from April 20, 1916 (lot 5, est. $20/30,000) and Vice President Calvin Coolidge from April 13, 1921 (lot 11, est. $6/8,000), sold for $33,000 and $39,000, respectively.
Strong prices were achieved by the significant offering of baseball cards, highlighted by the most famous baseball card in the world, the iconic T206 Honus Wagner PSA 1 PR-FR, which brought $132,000 (lot 19, est. $90/120,000), a record for a PSA 1 card, and one of only two known graded PSA NM-MT "8" Babe Ruth rookie cards from 1915, which fetched $120,000 (lot 174, est. $100/125,000).
Other important baseball memorabilia highlights include Barry Bonds' 700th home run baseball from the September 17, 2004 game in Pac Bell Park, which sold for $102,000 (lot 99, est. $100/200,000), Babe Ruth's 1938 Brooklyn Dodgers Full Uniform, which fetched $192,000 (lot 339, est. $150/200,000) and Hall of Fame catcher Ernie Lombardi's 1940 Cincinnati Reds World Series Ring brought $13,200 (lot 43, est. $10/15,000).
Highlighting the estate of tennis great Arthur Ashe was a pair of Haggar solid gold presentation trophy tennis balls, weighing 372 ounces, which brought $144,000 (lot 148, est. $150/200,000). Purchased by longtime fan John Raybin, a New York-based memorabilia dealer who met Ashe a number of times during his youth, the trophy tennis balls were awarded to Ashe by The World Championship Tennis Organization in 1975, the year he became the first and only African-American to have won the men's singles at Wimbledon when he defeated Jimmy Connors.
Highlighting the offering from Hall of Fame sports journalist Jim Murray was the typewriter that he used to write over 10,000 columns for the Los Angeles Times from the early 1960s through the late 1990s, which brought $18,000 (lot 105, est. $4/6,000). Murray, who was one of only four sportswriters to win a Pulitzer Prize, was named "America's Best Sportswriter" by the National Association of Sportscasters and Sportswriters 14 times.
*Estimates do not include buyer's premium