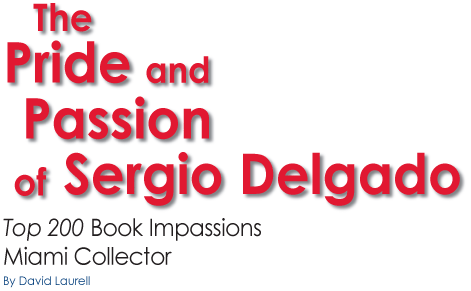 Since pre-historic man first chiseled crude hieroglyphics on stone tablets, the written word has been a powerful source of inspiration. From the scrolled parchments found in the tombs of Egyptian Pharos to today's web sites, the moving of thoughts from mind to the ever-evolving forms of media has had a profound impact on every aspect of our lives, from the way eat and sleep to the way we worship and govern.
The written word has also had a mighty influence on the way we collect. Just ask Sergio Delgado, who was born in Brooklyn, New York and has lived in Miami, Florida since he was a child. In 2003, Delgado read a book that not only inspired him to return to his childhood hobby of collecting sportscards, but to collect the most desired cards ever produced. The book that rendered this inspiration – Joe Orlando's The Top 200 Sportscards In The Hobby (2002, Collectors Universe, Inc.)
"I had started to collect cards when I was a 10-year old kid growing up in Miami," Delgado recently told Sports Market Report. "This was in the 1970s and card collecting wasn't really much of a hobby back then. There was no grading or price guides or anything, so as the years went by, I just collected the players I liked – Roberto Clemente, Mike Schmidt, Mickey Mantle. By the 1990s, I had actually put together what I now realize was a very valuable collection."

In 1992, when Hurricane Andrew devastated South Florida, Delgado decided to sell his collection. "I figured I had spent about $5,000 putting my collection together and so, when I was offered $20,000 for it, I thought it was a good deal. Today, of course I regret selling those cards because they would be worth far more than that."
After parting with his cards, Delgado did what so many collectors do when they reach their late 20s and early 30s – he shifted his interest from collecting cards to establishing a career, home and family.
By 2003, Delgado had not only reached but surpassed his career goals, establishing himself as a heavy hitter in the lucrative Miami real estate market. "That was the year I read Joe's book," said Delgado. "I was fascinated with it. Seeing all of those cards, some of which I had in my collection, brought back so many memories and it inspired me to get back into collecting."
Delgado's reemergence into the card-collecting world was not as the casual "favorite player" type collector he had been as a kid. Orlando's book had brought him back into the collecting fold with a laser-like focus. "My goal was to get every one of the top baseball cards that Joe listed in his book," said Delgado.
Having most recently acquired a 1909-11 T206 Walter Johnson that has been graded as a PSA Mint 9, Delgado said when he first returned to collecting, his goal was to simply amass a full compliment of the cards Orlando identified as the hobby's top tier offerings. Now that he has accomplished that goal, he is going back to square one and putting together a second set of the same cards in an upgraded version.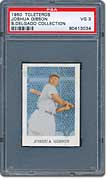 "When I first started my collection it was all about getting the cards in Joe's book in the best grade I could find," said Delgado. "But now my goal is to start a second set in PSA NM-MT 8's or better. Collectors know there is a huge difference in value and desirability between a card that is graded a PSA 7 and a card that is graded a PSA 8. A 1933 Goudey Babe Ruth # 53 goes for between $40,000 and $50,000 in an 8, but you can get one in a 7 for maybe between $10,000 and $11,000. There is really a big difference between a 7 and an 8, just like there is between an 8 and a 9."
Delgado who proudly owns a 1915 M101-5 Sporting News # 151 Babe Ruth that is graded a PSA 7 and a 1909-11 T206 Honus Wagner that is deemed a PSA 2, said he is well aware of the challenge he faces in putting together a set of the hobby's top offerings in PSA NM-MT 8.
"I know that many of the top cards graded as 8's are extremely rare," said Delgado. "But challenge is what the hobby is all about."
Delgado also knows that when you are collecting on his level, huge payouts are also what the hobby is about. "I would estimate that since I have been back in the hobby I have invested over $2 million dollars in my collection," Delgado said. "I paid $240 thousand alone for my Honus Wagner. I didn't share that with my wife for a while," he said with a laugh. "When she found out, she flipped!"
Daunting challenges, high prices and a flipping wife aside, Delgado says that along with trying to build a top card collection in 8s or better he also has two other goals. "I want to put together a full set of rookie cards for every Hall of Famer, and also a Negro League Hall of Fame set," said Delgado. "The idea of collecting a Negro League Hall of Fame set interests me because it's an era that is overlooked by many collectors. And I understand that because they are just so hard to find."
Pressed on what drives him to take on these collecting challenges, Delgado gives many of the same reasons that collector's on every level offer. "I have become passionate about collecting cards, because they bring me wonderful memories," he said. "When I was a young boy, I always loved baseball and my cards were very special to me. Back when I was 10-years old, none of my friends collected cards. Remember, there was no professional baseball team in Miami back then so unlike kids from New York who had their favorite teams and favorite palyers, it seems that very few kids in Miami were into collecting cards."
Delgado said that along with the nostalgic fascination his cards bring him there are also two other reasons he collects – one biological and the other financial.
"I am a born collector," Delgado admitted. "I have always been into collecting one thing or another. Today, along with my cards, I also collect Cuban art and have just completed a book about my art collection."
Whether it's art or cards, Delgado says that coupled with the enjoyment his amassments bring him, he is also keenly aware of the more practical side of collecting. "These things appreciate, and investing my money in art or cards is much better than having it sit in the bank," Delgado said. "I'm not into cars or boats – those things have no investment value. But cards – that's a different story. I'm a collector, and I love my cards, but I'm also a businessman so I appreciate the value of things."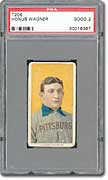 Joe Orlando, president of PSA and author of the book that helped inspire Sergio, speaks fondly of this passionate collector. "I always enjoy talking to Sergio because he brings great energy to the hobby and he is just about the most down to earth individual you will ever meet," Orlando said. "Sergio has enjoyed great success in his personal and professional life so it is no surprise to me that he has amassed a great collection so quickly. He is very focused and driven to complete his collection."
Delgado said that just as with the real property he handles, understanding value is key to making wise investments. "That is why PSA grading is so wonderful," he said. "Grading establishes values and that helps you know what it is that you have, or are looking to buy."
As soon as Delgado found himself getting a bit too involved in discussing the business and investment angle of collecting cards, he caught himself and stopped in mid-sentence.
"All of the investment and money part is important," he said. "There's no doubting that. But what collecting is really all about is my passion. Passion is what everything in my life is about and I've been fortunate in business to be able to afford to pursue my passions from a financial standpoint. There are many people who would love to collect like I do, but there are not many who can. I have also met some of the greatest people through the hobby. My friends tell me I'm a machine when it comes to collecting. But that's the way I get when I'm into something. It's a lot of fun."
Orlando commented further on this investment versus collecting topic. "Most people assume, due to the money involved, that collectors like Sergio are pure investors but that couldn't be further from the truth," Orlando said. "Sergio, like many advanced collectors, approaches collecting with a sound business mind but what drives him is the love of the cards. While there will always be the financial aspect to collecting, Sergio shares the passion that so many collectors have, regardless of spending power."
It's the memories, passion, fun and understanding of the hobby that Delgado hopes to bequeath to his young daughter. "My daughter, Christina, is only 10-months old," said Delgado. "But, as soon as she can understand, I'm going to teach her everything about collecting cards."
He once again paused, and when he found himself at a loss for words, he laughed and once again stated: "I'm just so passionate about this!"