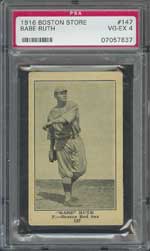 Centennial, CO. - By going the extra mile to procure some of the finest Sportscards and select pieces of Memorabilia Mile High Card Company has firmly cemented its place as the premier auctioneer of premium high grade Sportscards. Without question collectors took note of the immense amount of truly quality pieces offered within the catalog as firm bidding records were literally smashed, resulting in a new record of $1,639,519.00 in total sales.
This auction represented a leap of sorts as Mile High Card Company entered a new echelon going from a smaller type auction to a 719 lot auction with astounding material featured in a beautifully bound 124 page catalog. "The collectors surely were enamored with the offerings and came in droves as we more than tripled our previous record for new registrations, as well we see a tremendous opportunity to fill a niche as an auction provider fitting in between the telephone book style auctions and the smaller style auctions and it appears that the collectors our drawn this type of auction, remarked MHCC principal Brian Drent"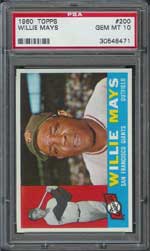 An outstanding litany of prized cardboard performed to tremendous levels highlighted by: 1933 World Wide Gum #93 Babe Ruth PSA 8 NM/MT $15,878.00,1916 Boston Store (H801-8) Babe Ruth PSA 4 $14,530.00, 1952 Topps #311 Mickey Mantle PSA 8 NM/MT $48,030.00, 1933 Goudey #234 Carl Hubbell PSA 9 MINT $12,665.00, selling at equally astounding levels were a 1956 Topps #135 Mickey Mantle PSA 9 MINT $10,439.00 and a 1960 Topps #200 Willie Mays PSA 10 GEM MINT $8,710.00.
An awe inspiring grouping of 19th century items produced frenzied bidding and awesome results with the following items finding new homes: a 1887 N690-1 Kalamazoo Bats Black Mount Team Cabinet $14,434.00 and a 1888-9 N 173 Dogs Head Cabinet Tom Neagle $2,952.00.
Performing to equally impressive totals were the following: 1939 Play Ball #92 Ted Williams PSA 8 NM/MT $5,693.00, 1951 Bowman #2 Yogi Berra PSA 9 MINT $10,439.00, 1968 Topps #177 Mets Rookies (Ryan) PSA 9 MINT $4,561.00, 1912 T202 Hassan Triple Folder Moriarity/Cobb PSA 7 NM $4,959.00, 1933 Goudey #19 Bill Dickey PSA 8 NM/MT $3,280.00, 1933 Goudey #202 Gabby Hartnett PSA 8 NM/MT $2,746.00, 1950 Bowman #98 Ted Williams PSA 8 NM/MT $3,266.00,.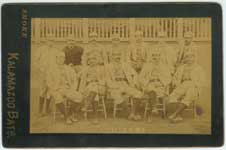 Some more amazing prices from this record setting auction were set in the area of complete and partial high grade sets. An impressive group of 286 different T206's with 49 Hall of Famers fetched $32,752.00, while an master set of 1952 Topps featuring all 407 cards as well as both the black and red variations on the first 80 cards as well as the Paige and Sain variations for a total of 489 cards, with 265 cards graded primarily middle grade was bid up to and sold for $54,595, a 1953 Topps set featuring star cards graded between 5-7 was sold for $10,438.00, and a high grade 1955 Topps Doubleheader found a new home for $16,405.00, a stunning high grade 1956 Topps set featuring every star card grading at least PSA 8 NM/MT as well as a few PSA 9's was hammered down for an astounding 42,189.00, also a stunning high grade 1963 Topps set went out the door for $16,812.00. High prices were not confined only to baseball as the other sports saw plenty of action highlighted by a 1961 Topps Football set that was completely PSA graded and second on the PSA set registry selling for an astounding $10,285.00, and a 1962 Fleer Football completely graded set commanding a stunning $8,508.00 and a stunning high grade completely graded 1957 Topps Hockey set being bid to and selling for $11,590.00.
This astounding and record setting sale featured an awe inspiring selection of super high grade "low pop" commons that performed to truly mind numbing levels. Heading the group was the following: 1950 Bowman #246 Walt Dropo PSA 10 GEM MINT $5,781.00, 1951 Bowman #156 Del Rice PSA 10 GEM MINT $3,479.00, 1951 Bowman #315 Zack Taylor PSA 9 MINT $3,220.00, 1952 Bowman #225 Del Wilbur PSA 9 MINT $2,719.00, 1955 Bowman #101 Don Johnson (var.) PSA 8 NM/MT $1,618.00, 1956 Topps #268 Dale Mitchell PSA 9 MINT $2,317.00, 1958 Topps #8 Eddie Kasko PSA 9 MINT $3,013.00, 1958 Topps #309 Gail Harris PSA 10 GEM MINT $3,500.00, 1961 Topps #270 Bob Friend PSA 9 MINT $1,497.00, and a 1963 Fleer #44 Frank Bolling PSA 1 GEM MINT $1,796.00.
Also included in this auction was quite possibly the finest selection of high grade 1948 Bowman basketball cards offered as singles that sold at a breakneck pace highlighted by the following: 1948 Bowman #14 Howard Dallmar PSA 9 MINT 1,643.00, 1948 Bowman #23 Double cut of post PSA 10 GEM MINT $3,094.00, 1948 Bowman #24 Leo Klier PSA 10 GEM MINT $3,743.00, 1948 Bowman #39 Ray Kuka PSA 10 GEM MINT $3,873.00, 1948 Bowman #43 Charles Halbert PSA 9 MINT $2,113.00, 1948 Bowman #51 Jack Dwan PSA 9 MINT $2,324.00, 1948 Bowman #68 Lee Knorek PSA 9 MINT $2,324.00, 1948 Bowman #70 Walter Budko PSA 9 MINT $3,403.00, 1948 Bowman #71 Guards Play Down PSA 10 GEM MINT $5,157.00, and a 1948 Bowman #72 Carl Braun PSA 9 MINT that sold for $7,865.00.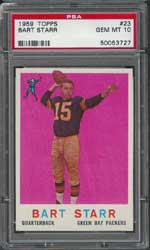 Memorabilia was not to be forgotten and their were definitely some highlights within the auction highlighted by: A 1921-31 Louisville Slugger Hillerich & Bradsby game used bat was hammered down at $43,674.00, a signed Babe Ruth ball sold for $8,511.00 and an autographed Babe Ruth check was bid to an astounding $6,393.00, a 1930 New York Yankee autographed ball fetched $4,809.00, as well a S110 Baseball Silk Premium sold for $3,969.00, a 1860-70 era Lemon Peel Baseball went for $2,239.00 and a Philadelphia Stars Negro League Autographed jersey sold for $3,362.00.
A tremendous selection of Football and Hockey cards were offered and true to MHCC's history performed to stupendous levels highlighted by: 1958 Topps $66 Bart Starr PSA 10 GEM MINT $ 3,280.00, 1959 Topps #23 Bart Starr PSA 10 GEM MINT $3,719.00, 1955 Topps All American #85 Sid Luckman PSA 9 MINT $2,570.00, Hockey cards sizzled with the following cards leading the way, 1911-12 C55 #31 Art Ross PSA 7 NM $2,238.00, 1954 Topps #16 Glen Skov PSA 9 MINT $2,737.00, 1954 Topps #56 Edgar Laprade PSA 8 NM/MT $1,912.00 and a 1954 Topps #55 Larry Popein PSA 8 NM/MT $2,099.00.
Rob Sandberg, VP of Operations added, "While our auctions have experienced a tremendous growth, we are a full service dealer that offers our customers a multitude of options such as our customized e-store featuring a secure online ordering program, as well as our computerized wantlist service and the fact that we are also interested in purchasing vintage sports card collections as well as taking consignments for our featured catalogue auctions."
Mile High Card Company is planning a late October 2005 auction as a follow up to this tremendously successful auction and is accepting consignments for the fall auction. To consign your treasured items to this auction or to add your name to the mailing list to receive a catalog in the future you can go to www.milehighcardco.com or call them directly at (303) 840-2784 (8:30-5:00 MST M-F).