Writing articles for SMR has always been pleasurable for me. SMR has published my analysis of various baseball card sets and my favorite of the bunch was an article focusing on the history of the Goudey Gum Company. After years of reading, researching, lecturing and writing about baseball, I have accumulated a plethora of scrap paper, filled with hard-to-remember quips from baseball pundits.
Many times, I tried throwing away these different pieces of paper but I couldn't complete what should have been a simple task. Long after, I happily solved my dilemma. I asked our editor, Joe Orlando, if I could write a "Did You Know" column from time to time so our readers could enjoy these not-so-original thoughts. Joe welcomed the input so I decided to give it a try.
Did you know that Ted Williams picked out the heaviest of six bats to prove he could perform such a feat without a scale?
Mr. Hillerich, in Boston, laid six bats on a bed. Williams closed his eyes and picked the heaviest bat, weighing one-half ounce more than the other five. Amazing!
Did you know that Johnny Orlando (no relation to Joe), the Boston clubhouse boy, named Williams "The Kid" when Williams arrived for spring training as a young rookie for The Boston Red Sox?
Is it true that the phrase "Teddy Ballgame" originated from a little boy?
Yes - that boy was the son of a photographer, Fred Kaplan. The boy asked his father if he could go to the park to see "Teddy." Kaplan asked his son, "Teddy who?" The boy responded by saying, "Teddy Ballgame." The phrase was soon adopted by the news media.
Did you know that Woodrow Wilson was the first president to attend a World Series game?
Did you know that Al Simmons's real name is Aloysius Harry Szymanski?
To his fans, he was known as Al Simmons. He took his new surname off a billboard advertising display, Simmons Hardware Store.
Did you know that the pictures of Mickey Mantle used on the 1951 Bowman, 1952 Topps and 1956 Topps cards are photographs of Mantle as a rookie?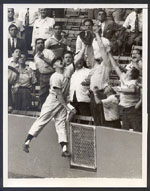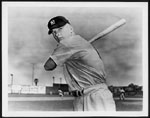 Did you know that Hall of Famer George Brett was quoted as saying, "If a tie is like kissing your sister, losing is like kissing your grandmother with her teeth out?"
Did you know that Black Sox player Swede Risberg, after he was banished from baseball, became a dairy farmer in Minnesota?
In his later years, he was a tavern keeper in Northern California. He died at age 81 on October 13, 1975. He was also the last survivor of the banned Sox players.
Did you know that, in 1953, Pee Wee Reese turned down the Dodger's manager position in order to continue as a player?
Walter Alston was then hired to manage.
Did you know that, in the 1959 movie The Wonderful Country, HOF pitcher Satchel Paige played the role as a cavalry sergeant?
Did you know that after Lou Gehrig's baseball career ended, Gehrig served on the New York Parole Commission?
A young man named Rocco Barbella faced Gehrig on a parole violation, and Gehrig sentenced Barbella to reform school. Barbella credits Gehrig for inspiring him to lead a better life. That he did. Rocco Barbella became known as Rocky Graziano, the former middleweight boxing champion of the world.
Did you know that the first televised major league baseball game was August 26, 1939 at Ebbets Field between the Dodgers and Reds?
The doubleheader was split between the two teams.
Did you know that the demolition of Ebbets Field began on February 23, 1960?
Carl Erskine, Roy Campanella and Ralph Branca were present that day. A brass band played "Auld Lang Syne." Tex Richards, a longtime announcer, shouted, "Ladies and Gentlemen, now coming in to pitch for the Dodgers, Number 13, Ralph Branca."
Did you know that baseball's Henry Chadwick was born in England?
He came to the United States at age 13 in 1837. Chadwick developed the baseball box score.
Now you know.