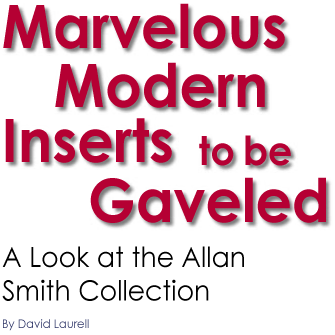 For those who may be new to the sportscard hobby, insert cards and sets are extremely limited runs that are placed within modern packs. They are usually very special cards, not just because they are extremely rare, but also because they can be one-of-a-kind offerings that contain small swatches of game-used memorabilia.
When sales of modern cards began to dip due to collector's far greater interest in vintage cards, manufacturers came up with the insert card concept as a way to reignite interest and sales in modern card collecting. An insert card's value is based on how high the odds are on your finding one. The higher the odds, the higher the value of the card. This was designed to entice collectors into buying numerous packs in hopes of finding one of these rare treasures.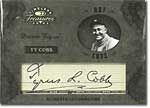 Along with the traditional insert cards, companies also introduced redemption cards. These cards are usually included in packs at about one in every 360 packs. If you were to come across one of these cards, you would send it into the company and, in return, they would send you a limited edition set.
Another special insert issue is the premium card. These cards are limited edition offerings that are priced much higher than commons. They have a UV coating that gives them a slick look. They are usually produced in the standard size of two and a half by three and a half inches and have been offered by Topps, Upper Deck, Bowman, O-Pee-Chee, Fleer, Score, Studio, Donruss, Pinnacle, Leaf and Stadium Club.
Inserts can range from short or limited edition runs to the elusive "1 of 1" specials, which means only that card and set exist. Inserts will usually be accompanied by a ratio number. The ratio indicates how often any particular insert is scheduled to fall in any given pack. These ratio numbers are typically printed either on the card's pack or box. An example of a ratio number would be: 1:35 which means that one insert card would be placed in every 35 packs. When you move beyond the concept of finding a single insert card and take into consideration what it would take to compile an entire insert set, you begin to get an indicator as to how extremely challenging it is to put these sets together.
Along with the difficulty of trying to compile an insert card set, one should also realize that several different insert sets usually exist within each manufacturer's product. Synthesizing this down to the simplest terms – compiling an insert card set, especially when there is less than a dozen full sets produced, is a challenge somewhat equivalent to finding a Honus Wagner T-206. There is a rule of thumb to bettering your chances of finding these desirable cards – that secret is to purchase higher priced packs. The more expensive the pack, the better the chance that it will include a rare insert.

Since they first began showing up, there have been an incredible variety of insert cards produced by every major manufacturer. The most desirable of these cards are the ones that are adorned with elaborate engravings, decorated foil and that contain small swatches of game-worn uniforms, cut up pieces of game-used equipment and authentic cut signatures.
A game-used (or match-worn) memorabilia card contains a swatch of an authentic game-used uniform or piece of equipment. Jerseys and pants are the most widely used items but ball and shoe leather have also been used, and even small pieces of hardwood from basketball arenas have been placed into cards.
Game-used cards have an extremely high appeal with collectors, as most people are not in a financial situation to purchase an actual game-worn jersey or uniform, which can start in price at $2,000 and can go up over $100,000. These cards give collectors in every economic range the chance to own an actual piece of sports history.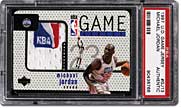 In order to authenticate these game-used items, card manufacturers purchase the equipment directly from players, teams or from secondary sources. According to Upper Deck, while most of the items they use in their cards were worn in an actual game, some are from practice games or from official team photo shoots. The bottom line is that the pieces that are used in these cards have been actually worn or used by an athlete for some league-sanctioned purpose. The authentication copy printed on the back of the card usually indicates the nature of how and when the item was used.
Once an item is purchased by a card manufacturer, it is cut into small swatches which are then "sandwiched" between two cards. Sometimes a set can include cards that contain various swatches from the same piece, such as the actual part of a jersey, the numbered part or a part that includes a small section of a pinstripe, logo patch or tag.
The Alan Smith Collection
Alan Marc Smith started collecting cards in the late 1960s. Growing up in the Boston area, he was most enamored with cards pertaining to the Celtics, Bruins, and Red Sox and players such as Carl Yastrzemski, John Havlicek and Bobby Orr.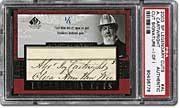 "Like most kids, I collected, traded and flipped for cards," Smith told Sports Market Report. "Then, as I got older, the cards were packed up in shoeboxes and put away until one day, my mother decided they were either headed for the garbage or a garage sale. And so, off went my collection."
As is the case with most collectors, Smith's interest waned during his teens and twenties. Then, when he met Lisa, the woman he would marry, his collecting spirit was revived. "As a present for my birthday, Lisa bought me the rookie card of each of my four favorite athletes – Roger Staubach, Bobby Orr, Carl Yastrzemski and John Havlicek," Smith said. "They were not graded cards, but they were in great display holders. I set them on my mantle and I was so thrilled to re-connect with my youth through these cards."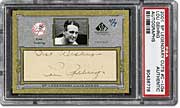 Like most collectors, Smith was first driven to collect his favorite athletes and teams. That led to the emergence of his more obsessive collecting side. "I decided I was going to go on the hunt for a new kind of card," said Smith. "I decided to collect the best of the best modern day cards that had an extremely limited edition. That meant trying to get as many important 1 of 1 or very rare and unique cards as I possibly could. In some cases, the challenge was to get the most important limited card, such as the one that coincided with the player's number – like a Lou Gehrig #4, or cards tagged as #3 from various rare Babe Ruth insert cards."
For Smith, the cards had to be extremely special since they were coming from the modern era. "That meant working with many people in the hobby who searched high and low at shows, private auctions and hobby shops for the rarest of the cut signature cards, bat cards, and jersey cards," said Smith. "My requirement was also that the cards had to be of the most legendary players – Ruth, Gehrig, Williams, DiMaggio, and Mantle to name a few. This search gave me a reputation throughout the hobby as a high-end buyer, and soon, instead of searching for cards, people who had these cards started finding me."
Of all the incredible sets that Smith has compiled, he is most proud of having an entire set of 1 of 1 Babe Ruth cards made by Donruss. "All seven of these cards came from the 1925 Babe Ruth game-used jersey cutting ceremony that Donruss held in 2003, at the ESPN Zone in New York," said Smith. "I didn't just seek out one or two of these seven 1 of 1 cards that existed, but all seven!"

Other insert cards and sets that Smith has compiled include the Alexander Cartwright 1 of 1 signature cut card, and the #3 of 3 Babe Ruth Sultan of Swatch signature cut, that holds a "G.H. Ruth" autograph and a game-used uniform swatch with two pinstripes on the one card.
This past year, Smith has made the decision to part with some of his most notable items by consigning them to the June Sotheby's/SportsCards Plus auction. "I have decided to put many of my cherished items up for auction," said Smith. "It has been an incredible thrill and journey seeking and finally locating many of these rare cards. Collecting has provided me with a significant amount of joy over the years, and it has helped provide a link to many of my childhood heroes and to my deep passion for sports. I am keeping more than enough of my collection to keep me happy, and hopefully some other collectors will now get a chance to enjoy some of the great items that I have had."
For more information about the sale of this extraordinary modern insert collection, please contact SportsCards Plus at (800) 350-2273 or go to www.sportscardsplus.com.