SEAFORD NY - An amazing array of sports artifacts including the finest Josh Gibson card ever uncovered and the only players medal from the first (1903) World Series ever offered at auction are sure to have baseball memorabilia collectors buzzing and bidding when they are put on the auction block in June by Lelands.com.
More than 2,500 lots will be up for bids in two separate auctions -- Americana which closes on June 23 and Sports culminating on June 24, 2005. Both auctions go live on May 18 at www.Lelands.com. To receive a copy of the Lelands.com catalog call 516-409-9700.
"This auction is packed with items that mean something to real collectors," explains Josh Evans Founder of Lelands.com. "They might not be as glitzy as a Ruth bat or Gehrig jersey, but to serious collectors these are truly special historical artifacts because they are unique and until today nobody knew they existed. It's exciting for us to put these incredible specimens into the market for the first-time ever."
"The Black Wagner" is part of the finest array of Negro League memorabilia ever
The 1950-51 Josh Gibson card, dubbed "The Black Wagner" because of similarities in both condition and scarcity to the highest graded T206 Honus Wagner Card, is the highest graded examples of one of the scarcest and most renowned trading cards in the industry. This fabulous card is the only vintage card to feature the player known in his day as "The Black Babe Ruth." Less than a dozen of the cards are known to exist and this is far and away the highest graded example in existence.
"This card has the potential to set the record for the most expensive Negro League item ever sold," said Chris Porter, head of the vintage card division of Lelands.com. "Traditionally, with rare cards, when the highest graded version is so much more pristine than any other in existence, it will sell for 300%-500% more than the earlier version , depending on the grades, but with this rarity the sky is the limit."
A card of this notoriety is not without its share of controversy. Produced three years after Josh Gibson's death, some in the sports memorabilia industry believed the card to be of his son Joshua Gibson Jr. who played for the Homestead Grays in 1949. Lelands.com has finally put this myth to rest once and for all, by discovering a Puerto Rican scorecard with the heading Baseball de Puerto Rico (January 7, 1940) with an identical image of the elder Gibson on its cover as on the 1950-51 Toleteros card.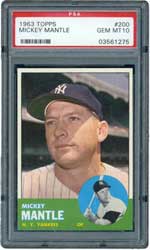 In addition to the "The Black Wagner" the June Lelands.com auction will offer more than 50 other Negro League artifacts including: a Martin Dihigo 1938 player contract -- the first year of the Puerto Rican Winter League ($7500); Josh Gibson Budweiser advertising photo - is this the first-ever endorsement from a black baseball player? ($2,500); 1946 Roy Campanella Negro League Contract ($2000); 1947 Leon Day contract ($500); an amazing array of Negro League photo of Satchel Paige and Josh Gibson including the only known photo of Paige from 1939-40 with Guayama.
Lelands.com also uncovered a treasure trove of Clemente artifacts from his Puerto Rican homeland. Highlights include: a handwritten love letter from Clemente Graded 9/10 ($2,000); Clemente's 1954-55 Santurce #21 equipment bag ($2,000); a 1970 game worn Pirates cap ($2000); 1971 signed and dated autographed baseball 9/10 ($2000); and his 1960 World Series glove ($1000). One unusual item is a piece of Clemente's DC-7 airplane in which he crashed to his death in 1972 ($1,500).
"World Series" Championship Medals Pins, Pocket Watches and Rings
Although a lot of Boston baseball items have been sold in the past year, nothing compares to this. In stark contrast to the gaudy diamond-encrusted rings that the 2004 team received, each member of Boston's 1903 World Championship team earned $1,182 and a solid gold crest-style medal. The only player medal known to exist from the first World Series sits in the Baseball Hall of Fame. That is until Lelands uncovered the medal of Buck Freeman, Boston's best player who led the league with 13 homers and 104 RBI - huge numbers for that era. The medal carries a reserve price of $30,000 but is expected to fetch several times that amount.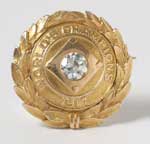 There are also two other important early Word Series awards in the auction. First is the diamond and gold pin presented to the members of the 1917 World Champion Chicago White Sox (in lieu of rings). The pin is especially important because it belonged to a conspirator in the Black Sox Scandal, Claude "Lefty" Williams. Lelands.com will also offer a championship pocket watch presented in 1888 to St. Louis Browns pitcher Jim Devlin and engraved with his name, for the team winning the American Association for the 4th straight season, though they lost a "World Series" to the NL's New York Giants 6 games to 4 ($10,000); and finally a 1927 NY Yankees World Championship Ring ($15,000) -- a gift given to a Chicago sportswriter by legendary Yankees clubhouse manager Pete Sheehy.
Historic New York Baseballs
Game balls from two of New York's greatest games will also be put on the block for the first time -- one from Don Larsen's perfect game and the second from The Shot Hear Round the World. Both were still in the possession of their original owners. The Larsen game ball comes from former pro basketball player Harry "Moose" Miller who was given the ball immediately after the game by his close friend, umpire Tom Gorman and then escorted into the locker rooms to have the ball signed by Larsen and hard-luck losing pitcher Sal Maglie immediately after the game.
Al ball that is as controversial as it is historic will also be up for bids. According to 65 year-old Bill Moore, formerly of Queens, NY and a long-time resident of South Windsor, CT, two days after "The Giants Won the Pennant" his father's co-worker, who had no children, gave his father a baseball that he caught at the famous game to give to 11 year-old Bill. The man told Moore's father that it was Bobby Thomson's home run ball.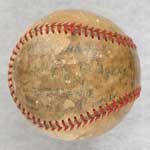 When Moore, heard on ESPN last year that Lelands was offering $1,000,000 for the baseball and would do all of the research to try and prove its provenance, he contacted the company to tell them what he was told upon receiving the baseball in 1951. Leland's is confident that the ball is in fact from the actual game, but cannot guarantee it as Thomson's home run ball with airtight authenticity so it was unable to offer the $1 million bounty. Regardless, it has offered to sell the ball.
"I have met with Mr. Moore and discussed the baseball and his story behind it at length," explained Mr. Evans. "I believe he is credible and I think there is a great possibility the ball is real. However since there is no irrefutable evidence we are unable to authenticate the ball."
Championship boxing items plus jersey, bats and graded cards galore
More than two dozen boxing items are headlined by a truly one-of-a-kind piece of American history -- Sugar Ray Robinson's Ring Magazine Championship Belt ($35,000). "The Belt," the singular standard of excellence sought with a passion by every fighter. Sadly, few of those original belts are available for public sale, no doubt because so many of them have been zealously kept by the families of the great boxers or been bequeathed to the Boxing Hall of Fame. Thus, we are extremely proud to be able to offer the first Ring Belt awarded to Sugar Ray Robinson awarded after he beat Tommy Bell in a 15-round decision on December 20, 1946 at Madison Square Garden. Magnificent it too tepid a word for the belt, which is EX at the least with the only flaws some minor soiling of the sash and slight discoloration on the metal plates, but no real tarnishing to speak of. It is one of the most significant pieces of Americana, period. Expect calls from a few museums. Belt comes with a LOA from Mildred Robinson, Sugar Ray's last wife.
Other boxing items include: fight worn trunks from Joe Louis ($5,000) and Rocky Marciano ($5,000); Joe Frazier's Fight Worn Gloves from his epic "Thrilla in Manilla ($5000); Emil Griffith gloves used in the famed "death match" with Benny "Kid" Parent ($2000); Muhammad Ali worn robe and trunks from his last fight versus Trevor Berbick in 1981 ($2000); and just in time for the release of the movie "Cinderella Man", James J. Braddock boxing gloves worn on June 13, when he took the heavyweight title from Max Baer in the biggest upset of that era. It comes with a letter of authentication. ($1,000)
Some of the other prominent baseball items being offered include: a mid-1940's Joe DiMaggio Game Worn Jersey ($10,000); Pee Wee Reese's 1953 World Series Ring ($7,500); Johnny Bench's 389th HR retirement night game worn jersey ($5,000); a 1959 Mantle All-Star Game used bat ($5,000); a baseball signed by both Cobb and Wagner ($5,000); and an amazing collection of over 100 photos by the great Charles Conlon.
Although baseball takes center stage in the auction, there are also hundreds of non-baseball items such as: a 1975 Eddie Giacomin game worn Rangers jersey $7,500); a rare Bill Bradley game worn Knicks jersey ($5,000); a Rocket Richard game used Canadians jersey ($5,000); a late 1920's Harry Oliver game worn Bruins jersey ($7,500); two unopened 20-box cases of 1980-81 Topps Basketball cards featuring the dual rookie card of Magic Johnson and Larry Bird ($5,000 each). One special jersey up for bids is a 1978 Edmonton Oilers WHA Jersey from former NHL standout Garnet "Ace" Bailey who was killed on 9-11-01 on Flight #175 from Boston to LA.
Like all Lelands.com auctions, graded cards will be a big part of the auction with hundreds of lots offering thousands of the most pristine and collectible cards in baseball history. In addition to the Gibson card, Lelands.com will offer: three high-grade Mantle's -- a '55 Bowman Mantle PSA 10 Gem Mint, a '63 Topps Mantle PSA 10 Gem Mint and a '56 Topps Mantle PSA 9 Mint. There are also several impressive graded lots including: a near complete '61 Topps Baseball Set graded PSA 8 Nm-Mt; a huge collection of centered '52 Topps PSA 8 Nm/Mt cards; and an enormous group of PSA 8 Nm/Mt and PSA 9 Mint '55 Topps Baseball cards.