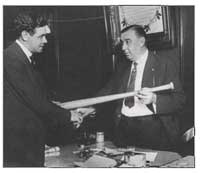 New York, New York - Babe Ruth's game-used bat has just been added to the list of valuable items available on Friday, June 10th, when Sotheby's & SCP will offer more than 350 lots of important sports memorabilia and cards. The most famous athlete in the history of American sports, Ruth, was an icon during his own time. So much so that when Ruth's Yankees traveled to Chicago to take on the White Sox, then Mayor William "Big Bill" Thompson arranged a personal meeting with the "Sultan of Swat." Following an afternoon game, Sept. 17, 1920, in which the Sox beat the Yankees 6-4, the two titans convened. Ruth arrived bearing a gift of his game bat and inscribed the barrel, "To Mayor Thompson, From 'Babe' Ruth, Sept. 17, 1920."
Prior to leaving office, Thompson asked his longtime secretary, one of his most loyal employees, if there was a certain memento he would like to have as a keepsake from their years of working together. Having admired the bat every day since it was delivered by Ruth himself, it was given to him as a symbol of gratitude from the former king of Chicago.
This bat is offered here on behalf of the family of this former secretary of Mayor Thompson. It is a monumental revelation in the field of sports memorabilia. In the category of Babe Ruth game used bats it stands near the pinnacle. Condition wise, the 34 ½ inch, 45 ounce relic has few peers. The markings, finish, and overall quality of the Hillerich & Bradsby Co., model 125 "dash-dot-dash" are extraordinary. The usage wear is magnificent, with pronounced ball marks, and spike marks that indicate it was a favored weapon of Ruth's. Furthermore, with provenance that is beyond reproach, it is one of a precious few legitimate Ruth game bats that bear his signature. A museum caliber treasure from Ruth's pivotal first season as a Yankee, and arguably the most important of his storied career.
Among the other items for sale is a trove of Red Sox memorabilia, including the most important document in sports history, the 1919 contract selling Babe Ruth from the Red Sox to the Yankees (expected to bring more than half a million dollars).
"Babe Ruth game-used bats are one of the most coveted treasures in sports collectibles," said David Kohler, President of SCP. "To have found a game used Ruth bat from 1920, a season that Ruth hit an unfathomable 54 Home Runs and his first season as a Yankee, makes it distinct in itself. There are less than 10 known game used autographed Ruth bats. Not only is this Ruth bat autographed, but it is autographed to Mayor Thompson of Chicago and dated the same day that the Yankees played the Chicago White Sox. All the attributes of this bat clearly make it one of the finest Ruth bats ever to come to market."
"The bat is not only tremendous for the association with the notorious Mayor Thompson, but also very special given the fact that 1920 was Ruth's first season with the Yankees," said Leila Dunbar, Sotheby's Senior Vice-President. "Ruth smashed his own home run record of 29 homers, knocking out 54 home runs, more than any team in the major leagues except the Phillies. It was the season when power baseball was born on the end of Ruth's bat."
The Catalogue
The catalogue can be pre-purchased and will be available to the public on May 10th by logging on to www.sothebys.com or by calling (888) 752 0002. Catalogues are also available for purchase in Sotheby's galleries in New York and London. The price for the catalogue is $36 including shipping and handling.
Registering to Bid

Registration is required to bid in Sotheby's auctions. You can register easily in person at our New York headquarters any time before the sale, or via fax when you submit an absentee bid form. Please call the Bid Department at (212) 606 7414 for further information.
Placing Bids

There are four ways to bid in this sale:


Bid through the Internet using real-time and absentee bidding at ebayliveauctions.com, beginning on May 10th. You can register there to place bids through eBay's Live Auctions tool. You may also download an absentee bid form from sothebys.com. Note that online registration only enables you to bid online.
Place bids in the room by attending the auction and raising your paddle (issued upon registration).
Bid over the telephone through a Sotheby's representative, who sits in the room and conveys your bid to the auctioneer. Phone bidding is best when you have not set a limit for an item and want to pursue it until it's yours.
Enter Absentee bids. An Absentee (or Order) bid is a form you fill out and return to Sotheby's bid department via fax or mail. The form indicates the highest amount you would like to bid for an item or items. (The auctioneer will submit bids on your behalf as necessary, up to -- but never above -- the amount you specify.) Absentee bid forms are printed in the back of each catalogue, and are available at Sotheby's offices and on our website at www.sothebys.com.