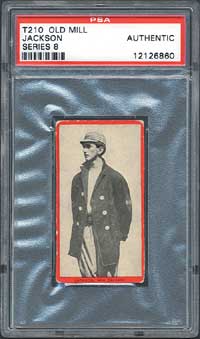 Watchung, New Jersey. The merit of the old saying "Records were meant to be broken" was demonstrated over and over again at Robert Edward Auctions on April 30th as the final auction results literally redefined the values of baseball cards and memorabilia. The Fashion Course Trophy Ball sold for an extraordinary $498,000, approximately three times the previous record for any trophy ball ever sold. The 1914 Babe Ruth rookie card issued by The Baltimore News graded VG-EX by PSA realized a staggering $243,600 (shattering the previous record of $79,500), a result which has single-handedly catapulted this card to its rightful place as the second most valuable baseball card in the world. The 1910 Joe Jackson Old Mill Tobacco card, with a previous auction record price of $15,000, sold for an astounding $92,000. "Price guide values were redefined by this auction" said REA president Robert Lifson. "What a lot of people sometimes forget is that the price guides get their prices from our auction results, not the other way around. There's going to be a lot of price guide revisions due to the results of this auction."
The sale was the most successful auction in Robert Edward Auctions' 35-year history. Thousands of bidders from all over the world including Europe, Japan, and Hong Kong, helped to propel prices to unprecedented record levels. Over 19,000 bids were placed and over 99% of the lots sold. With bidding by FAX, telephone, and on the Internet both on Robert Edward's site and on eBay, the 1525 lots of historic 1822-1975 cards and memorabilia generated a record-breaking 7.1 million in sales, with total prices realized soaring to over 50% above the high-end estimate of the sale. This is the largest total sales figure for any REA auction, and sets yet another new world-record for a multi-consignor baseball card and memorabilia auction in which the auction house employees, auction house executives, and the auction house itself are prohibited from bidding in the auction (breaking the previous record of 4.5 million dollars set by Robert Edward Auctions in May 2004 by 58%).
Between Robert Edward Auctions' catalog, website, and eBay, a total of over 200,000 different collectors viewed the auction catalog. This represents a record circulation for any baseball or collectibles auction of any type, and ensured that every item was sold to the person or institution that was willing to pay the most. The 1525 lots offered were won by an incredible 613 different bidders, another REA record statistic which effectively illustrates the power of the marketing and auction process, and the breadth of bidder interest.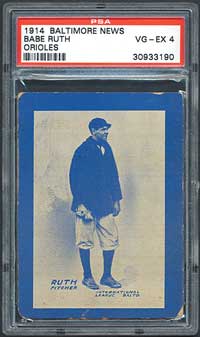 By any measure this was one of the most carefully assembled, important, and successful baseball card and memorabilia auctions in the history of collecting. "We had substantial museum and institutional participation in this sale, due to the extraordinary historical significance of some of the items offered" reports Lifson. "All areas of the auction received a tremendous response and very strong prices. Nineteenth-century cards, baseball figural pieces, advertising and display pieces, Dick Perez original artwork, PSA graded cards, Babe Ruth items, autographs, non-sport cards and artwork, uncut sheets, bats, uniforms. It was never ending. There were no weak areas. Everything was on fire!"
Prices of some of the many additional significant highlights include: the 1917-1921 era Babe Ruth bat (reserve $25,000), $116,000; the S81 Tobacco Silk uncut sheet, $197,200; a 1915 Cracker Jack of Joe Jackson graded EX-MT 6 by PSA, $37,700 (another extraordinary record price; this card books for $6,500 in this grade in the Sports Market Report); 1869 Cincinnati Red Stockings CDV, $26,100 (previous auction record $11,000); two 1886 N167 Old Judges (Connor and Ewing) sold for $43,500 each, unheard of auction levels for these rarities, more than doubling previous auction records; 1910 tobacco card rarity T206 Eddie Plank graded EX 5 by PSA (reserve $15,000), $52,200; 1912 L1 Leather of Walter Johnson (reserve $1,000) sold for an unprecedented $22,040; a 1914 "Texas Tommy" baseball card of Walter Johnson, $15,080 (more than doubling its previous auction record set just last year for the very same card). Additional highlights include: two 1933 Goudey uncut sheets of 24 cards (each reserve $5,000), $31,900 each; Christy Mathewson's personal checkers manual, $26,100 (yes, that's a record for a checkers manual); the 1863 "Union Prisoners at Salisbury" print (reserve $2,500), a record $46,400; the 1889 World Tour Trophy Baseball (reserve $2,500 and which last sold at $8,625 at the famous Halper auction), $31,900; the 1867 "Base Ball Quadrille" sheet music (reserve $1,000), $9,280; the 1888 Washington Joseph Hall Team cabinet card including Connie Mack as a player (reserve $5,000), a record $18,560; the 1894 Pittsburg BBC Schedule Poster (reserve $2,000), $17,400; the set of three 1910 Tuxedo Tobacco advertising signs featuring Christy Mathewson, Walter Johnson, and John McGraw (reserve $10,000), an extraordinary $52,200; the 1912 Boston Garter advertising poster (reserve $5,000), a record $26,100; 1967 Ernie Banks Chicago Cubs jersey (reserve $5,000), $22,040; the 1940 Ted Williams jersey (reserve $10,000), $34,800; the 1911-1916 Eddie Collins side written bat (reserve $5,000) was hammered down for more than doubled it previous record price set just last year for this very same bat, selling for $37,700; the baseball signed by John F. Kennedy (reserve $5,000), $37,700; a rarely offered Augusta National Masters Jacket (reserve $2,500), an extraordinary $37,700; the 1909-1911 T206 Walter Johnson graded MINT 9 by PSA (reserve $10,000), $37,700; and the 1916 M101-4 of Base Ruth graded EX-MT by PSA (reserve $5,000), $23,200.
Many other auction records were shattered for pre-1948 baseball cards, nineteenth-century baseball cards and memorabilia, non-sport cards, and Americana. Further information and complete auction results are available online at www.RobertEdwardAuctions.com.
Copies of the 508-page full-color premium catalog are also still available free. Go to www.RobertEdwardAuctions.com, click "Free Catalog," and fill in name and address. Robert Edward Auctions is currently assembling their next sale. For further information contact: Robert Edward Auctions, PO Box 7256, Watchung, NJ or call (908)-226-9900.