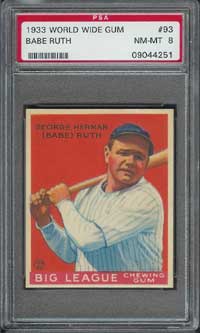 Centennial, CO. - Quite obviously Mile High Card Company has been busy at work and has without question turned it up a notch as they have procured a bevy of astounding material for their May 25th auction! The auction will feature a stunning amount of high grade singles, the type of cards that has elevated MHCC to its perch as the preeminent auctioneer of high grade material in the hobby today! The auction will be available for bidding online at www.milehighcardco.com or by phone at (303) 840-2784 starting May 4th and will conclude MAY 25th; a full color 124 page catalog will be mailed out to registered bidders and should arrive shortly.
The Mile High Card Company sale features an astounding 719 lots of meticulously selected cards as well as extremely high end memorabilia that should provide something for every collector. The auction is buoyed by a top notch 1921-31 Louisville Slugger Game Used Bat from none other than Babe Ruth! As well there are some spectacular cards of the great Bambino led by the one and only PSA 8 1933 World Wide (Canadian Goudey) #93. As well a truly scarce 1916 Boston Store (H801-8) Babe Ruth PSA 4 is also offered within the auction.
A tremendous group of 1933 Sport Kings including over 20 PSA 8's highlighted by cards of Grange, Rockne and Bobby Jones as well as many others is offered. Other highlights include: An amazing selection of rare 19th century material that includes a possibly unique 1887 N690-1 Kalamazoo Bats Boston Base Ball Club cabinet as well as a truly rare 1888 Yum Yum Tobacco Tim Keefe (Portrait) card and a 1888 Lone Jack (N370) Doc Bushong card, also included in the auction is a exceedingly desirable 1910 E125 American Caramel Die Cut Honus Wagner.
Highlighting the amazing graded card selection are: 1933 Goudey #234 Carl Hubbell PSA 9 MINT, 1939 Play Ball #92 Ted Williams PSA 8 NM/MT, 1940 Play Ball #27 Ted Williams PSA 8 NM/MT, 1941 Play Ball #14, 1948 Leaf #1 Joe DiMaggio PSA 8 NM/MT and 1951 Bowman #2 Yogi Berra PSA 9 MINT.
Other Highlights include but are not limited to the following: 1952 Topps #311 Mickey Mantle PSA 8 NM/MT, 1955 Bowman #242 Ernie Banks PSA 9 MINT, 1955 Topps #164 Roberto Clemente PSA 9 MINT, 1956 Topps #135 Mickey Mantle PSA 9 MINT, 1960 Topps #200 Willie Mays PSA 10 Gem MINT, 1968 Topps #177 Mets Rookies (Ryan) PSA 9 MINT, as well as a 1968 Topps #490 Super Stars (Mantle, Mays, Killebrew) PSA 10.
The auction also includes an amazing selection of high grade commons highlighted by more than a dozen cards grading GEM MINT including 1950 Bowman #246 Walt Dropo PSA 10 GEM MINT, 1951 Bowman #156 Del Rice PSA 10 GEM MINT as well as a 1951 Bowman #250 Hank Borowy PSA 10 GEM MINT!
If it's not Baseball that you desire the auction features the finest group of 1948 Bowman Basketball to ever be offered that includes 4 cards that grade an unreal PSA 10 GEM MINT! Also the auction includes a tremendous selection of Football highlighted by a 1958 Topps #66 Bart Starr PSA 10 GEM MINT, 1959 Topps #23 Bart Starr PSA 10 GEM MINT and a 1966 Philadelphia #38 Gale Sayers PSA 9 MINT. The Hockey selection is none the less impressive and features: 1911 C55 #31 Art Ross PSA 7 NM, 1951 Parkhurst #61 Terry Sawchuck PSA 8 NM/MT, as well as a nice selection of the prized 1954 Topps issue.
The auction also includes a stunning array of truly high grade complete and partial sets that is highlighted by the following: a partial set of 286 different T206's all completely graded by PSA that includes 49 HOF'ers, 1933 World Wide (Canadian Goudey) Nearly complete set completely graded, 1934 Goudey Completely graded high grade set that boasts a 6.09 GPA, a 1952 Topps Master set that feature all 407 cards as well as the 80 low number black back variations as well as the Paige and Sain variations for a total of 489 cards with 265 graded cards, an absolutely stunning 1956 Topps Extremely High Grade Complete set that features every star cards graded PSA 8 or higher and a 1963 Topps Complete set that also features every star card graded PSA 8 or higher, two 1969 Topps Super sets that are extremely high grade with every card graded. The memorabilia selection is highlighted by a truly rare and exceedingly desirable 1922 Rogers Hornsby/ Jake Daubert game used bat, the bat is a Daubert model bat that has been side written and dated by Hornsby and originates from one of the most magical single seasons statistically speaking in the history of the game.
All of the items listed above as well as the rest of this amazing auction will be available for bidding either via the phone at (303) 840-2784 or on the companies web site at www.milehighcardco.com. A full color catalog will be mailed to all registered bidders and the bidding process will be live May 4th. The auction will conclude May 25th, 2005 and Mile High Card Company will accept bids either through their real time internet auction system or via the phone. Call (303) 840-2784 to register and participate in this special auction event.