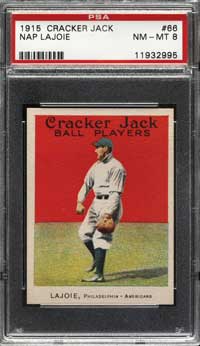 Memory Lane, Inc. enjoyed a high volume of bidding action in its April 28th auction, resulting in some record prices. The auction ended up producing over $700,000 in prices realized!
"The people drawn to this event knew we had exceptional pieces and they stepped up to the plate for them. The bids were pouring in like rain. I'm just glad the bidding was online AND over the telephone," laughed J.P. Cohen of Memory Lane, Inc. "Otherwise, we would have been soaking wet - we were drenched with bids! The auction was great for both buyers and our consignors, it was a huge success."
Memory Lane, Inc. is the new kid on the block in sports collectible auctions. The firm specializes in high end, hard-to-find graded cards and other unique graded collectibles, which is one of the hottest areas in collecting today.
"In an era of giant big book auction catalogues, you have to find a way to compete. Our niche is high-end, and low population vintage graded cards, and our auctions deliver," remarked Roger Cameron, Director of Auction Marketing for Memory Lane.
Among the desired and hotly contested lots were a PSA 8 NM-MT 1933 Goudey Sport King #2 Babe Ruth ($32,814) and a 1911 T205 Gold Border Ty Cobb PSA 7 NM ($12,633). The bidding was also torrid on a number of 1934 Goudey commons in high-grade PSA MINT 9's; #176 John Ogden ($12,222), #41 George Earnshaw ($17,891), #47 John Frederick ($21,648) and # 67 John Weiland ($19,665). A PSA Gem Mint 10 1957 Topps #24 Bill Mazeroski (Rookie) sparked a bidding fracas too and sold for $13,897! Also worthy of note was a 1960 Topps #160 Mantle & Boyer PSA Gem Mint 10 ($7943) and a 1967 Topps #150 Mickey Mantle PSA Gem Mint 10 ($10,927)!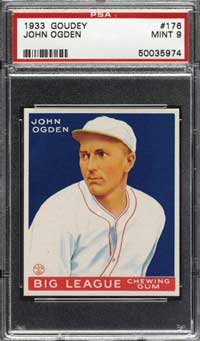 In the thick of the competition were also a number of 1953 Bowman Colors in high-grade PSA MINT 9's, including: #156 Max Surkont ($4,657), #141 Spec Shea ($4,233), #14 Billy Loes ($3,873), #65 Robin Roberts ($7,031), and a slew of other '53's in the $2,500-$3,000 range.
Not to be left out of the bidding fray was a 1915 Cracker Jack of HOF #66 Napoleon Lajoie in a PSA 8 NM-MT ($7,210) and a 1951 Bowman #1 Whitley Ford (Rookie) in a PSA NM-MT ($9,492). Also stirring the bidding passions was a 1963 Topps Pete Rose's (Rookie) # 537 in a PSA MINT 9 ($10,185).
Basketball was on the minds of collectors too. Two rare "play cards" from the 1948 Bowman issue enjoyed strong action including a #59 "Out Bounds Play" in a PSA MINT 9 ($3,842) and #71 "Guards Down From A Center Jump" in a PSA NM-MT 8 ($2,785).
For all the auction results, including some great memorabilia lots, see ML's web site at www.memorylane.com
"Auctions are just a part of our business plan," noted ML's Adam Cohen, Director of Online Sales. "We have a great Online Store and are an eBay Powerseller. Collectors looking for quality material don't have to wait for our auctions; we have a huge selection of high-end choices on our web store. And Memory Lane Inc. is a major Buyer of graded Pre-1970 material; we pay top dollar for quality material."
To get on Memory Lane's Auction Catalog Mailing List, or for help finding a card, to sell material, or consign items to our auction call Memory Lane Inc., call toll free at 877-606-5263 (LANE) 9-5 pm PST, M-F; or EMAIL [email protected]; or visit their offices at 202 Fashion Lane, Suite 115, Tustin, CA 92780.