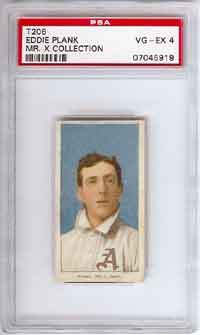 If this were 15-20 years ago, a story like this may have not been a story at all but, today, finding ungraded vintage material has proven to be increasingly difficult. This is especially true of pre-war material which could be, arguably, the hottest area of the card market.
Just this past week, TJ Schwartz, owner of Porky's BB Cards & Autographs in North Hollywood, California and the long time Tuff Stuff columnist, discovered that once in a while, a small find of great cards emerges from the attics of retired collectors. In this case, one of TJ's longtime customers decided to part with his T206 set but he wasn't just any customer. This gentleman, who has chosen to remain anonymous, has enjoyed a very successful show business career over the past two decades. He started assembling the set some 20 years ago and, for the past 5 years, Schwartz has been trying to get him to part with it. "After begging and pleading for years, I finally convinced him, since the true vintage market is on fire," Schwartz said.
Every card was in there with the exception of one- the Honus Wagner - but the set did include all the other major T206 rarities including the elusive Eddie Plank, which graded a PSA VG-EX 4, the Magie [Magee], the Demmitt and O'Hara St. Louis variations, and all the other variations. Two of the rarities, the Sherry Magie (Magee) and the Plank were pedigreed on the PSA label as part of the Mr. X Collection.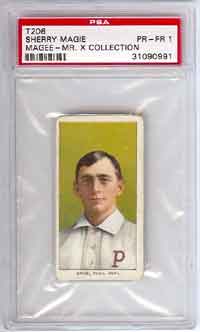 Schwartz knew that his client wanted to remain anonymous. "He doesn't want any notoriety. He's a private kind of guy, especially considering his profession. We decided on calling it the Mr. X Collection to make them special. This is just the tip of the iceberg! He has unbelievable pre-war and 50's cards, all ungraded from the golden times of collecting. A few of his T-cards were PSA graded already but the vast majority of the cards were raw! Over the next year, all the cards will be graded by PSA," Schwartz explained.
The entire T206 group will be graded by PSA and then offered on eBay over the course of the next several months. "I was dead against grading for years and said so in my column many times. Three years ago, I bit the bullet. PSA was my ONLY choice! With their Set Registry and prices realized in major auctions, why would I go anywhere else? We'll start with the A's and go alphabetically with the non-superstars. There will be 25 - 50 cards with at least 2 key cards added each week. I highly recommend that all the T-206 set builders out there pay close attention because they ALL are there with the exception of the Honus and Doyle variation," Schwartz said.
What appears to be a small victory for a dealer who has been part of the hobby wars for years is, today, newsworthy because it goes to show hobbyists and dealers around the industry that treasures remain buried yet are waiting to be discovered. "It also shows that patience and persistence is a virtue," added Schwartz.
What will you find?