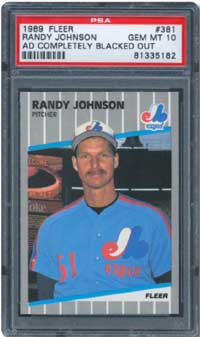 On the evening of April 3, 2005, the New York Yankees christened their 2005 season by taking to the field of Yankee Stadium against their archrivals, the defending World Champion (can you believe it!) Boston Red Sox. The sellout crowd had come out to celebrate the Bronx Bomber's home opener, give the despised boys from Bean Town a big Bronx cheer, and welcome a big man, whom they hope will win the big games, and bring them the big finish come October.
Randy Johnson - The Big Unit is in The Big Apple - he's in pinstripes, and New Yorkers are pinning their big dreams on the hope, that the 41-year old pitcher still has what it takes to put the 2005 World Series Trophy in the executive offices of the "House That Ruth Built."
It probably comes as no surprise to anyone who has followed The Big Unit's career, that when Randall David Johnson came into the world, on September 10, 1963, he was a big baby. Growing up in Walnut Creek, California, Randy went from being a big infant to a big toddler, and by the time he entered grade school it was obvious that he wasn't just a big kid, but a big kid with athletic talent far beyond that of his peers.
By the time he moved on to high school, Randy towered over his classmates in size and his teammates in skill. Although, he had a natural talent for just about every sport, he focused his efforts on just basketball and baseball. In 1982, his senior year at Livermore High School, that focused concentration paid off. Professional scouts were hovering around him like flies in a cow pasture and they pounced when the big kid wrapped up his high school career by throwing a perfect game.
Drafted in the third round by the Atlanta Braves in the '82 draft, Johnson decided against going pro and opted to use the scholarship he had earned on Livermore's field and hardwood to matriculate at the University of Southern California. He played on both USC's baseball and basketball teams in his freshman and sophomore years, but as his junior year arrived, he again narrowed his focus and concentrated solely on baseball.
After graduating, Johnson went on to play for the Montreal Expos and, in 1988, he was called up to the Majors where in September he posted his first major league win. Although Johnson's potential was clearly recognized by anyone who watched him play with the Expos, it was clear that he had control problems. That fact, coupled with the Expos finding themselves in the thick of the 1989 pennant race, prompted Montreal to trade Johnson to Seattle for Mark Langston.
It was in Seattle that Randy established himself. He turned his first start with the Mariners into a win, handily beating the New York Yankees. By the time the 1990 season rolled around, Johnson had begun to show signs of extraordinary pitching skills. He threw a no-hitter early in the season and was striking out batters left and right. Still, despite the fact that he struck out over 200 batters in 1991 and 1992, Johnson also chalked up a lot of walks and won only 13 and 14 games respectively.
The season, that would for the first time establish Johnson as a serious pitching threat, was the 1993 campaign. Finishing the season with 19 wins and only 8 losses, he led the majors by striking out 308 batters. The following year, Johnson again turned in an impressive record of 13-6 despite the fact, that he suffered injuries. And then came 1995. That was the year Johnson posted an 18-2 record and garnered his first Cy Young Award.
Along with his personal performance, the Mariners also turned in a great team effort by making it to the playoffs. They pulled off a surprising post-season victory over the New York Yankees in five games, with Johnson's relief performance making the difference in the fifth and deciding game. The Mariners went on to face the Cleveland Indians in the American League Championship series, but were denied the shot at World Series rings when Cleveland sent them home after six games.
By the time the following season rolled around, Randy, his wife Lisa, and their 2 year old daughter Samantha were celebrating the birth of the their new son and brother, Tanner (the Johnson family would go on to include two more daughters, Willow, who was born in 1998 and Alexandria, who was born in 1999). While 1996 was an exciting year for Randy, with his new son Tanner's birth, it would prove to be the only highlight for him. Injuries kept him off the mound for most of the '96 season, and talk began to surface that his health (or lack thereof) was becoming an issue. Randy put that talk to rest the next season by turning in an impressive record of 20-4 and a 2.28 earned run average.
While Johnson was riding high, his team was struggling, and in an attempt to scale back from an economic standpoint, Seattle traded the high-salaried Johnson to the Houston Astros. While in Houston, Johnson went 10-1 with an incredible 1.28 earned run average. When the season was over, Johnson became a free agent and chose to sign with the Arizona Diamondbacks.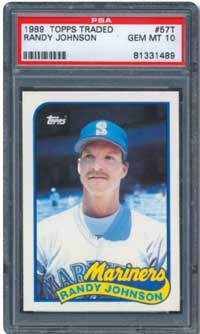 In his first year with the Diamondbacks, Johnson threw for a 17-9 record and captured his second Cy Young Award. During the 2000 season, Johnson again excelled earning his third Cy Young Award.
The year 2001 was the year Randy Johnson had been striving for his entire career. He went 21-6 to win yet another Cy Young Award and played a major role in Arizona's division title win. In the post-season, Johnson went 5-1 and chalked up 47 "K"s in 41 innings. The Diamondbacks went on to upset the Yankees in a World Series that went to a deciding Game 7 win that saw Johnson, along with teammate Curt Shilling, named World Series MVPs. In 2004, the year that would be his last with the Diamondbacks, he chalked up 16 victories and 290 strikeouts.
With his overpowering fastball and wicked slider, he has won every conceivable award a pitcher can win, and was the first ever recipient of the Warren Spahn Award for outstanding pitching by a southpaw. He is one of only three pitchers to have struck out 20 batters in a game; has topped 100 miles per hour on the radar gun, and is a member of the 3000-strikeout club. Off the field, Johnson is known to be notoriously shy, and unlike most professional athletes, he has always shied away from reporters and the spotlight. Having established a reputation as being one of the most generous and modest players in the history of professional baseball, The Big Unit has always preferred to focus his attention on causes rather than landing lucrative endorsement deals.
An accomplished photographer, Randy's photos have been featured at Art Expo '90 in Los Angeles. He made a cameo appearance in the 1994 baseball movie Little Big League. His community efforts have changed lives in both Seattle and Arizona through his "Strikeout Homelessness" program that he started while he was with the Mariners.
To date, he has personally donated more than $300,000 to charities and organizations and, now as a Yankee, he continues to pledge $1,000 per victory and $100 per strikeout to be distributed in the tri-state area of New York, New Jersey and Connecticut. Through his contract with Nike, Randy has donated over 3,500 pairs of footwear to underprivileged kids. His work with the Cystic Fibrosis Foundation, in Seattle and Arizona, has risen over $1-million through various efforts including his own annual golf tournament. And, he is also involved in the Make-A-Wish Foundation and the Salvation Army.
Now in Yankee pinstripes, The Big Unit comes to The Big Apple as the towering left-hander who intimidates opposing batters. This past summer, soon after he became a Yankee, he was interviewed by Mark Feinsand of MLB.com, who questioned him on what it means to be a member of baseball's most storied franchise. One of the first things Feinsand wanted to know, was if it would be a little awkward for Randy to suit up in the pinstripes and play along side the guys whom he beat for his 2001 World Series ring?
"No", Johnson told Feinsand. "Because I think they'll understand that that's what I'm about. I'm willing to do that for them now, whatever it takes."
When asked who he feels are the best pitchers the game has ever seen, he said that was a hard question to answer. "There are different eras," said Johnson. "The era we're going through right now is slighted toward the hitter. They're bigger and stronger (and) the strike zone is smaller. The great pitchers of their eras to me are Warren Spahn and Cy Young. There are also different facets to pitching, like the best power pitchers, like a Nolan Ryan. Guys like Steve Carlton, Bob Gibson, Sandy Koufax, these people were not only successful at what they did, but they did it in a dominating fashion."
Asked if he ever hoped that his name would be mentioned along with those greats, he went into the classic Johnson modesty mode. "It's not what I play for, but I understand that if it comes along, it would be very flattering," he said.
As far as playing in Yankee pinstripes, Johnson acknowledged he is playing with a team that has a great deal of history. "I understand it, and as time goes on, I'll understand it more. I have a good idea of what they expect here when you put that uniform on as opposed to other places that I've played before."
One of the most telling things about Johnson can be found in the answer he gave Feinsand when asked what he hopes his legacy will be?
"Just that I worked extremely hard - that when I was given the ball and the opportunity, I gave it every effort that I had when I was out there pitching. That I've done a lot of charity work but never made a lot of noise about it. I don't let a lot of people know about these things other than the organizations that I work with. That I had an impact on some young lives, trying to make them better."
There's no doubting the fact that Randy Johnson has left a big impression on the lives of numerous people, and that he has clearly changed lives for the better. The only question that remains is will The Big Unit deliver the big wins that New Yorkers are expecting from of him.
When it comes to Randy Johnson's cards, the 1989 Topps #647 Rookie Card is the most interesting. Featuring a color portrait of The Big Unit in his Expos uniform, the card was originally produced with a glaring error - while Johnson's stats were on the back, the front of the card featured a photo of Jim Leyland of the Pittsburgh Pirates. A Topps Tiffany version was also produced in limited quantities.
Other Johnson rookie offerings include but are not limited to the 1989 Upper Deck #25; the 1989 Donruss #42, 1989 Donruss Rookies #43, 1989 Fleer #381 (regular and Glossy), 1989 Fleer Update #59, 1989 Score #645, 1989 Score Rookie/Traded #77T, and the Topps Traded #57 (regular and Tiffany).