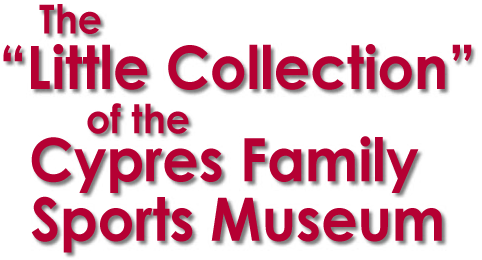 While I may not qualify for the top spot in the Guinness Book of World Records, I do believe I would give anyone on the planet a run for their money when it comes to writing about sports collectors and their collections. Over the past two decades, I have encountered thousands of collectors and just about every imaginable collection.
Considering that I have spent a fairly substantial part of my professional life writing about amassers and their amassments, it probably comes as no surprise that I am fascinated by what prompts a person to be attracted to certain items, how they go about procuring those items, and what they do with them once they are in their possession. That fascination has resulted in my separating collectors into three categories.
The first type of collector I call "The Investor," because they don't necessarily have an emotional attachment or passion towards what they collect, but rather an interest in procuring items in hopes of generating income by making them available for display or research, turning them around for a quick profit, or holding on to them for long-term appreciation. I have found that it is extremely rare to encounter a pure investor because, while someone might begin collecting something simply because they believe it will bring them financial reward, they usually find themselves learning a lot about what they are collecting and, in a matter of time, that education becomes knowledge, which then becomes appreciation.
The second type of collector I have dubbed "The Presenter," due to their desire to amass items they can grandly display to delight, impress and awe both themselves and others. Presenters usually have wonderful stories to tell about each piece in their collection, and they love to share the details of its provenance and how it came into their possession.
The third type of collector I have identified as "The Emoter." This collector's assemblage is made up of treasures that involve a deep personal attachment to something particular – an athlete, a sport, a stadium, a team, an event, a period in time, various items such as game-used equipment, cards or numerous other things. These collectors harbor a deep psychological and emotional attraction to the things they collect. They display what can only be described as reverence when it comes to their items. It is a reverence that overtly manifests itself as passion and, in some instances, (both covertly and not so covertly) an obsession.
There are, to be sure, crossovers. I would even venture to say that most collectors embody an element of each characteristic. However, I have usually found that one or two of the three traits always tend to be dominant.
Investors tend to be both understood and admired by the non-collectors of the world, while the Presenters and Emoters are sometimes viewed as being eccentric and obsessed at best, and downright wacky at worse. I certainly have had my encounters with those who are clearly obsessed, eccentric and wacky. But I believe that they, along with those of us who (at least in our own minds) believe we simply have a healthy and normal interest in certain things, should stand unrepentant, fully aware that those born lacking the collecting gene will never comprehend the enjoyment our collections bring us.
If there ever was such an unrepentant soul, it is a collector who embodies both the traits of The Presenter and The Emoter on the highest levels – a Los Angeles businessman by the name of Gary Cypres.
Now, as previously stated, in my time, I've seen some big collections. I've seen some unique collections and, I've seen some collections that include one-of-a-kind museum-quality pieces. However, never, and let me emphasize the word NEVER, have I EVER seen anything like what Gary Cypres calls his "little collection".
Let me put this into some sort of perspective so you can better understand just how phenomenal Cypres' "little collection" is...
It is a sports memorabilia collection that includes items from the Victorian era on to the collegiate and professional football, baseball and basketball teams of today. The vast collection includes the earliest existing golf clubs, tennis rackets and gym equipment, on through peach baskets used as the first-ever basketball hoops, Babe Ruth's travel trunk and comprehensive sets of sportscards, movie posters, sporting goods advertisements, sports-related arcade games and game-used uniform's and equipment from every major sport.
So, what do you do when you have compiled one of the most incredible sports collections of all time?
If you're the soft-spoken and unpretentious Gary Cypres, you decide it would be "sort of nice to share it" and so you open your own private 27,000 square foot museum right smack in the middle of downtown Los Angeles.
To help you get your bearings as to just how big a 27,000 square foot museum is, let's compare that to the two largest and most well-known sports museums in existence – the exhibit space at the Baseball Hall of Fame in Cooperstown is 50,00 square feet and the Pro Football Hall of Fame in Canton has 83,000 square feet of exhibit space.
The Cypres Family Sports Museum, as Gary has formally dubbed his facility, houses what he believes is the world's single most comprehensive sports memorabilia collection ever assembled.
"My collection celebrates the evolution, excellence, and pure enjoyment of sports," says Gary. "The Halls of Fame honor the individuals of sports. This collection honors the evolution of sports – the equipment, uniforms and venues."
An entrepreneurial businessman, whose success has stemmed from catering to the Hispanic-American cliental in ventures such as mortgage lending and the travel industry, Cypres says he has always been a collector, starting back when he was a kid with sportscards.
"I can't remember a time I didn't collect something," Cypres says with a smile. "And I'm no different than any other person who collects things. It's the thrill of the chase – finding those great pieces that you never even knew existed. But, while I have always been a collector, I really started doing it seriously in the early 1990s. I started by collecting equipment from European sports such as golf and tennis and that led to American sports."
Gary says that unlike most sports collectors who are fascinated with a particular sport, team or player, he was always more fascinated with the equipment.
"I have always been intrigued with how technology has changed sports," he says. "Why? Who can say? But from the stadiums and venues on down to the smallest things, it has always been the equipment and how sports has evolved that has fascinated me."
That fascination inspired Gary to begin collecting items that trace the history of sports. And that collection ultimately brought about a domestic dilemma.
"I ran out of room in my house," he says with a shrug. "And while a museum was not on my mind in the beginning, I had this building in downtown Los Angeles, and one day, after restructuring some of my businesses, I decided I would use some of the space I had to create a sports museum."
Even with his own private 27,000 square foot museum, Gary says that he still has tons of stuff that he doesn't have room to display.
"My problem is I have a passion for all of it," he says with a laugh. "I have attended most major auctions, all the private dealers know me, and I have traveled all over the world collecting items. Every time I find a really great piece it fulfills my need. But, like most collectors, it will never satisfy me. I always want more."
Cypres says that ever since he was a child he has always loved going to museums and that his ideas for his museum came largely through what he had personally liked or disliked about the ones he had visited.
"When you set out to build a museum you have to have some concept of what you hope to accomplish," Cypres says. "I had a rather vague, big picture idea of what I wanted to do but really, most of this museum has been done by trial and error. I had dealt with professional museum designers at first, but then rather quickly, decided against using them. I just felt that, for better or worse, I was going to do it myself. That way, I could make the call if something was working or not and didn't have to answer to anyone."
Cypres says that he believes that there is a current movement amongst collectors who have either large or significant collections to want to find a way to share them.
"What gives a collector their greatest joy?" Cypres asks rhetorically. "The opportunity to show off their collection! That is certainly the case with me. I eventually want this museum to be open to the public, because this collection should be shared. Most people will never have the opportunity to see things like these, and that is perhaps even more so the case here on the West Coast. Southern California is an extremely diverse place culturally and economically. There are underprivileged kids here who will never get to see Cooperstown or Canton, so I want to open this up to charitable organizations and schools. I just want to share it with people who have an appreciation for these things."
While Gary's hope is to someday share his treasures with the at-large public, presently, due to issues such as codes and zoning, the Cypres Family Museum is a private venture, which means in order for one to visit, arrangements must be made through Cypres' office. But don't let that stop you – Gary says he will be happy to accommodate anyone who wants to see his museum.
"For now I will be happy to make arrangements with individuals to see the collection and I plan on making the museum available to groups or organizations to use for private functions, but my ultimate goal is that this museum will be opened to the public," Cypres says. "Who knows,"' he continues with his low-key casual shrug. "Maybe someday it will."
Upon first entering the Cypres museum, visitors find themselves in a huge room dedicated to collegiate sports. From there guests can peruse vignettes that present the history of golf, tennis, biking, boxing, gymnasiums, sports related arcade games and even the influences of sports on the motion picture industry.
There are exhibits that cover traditional English sports, the Spalding sporting goods empire and the history of sportscards. Among the sportscard displays, visitors will be able to get up close and personal with cards and sets from the first great age of cards – 1887 through 1895. From there they can progress to the second great age of cards – 1909 through 1915. Beautiful collections of the first color card sets are on display and, perhaps most thrilling, is that in the center of the card exhibit, you can actually get within inches of an elusive Honus Wagner T206 card– something one can usually only get this close to if (depending on its grade) you have between $100,000 and $1.5 million dollars to spare.
The baseball exhibits, which make up the lion's share of the museum, include detailed recreations of such legendary venues as Fenway Park, Boston's Grand Pavilion and the Polo Grounds. Everywhere you look there are incredible treasures such as items that were personally owned by Babe Ruth, original photographs, documents, banners and items from various stadiums, and even an original cornerstone from Yankee Stadium.
Beautifully designed vignettes present various aspects of America's Pastime including the evolution of the glove, the bat and ball, the uniform, and the protective gear of the umpire and catcher.
In one of the most intriguing rooms in the museum, the Gallery of the Greats presents 25 original oil paintings of baseball's most legendary Hall of Famers. The paintings came from the collection of Tony Piet, who was a Major League second baseman for the Detroit Tigers back in the 1930s. Following Piet's playing days, he used his Motor City connections to open a car dealership and in 1963, he commissioned artist Carl Tolpo to create huge paintings that could be displayed on the walls of his showroom. Tolpo, a well-known artist of the time, renowned for his paintings and busts of American political figures, created the paintings which include portraits and biographical information of Babe Ruth, Willie Mays, Ty Cobb, Honus Wagner, Joe DiMaggio, Christy Mathewson and Lou Gehrig.
In the football display areas, you will find game-used uniforms, helmets and equipment that trace the evolution of protective gear. Oh, and even though visitor's heads will be spinning by this point, being as that there is so much to take in, it does nothing to lessen the awe of the beautifully signed photo of quarterback Harry Stuhldreher, fullback Elmer Layden and halfbacks Jim Crowley and Don Miller, the legendary backfield from Notre Dame's 1924 team, who were better known as "The Four Horsemen".
In the basketball area, vintage balls, baskets, nets and backboards from various eras are surrounded by all types of game-used uniforms and equipment. One section even pays homage to the great centers of the NBA, presenting game-worn uniforms of the games biggest (and we literally mean biggest) players.
Cypres, who himself was a star basketball player back during his days at Hofstra University, admits he has not yet gathered enough items to present the evolution of hockey and has nothing pertaining to auto racing. "I will probably never do anything on auto racing because that would be extremely difficult. Cars are expensive! I would however like to do an exhibit on soccer. But old soccer stuff is very hard to find."
While Gary's Investor level rarely seems evident (he says he has no real idea what his collection is worth), his Presenter and Emoter levels are clearly seen as he brings guests through the final exhibits of his museum. And, while he has already run out of room to display everything he currently owns, still he searches – for old soccer stuff and anything else that strikes his fancy.
"I just love this stuff," he says breaking out in a huge grin. "My young boys love it. My older girls are amused by it. And while my wife likes that I collect, she doesn't quite understand it. She doesn't have the excesses that I do."
As one completes their tour of Gary's "little collection" there is a sense that he enjoys showing it just as much, or perhaps even more, than people enjoy seeing it.
"I do love to see how people respond to these things," he rather shyly admits. "It brings out the kid in people. It evokes childhood. It recaptures youth. I love to see how people react because I understand that reaction. Sometimes I stand in here myself and look at all this stuff and think 'this is just unbelievable!'"
For further information on the Cypres Family Sports Museum, or to arrange for a private tour or a corporate or fundraising event, you can contact Gary Cypres' office at (213) 763-4824.