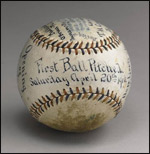 New York, New York - On Friday, June 10th, Sotheby's and SportsCards Plus (SCP) will offer more than 350 lots of Important Sports Memorabilia and Cards, spanning the history of baseball, basketball, football, boxing, tennis and track & field. Highlighting the sale is a trove of Red Sox memorabilia, including the most important document in sports history, the 1919 contract selling Babe Ruth from the Red Sox to the Yankees, which forever changed the course of baseball history (expected to bring more than half a million dollars), and the first baseball thrown at the 1912 Grand Opening of Fenway Park (est. $30/50,000).
The sale will feature property from a number of private estates and collections, including that of Boston Red Sox and Philadelphia Athletics Hall of Fame pitcher, Lefty Grove; Hall of Fame catcher, Ernie Lombardi; the first American League umpire in the Hall of Fame, Tom Connolly; one of the most esteemed sports journalists in American history, Jim Murray; and tennis great, Arthur Ashe. Prior to the June 10th auction at Sotheby's in New York, there will be a public exhibition of all of the items from June 4th to 9th. The sale is expected to bring in excess of $5 million.
Boston Red Sox Memorabilia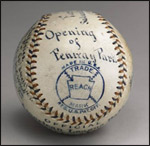 One of the most momentous days in baseball history was April 20, 1912, the Grand Opening Day of Fenway Park, home to the Boston Red Sox and the country's oldest ballpark in operation. Before a crowd of 25,000, the first baseball was thrown in the park, the beginning of a 7-6, 11-inning win over the New York Yankees.
Tom Connolly, one of Major League Baseball's first umpires, and also one of the first two to be elected to the National Baseball Hall of Fame, held on to this ball which became more celebrated as the Red Sox went on to win their second World Series that year. The first baseball pitched at the 1912 Grand Opening of Fenway Park is estimated to sell for $30/50,000. Written in Connolly's handwriting, the ball is inscribed "Fenway Park, First Ball Pitched, April 20, 1912," as well as the pitching batteries, umpires and attendants and the final score: "Boston 7, New York 6." Another item of Red Sox memorabilia from 1912 is an Opening Day ticket (est. $4/6,000).
A 1986 Red Sox American League Championship ring which belonged to Bill Buckner will also be on offer (est. $20/30,000). Buckner is destined to be remembered for his infamous "ground ball through the legs" in Game Six of the 1986 World Series that lost the Boston Red Sox the World Series.
The Babe Ruth Contract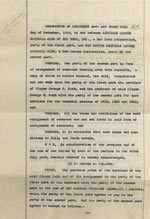 By 1918, the Red Sox had won their fifth World Series, which was unprecedented at that time. One of their talented young pitchers was George Herman Ruth, most often referred to as "The Babe" or "The Bambino," who was also blossoming as a slugger with his home run hitting records. In 1919, the Red Sox owner Harry Frazee found himself financially strained and signed this contract selling Babe Ruth from the Red Sox to the Yankees on December 26, 1919, for $100,000 to New York owner Jacob Ruppert. The deal wasn't announced until January, when Ruth found out about the trade himself ten days later.
On January 5, 1920, Boston Globe journalist John Hallahan wrote: "Boston's greatest baseball player has been cast adrift." He continued, "George H. Ruth, the middle initial apparently standing for 'Hercules,' maker of home runs and the most colorful star in the game today, became the property of the New York Yankees yesterday afternoon." The sale of Ruth to the Yankees changed the sports world forever. Ruth, baseball's first great slugger and the most legendary athlete of his time, captivated the public and reignited America's love affair with baseball.
The Yankees, who had never won the World Series prior to acquiring Ruth, went on to win a record 26 World Championships and 39 pennants, an unparalleled feat, and have become the preeminent sports team in the world. Conversely, the Red Sox had never won a World Series since their sale of Babe Ruth until last year, widely attributed to "The Curse of the Bambino," their fate for dealing away baseball's greatest player.
Signed by both Frazee and Ruppert, this five-page contract is the most significant document in sports history. It is being offered by Rhode Island philanthropist Alan Shawn Feinstein and is expected to bring more than half a million dollars. Mr. Feinstein, speaking on behalf of the Feinstein Foundation, said: "The funds raised from the sale, less taxes, will go towards our annual effort to raise $1 million to help fight hunger. The Foundation has raised over $250 million for over 2,000 agencies throughout the country in the past eight years, and we will continue to raise money until we reach the $1 billion mark. The proceeds will feed a tremendous number of people."
Babe Ruth's 1920 Signed Game Used Bat
Babe Ruth's Signed Game-Used Bat from his first season as a New York Yankee in 1920, used in a face-off between the Yankees and the Chicago White Sox, will also highlight the sale. Signed by Ruth to Mayor William "Big Bill" Thompson of Chicago on September 17, 1920, it is one of only a handful of game-used bats signed by Ruth and is estimated to sell for $150/200,000. Thompson, a public figure himself and one of Chicago's most eccentric and infamous mayors, was known for his alleged involvement with organized crime and his rumored ties to notorious gangster Al Capone.
Other Baseball Memorabilia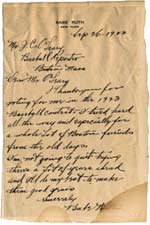 Other important baseball memorabilia includes the last Home Plate used in the historic Polo Grounds (est. $15/20,000), as well as a fine collection of New York Giants Team signed baseballs including examples from 1921 (est. $8/12,000), 1922 (est. $8/12,000), and 1933 (est. $6/8,000), among others. A number of manuscripts will also be on offer, among them a Babe Ruth handwritten letter from Boston Globe writer Jim O'Leary's scrapbook, written in 1923 to thank him for being voted the Most Valuable Player in Major League Baseball (est. $30,000/50,000). A spectacular 1917 Honus Wagner Day Sterling Silver Cup (est. $20,000/$30.000) presented by the city of Pittsburgh will also be offered.
ESTATE PROPERTY AND PRIVATE COLLECTIONS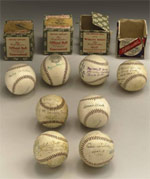 The sale will feature property from a number of private estates and collections, including sports memorabilia belonging to Lefty Grove, Ernie Lombardi, Tom Connolly, Jim Murray and Arthur Ashe.
Items from the Tom Connolly Collection
In addition to the first baseball pitched at the 1912 opening of Fenway Park, an offering from the Tom Connolly Collection will include 21 game balls, among them a Babe Ruth and Lou Gehrig signed baseball, celebrating one of the most legendary hitting duos in the history of the game (est. $20/30,000), a baseball signed by Connie Mack, the Hall of Fame Manager of the Philadelphia Athletics for fifty years (est. $2/3,000) and a 1924 World Series baseball signed by umpires Connolly, Klem, Bill Dineen and Hank O'Day (est. $2/3,000). A number of other Opening Day baseballs will be included in the sale, signed by such important figures as President Woodrow Wilson on April 20, 1916 (est. $20/30,000) and Vice President Calvin Coolidge on April 13, 1921 (est. $6/8,000). Other highlights include Connolly's Hall of Fame pin from 1953, the year he was honored along with Bill Klem as the first two umpires to be recognized (est. $1/1,500), and a group of 17 press pins from World Series that Connolly attended from the 1920s to 1950s (est. $2/3,000), among others. Another personal element of the offering is Connolly's rule book, a handwritten lineup sheet from the 1914 game between Cleveland and Boston and a group of letters (est. $1/2,000).
Items from the Estate of Lefty Grove
About 30 items will be featured from the Estate of Robert Moses "Lefty" Grove, one of the finest pitchers in baseball history and a mainstay of the Philadelphia Athletics and the Boston Red Sox. Highlighting this offering is a Game-Used Louisville Slugger Bat from Grove's 1934 Tour of Japan teammate and friend, Lou Gehrig, who was appropriately nicknamed "The Iron Horse" for setting the benchmark in hitting statistics for consecutive games played (est. $50/75,000).

Grove was traded from the Athletics to the Red Sox in 1934, pitching for the team through the 1941 season. From this period is a 1939 signed Red Sox Jimmie Foxx half bat, including the rookie signature of Ted Williams (est. $8/12,000). In Grove's final game in 1941, he became the twelfth pitcher to win 300 games, joining an elite group of players that to this day only numbers 22. A signed "299th" win ball from 1941 will be featured in the sale (est. $7/10,000) as well as a plaque commemorating Grove's 300th win (est. $1,500/2,500). A ball signed by Babe Ruth, Lefty Grove, Frank Baker, Walter Johnson, Tris Speaker, George Sisler and Eddie Collins (est. $10/15,000) highlights an offering of signed Hall of Fame balls.
Items from the Estate of Ernie Lombardi
Among the items offered from the estate of Hall of Fame catcher Ernie Lombardi are his 1940 Cincinnati Reds World Series Ring (est. $15/20,000), a 1938 MVP silver presentation box received from the National League ($4/6,000), and his 1938 All-American certificate signed by Babe Ruth (est. $8/10,000).
Items from the Estate of Jim Murray
A collection of items from famed Hall of Fame sports journalist Jim Murray will be featured, highlighted by the typewriter that he used to write over 10,000 columns for the Los Angeles Times from the early 1960s through the late 1990s (est. $8/10,000). Murray, who was one of only four sportswriters to win a Pulitzer Prize, and who was named "America's Best Sportswriter" by the National Association of Sportscasters and Sportswriters 14 times, transcended a traditional role and elevated lesser-known sports to greater status. A large number of letters from athletes and other notable figures will be included in the sale.
Items from the Estate of Arthur Ashe
A number of items from tennis great Arthur Ashe will be offered in the June sale. In 1968, Ashe was ranked number one in America after winning the U.S. Open Championship. But it was in 1975 that he rose to the top of the sport and became the number one player in the world. The sale will include a pair of Haggar solid gold presentation trophy tennis balls, weighing 372 ounces (est. $100/150,000), which were awarded to Ashe by The World Championship Tennis Organization in 1975, the year he became the first and only African-American to have won the men's singles at Wimbledon when he defeated Jimmy Connors. Other important highlights of this section include an Arthur Ashe Head tennis racquet, which was used for the Sports Illustrated "Sportsman of the Year" Cover photograph and will also be featured on a 37 cent stamp this August (est. $5/7,000), and his 1975 World Tennis Championship ring (est. $2/3,000).
Baseball Cards
The sale will be rounded out by an offering of baseball cards, highlighted by one of only two known graded PSA NM-MT "8" Babe Ruth rookie cards from 1915 (est. $100/150,000). Also featured is a T-206 Honus Wagner graded PSA "1" PR-FR (est. $80/$110,000), 1952 Topps Mickey Mantle graded PSA "8" NM-MT (est. $40/50,000), AMS collection of high end insert memorabilia and cut signature cards and the Mike Cramer collection of complete baseball set runs including early tobacco cards (T-205, T-206, T-207, T-3 etc.), Bowmans (1948-1955) and Topps (1952-1969). Also from the Mike Cramer collection a super rare T-205 Hoblitzell no stats (est. $12/$18,000), 1916 Zeenut Jimmy Claxton (est. $4/$6,000), Master Set of 1909-12 Domino's Discs with variations (est. $12/$16,000) and a 1952 Coke Tips Complete Set with Willie Mays (est. $6/$8,000).
Other Sports Highlights
Other highlights from basketball, football, boxing, tennis, and track and field will include a Boston Celtics Championship trophy from the 1958-59 season that team owner Walter Brown gave to a sports writer/friend (est. $30/40,000), a lithograph signed by the NBA's 50 Greatest Players (est. $50/60,000), a robe worn by legendary heavyweight champ Rocky Marciano (est. $30/50,000), and an extensive collection of memorabilia from track and field star William Kramer including numerous items related to the 1912 Olympics.
Accepting Consignments
Extremely limited space is still available to add your item(s) to our unprecedented auction event. Please contact David Kohler or Dan Imler of SCP (SportsCards Plus) at (800) 350 2273 to discuss adding your item(s) to this marquee sale. You can also visit www.sportscardsplus.com for more details and information.
The Catalogue
The catalogue can be pre-purchased and will be available to the public on May 10th by logging on to www.sothebys.com or by calling (888) 752-0002. Catalogues are also available for purchase in Sotheby's galleries in New York and London. The price for the catalogue is $36 including shipping and handling.
Registering to Bid
Registration is required to bid in Sotheby's auctions. You can register easily in person at our New York headquarters any time before the sale, or via fax when you submit an absentee bid form. Please call the Bid Department at (212) 606 7414 for further information.